Jobs
How an L.A. film producer moved home and built a dog training business
Francine Coughlin owns Bark n' Roll Canine Care, based in North Reading.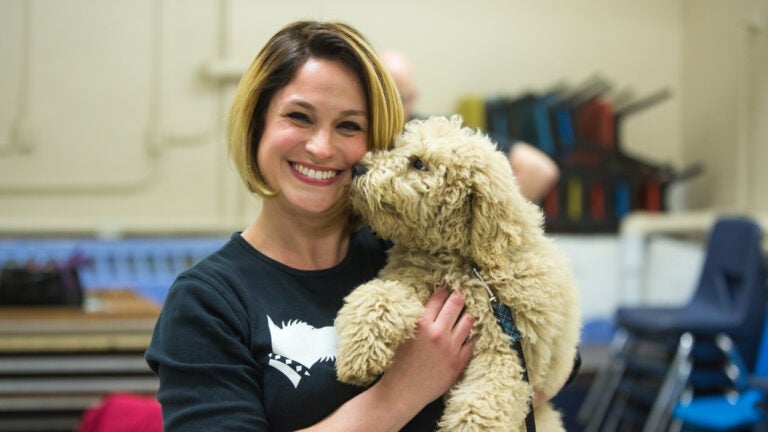 Francine Coughlin is not a dog whisperer.
"That's like old-school Cesar Millan," Coughlin said, referring to the self-taught dog behaviorist widely known for his television series, "Dog Whisperer with Cesar Millan."
"People always call me the dog whisperer but I don't like him," the 34-year-old Massachusetts native said. "His methods were under fire. He practiced aversive training methods where you do 'positive punishment.' Like if a dog was licking another dog, he'd correct them with pain or fear, whereas we try and redirect dogs. We try and motivate them to do more positive behavior through positive reinforcement."
Coughlin may not be a dog whisperer, but as a certified dog trainer and the owner of Bark n' Roll, a professional canine care service based in North Reading that offers exercising, training and pet-sitting services, it's not too surprising that hundreds of clients think of her that way.
Though she's been operating her business for six years now, Coughlin said she never anticipated owning a dog care service. In fact, prior to opening Bark n' Roll, Coughlin worked in Hollywood as a film and TV producer. Her rock n' roll lifestyle during those crazy years inspired the name of her company, and helped mold Coughlin into the savvy, ambitious businesswoman she is today.
Boston.com met with Coughlin recently to learn the ins and outs of operating a successful canine care service, and to find out what separates her from the average dog walker.
"I live in an entrepreneurial household," Coughlin said one spring evening while sitting in the basement of The First Congregational Church of Reading. It's the temporary home of Bark n' Roll until Coughlin finds a new dog-friendly space in Reading to hold training lessons. "My entire family were all entrepreneurs at one time, so we have the bug. We don't like working for other people."
Both of Coughlin's parents found independence in their blue collar jobs, she said — her dad owned multiple gas stations and her mother acquired a small insurance business after spending years as a secretary.
Coughlin said she has the same "headstrong" streak, but her creative nature drove her toward the film and TV production industry, which she studied at Boston University.
After two internships in London, Coughlin moved to Los Angeles and stayed for five years, working on blockbuster films like "Pirates of the Caribbean: Dead Man's Chest" and "Pirates of the Caribbean: At World's End."
"LA was exciting but I knew it would never be a place I wanted to put my roots down," Coughlin said. "It's amazing but all-consuming. It's your life. You eat, breathe, and sleep the industry. I quickly rose up in the ranks and could have continued, but I felt like I was getting burned out. The work hard, party hard kind of thing wasn't as fulfilling as I thought it would be."
To fill the void, Coughlin started volunteering at LA County animal shelters, and rescued two dogs from a kill shelter.
"I've always loved dogs, so that was super fulfilling obviously," Coughlin said. At the same time, she became interested in studying animal behavior and recalls being fascinated by a trainer who taught a monkey how to light a firecracker with a remote for one of the "Pirates of the Caribbean" films.
After moving back to Boston to film "Bride Wars" and some indie pieces, Coughlin decided to get her license as a certified dog trainer. Shortly after finishing Animal Behavior College, Coughlin started her canine care business in 2010.
Bark n' Roll was an instant hit.
"I started by walking one dog on my parents' street for $15 a week," Coughlin said. "But it quickly blew up and I got busy very quickly. Soon, I was servicing six towns as a dog walker, which is not easy money in the 'burbs."
Coughlin describes driving from town to town, climbing over snowdrifts to reach her clients' dogs.
"Those first two winters were brutal," Coughlin said. "Anyone who does this career has to be New England tough because you have to roll with the punches. One day, it could be 80 degrees and the next day could be freezing cold."
Eventually, Coughlin began hiring dog walkers so she could focus her attention on growing the business and running training lessons. She now oversees 15 employees she meticulously interviewed before hiring. Bark n' Roll works primarily with rescue dogs and puppies, but Coughlin said she has a special spot in her heart for dogs with behavioral problems, which can be very difficult to train.
The work is not easy.
"Many canine businesses quickly fail," Coughlin said. "You need to make sure you have a passion for it as a career. It's not a hobby at all, and if you treat it as a hobby, you'll get hobby pay. We take it very seriously. This is my livelihood. This is all I do."
What makes Coughlin an effective dog trainer?
"It's 99 percent owner training," she said. "It's all about learning how to speak dog and translate that to humans."
Some dog trainers work with a dog and then give it back to the owner, but this is not how Coughlin operates. Owners have to be present at all of her dog training sessions.
And unlike Cesar Millan, Coughlin trains dogs with positive reinforcement. At the puppy training session Boston.com attended, Coughlin helped owners encourage their dogs to sit, lay down, and come using treats, clickers, and body language.
Though it was only the clients' second class with Coughlin, all of the dogs sat on command, some cocking their heads as they waited for a treat.
Seeing this type of communication between dog and owner is what makes her job so rewarding, Coughlin said.
"Sometimes it's hard to explain to people what I do," Coughlin said. "If I say, 'I'm Francine the dog walker,' some people are dismissive. But I prove to people that it is a serious profession."