Jobs
What it takes to be a consultant at Boston Consulting Group, one of the top places to work in the U.S.
Amy Hsuan, a former journalist, is now a principal based in BCG's Boston office.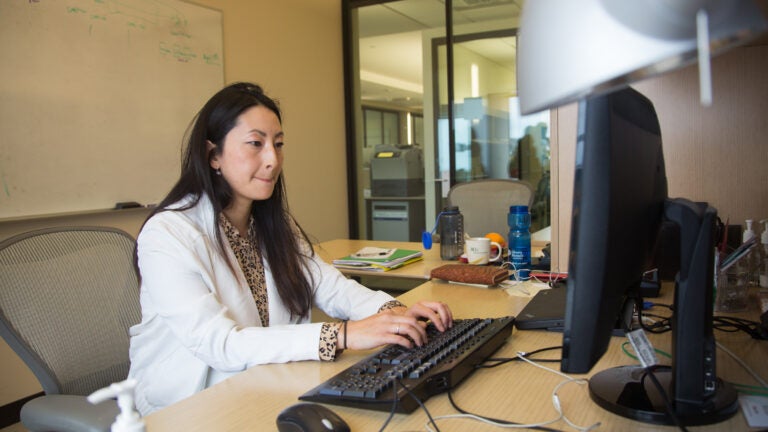 For the past five years, the Boston Consulting Group has been ranked as one of the top five companies in the country to work for in Fortune's annual "100 Best Companies to Work For" list.
Recognized for its talented employees, collaborative culture, career flexibility, and progressive benefits, it's unsurprising that it can be competitive landing a job at the management consulting firm headquartered at 53 State Street.
Just ask Amy Hsuan.
A self-described "jack of all trades, master of none," Hsuan applied to BCG only after loading up with three master's degrees (business administration, international studies, and journalism) and realizing she wasn't quite ready to start her own business.
"When I graduated [from Wharton Business School], I said, 'Okay I have a lot of experience but I'm not ready to go back to journalism or start my own business,'" Hsuan said.
Her friend told her about a field called consulting, which Hsuan had never heard of, where employees were paid to "solve really hard problems and travel." Hsuan was sold.
"I wanted more practical experience before going onto my next thing or solidifying a business plan," she said.
Now, Hsuan is a principal based in BCG's Boston office, working in the company's social impact and industrial goods practice areas. She's been there for four years.
This surprises the former journalist because Hsuan never thought she'd stick with anything for more than a few years.
"I'm one of those people who really thrives off of change," Hsuan said. "With my master's degrees, I thought I'd switch careers every five years. But here, every three to four months, I'm working on a new project or client."
That's the nature of consulting, a fast-paced field often characterized by its Ivy League alumni, lofty salaries, heavy travel, and long hours.
But Hsuan said working in consulting is nuanced at BCG.
Consultants here, she said, have a lot of ownership over what projects they work on and whether they travel much or not at all. As for the hours, Hsuan said it totally depends what kind of project you're working on. For the past few weeks, Hsuan said she's maintained a fairly typical 9-5 schedule.
You might be wondering: what do consultants do exactly?
Hsuan said the core of the job is helping clients (companies, nonprofits, or public agencies) solve some of their toughest problems, which can range from helping the Bill & Melinda Gates Foundation combat diseases like HIV and malaria, to assisting the World Food Programme in creating longer-term solutions to hunger and food insecurity.
"At the core of the work is a lot of really deep problem solving, working with my clients, and working with my team," Hsuan said.
Since the projects in consulting are so diverse and the industries represented are so varied, consultants often have incredibly dissimilar backgrounds — one of the "coolest" aspects of working at BCG, Hsuan said.
"I work with former baseball players, double PhDs in mechanical engineering, and someone else who's tried to launch their own products for FDA approval," Hsuan said. She points out a co-worker walking down the hallway who was a former salary negotiator for the Philadelphia Eagles. "Then there are some undergrads who have never had a job at all." Hsuan laughs.
This is what makes the teams of consultants at BCG so effective. When everyone comes in with a discrete skill set, it makes for a problem-solving powerhouse.
That being said, Hsuan said consultants should have some core personality traits. Namely, they must be good communicators and collaborators, and have a deep love for tackling very difficult problems.
Despite the collegial environment (evidenced by Hsuan's hugs with teammates as she walks through the Exchange Place hallways on a Friday afternoon), consulting can be incredibly stressful.
"We have really high expectations for ourselves, as well as what we're able to do for our clients. Sometimes, we're on a project for a year and get to know clients very well and their problems become yours," Hsuan said. "We don't have many chances to get it right and there's never just one way to solve a problem."
When Hsuan's team worked on a project with an NGO to create a diagnostic for an unknown pathogen in the instance of an epidemic, they had six to 10 weeks to solve the problem.
"It creates a lot of pressure because the impact is so huge," she added.
Still, given her druthers, Hsuan thinks she'll stay at BCG far longer than she ever expected.
"I always thought I'd have a point where I thought it was time for the next adventure, but with this job, I'm always doing new things," Hsuan said. "I really thrive when there's a lot of change, so whatever job I'd have next would have to give me that. I don't know if there are that many different ways to have that in a career — where it's going to be different and exciting from week to week. It's hard to find jobs like that."