Jobs
A peek inside the colorful, tactile Fort Point offices of LogMeIn
The Internet company opened a second office across the street from its 320 Summer Street headquarters earlier this year.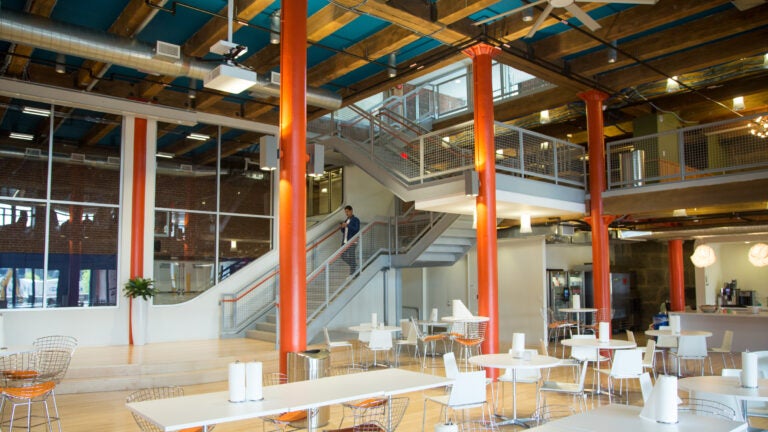 When Boston-based Internet company LogMeIn expanded into a second office across the street from its 320 Summer Street headquarters earlier this year, leadership wanted to make sure the new building — a former textile mill — had a look and feel that represented the company's dynamic culture.
LogMeIn works with a lot of "intangible" products. It provides clients with software and cloud-based remote connectivity services for collaboration, IT management, and customer engagement.
The way Paul Schauder, the company's vice president of brand strategy, thinks about it, this means LogMeIn's tangible office space had to be energetic, tactile, and vibrant to inspire the best work from its employees.
"When you're staring at a computer screen all day, you need respite," Schauder said. To provide this, the new LogMeIn office features a half basketball court, fitness center, and a cafe staffed with two baristas.
A peek inside LogMeIn's new office:
[bdc-gallery id="870527″]
The office's five floors, along with the mezzanine that overlooks the bottom floor, are also designed for collaboration. There are about 58 spaces where employees can break out into their own meetings. Some of these spaces are themed; a hunting lodge, a '70s-style lounge, and a meditative area encompass one floor.
Bright and colorful, the open floor plan also showcases large murals depicting LogMeIn's global office locations, including San Francisco, London and Budapest, where the company was founded.
As Dena Upton, the company's vice president of people and talent, said, "The hope was that the building creates FOMO, or fear of missing out, so that people want to come."
Despite this hope, LogMeIn lets many workers engage in flexible working arrangements.
Upton said the company operates as a meritocracy, so as long as employees get their work done, managers don't really care where or when that happens.
If morning yoga classes on LogMeIn's rooftop deck sound good to you, you might be interested to know that the company is aggressively hiring.
With room to expand in both of the Summer Street buildings, LogMeIn plans to hire over 400 more workers in the next three to four years, Upton said. The company has already hired 90 people in 2016 so far, and currently has over 100 open roles ranging from product design and engineering, to finance, human resources, and marketing.