Jobs
How the CEO of a top construction firm thinks about mentoring, meetings and building Boston
Les Hiscoe was promoted to CEO of Shawmut Design and Construction about a year ago.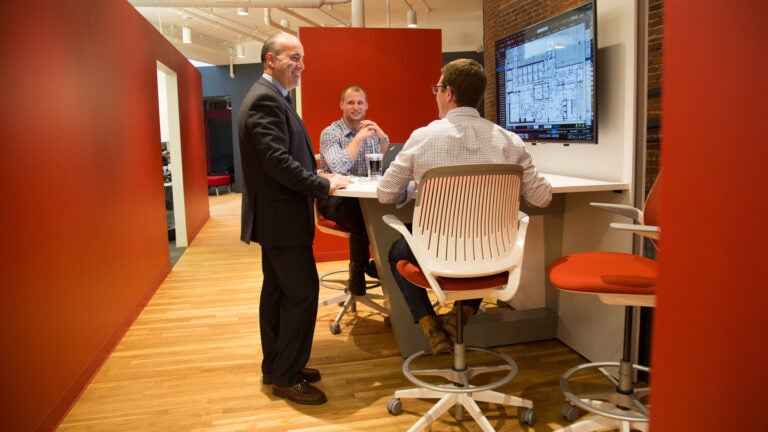 One of the things Les Hiscoe likes best about his job is how tangible it is.
The CEO of Shawmut Design and Construction can walk down the streets of Boston and literally point out his work. He's played a role in creating the Apple store on Boylston Street, parts of the Isabella Stewart Gardner Museum, and the Massachusetts Institute of Technology's Barker Library and Dome.
Hiscoe said his 8-year-old son will ask, "Dad, did you build that?" And he can say, "Yeah, I did!"
The 50-year-old Manchester, New Hampshire native did not always know he wanted to work in construction. He studied civil engineering at the University of New Hampshire. But after working for a construction firm the summer before graduating college, Hiscoe was hooked.
"I thought I would be designing bridges," Hiscoe said. "I went to the state design office and it was a sea of drafting boards. I like the construction side — physically building buildings."
After graduating, Hiscoe interviewed with construction companies and spent about 10 years out in the field before joining Shawmut, where he's been for the past 18 years. Hiscoe became CEO about a year ago after serving as president, vice president of the company's New York office, and vice president of its national retail division.
Even though he spends a fair amount of time in meetings and traveling, Hiscoe said he loves his new role.
"My day is so varied," he said. "I enjoy pushing the company, trying to lead, and making connections with the community and clients…it's really fun."
A typical day for Hiscoe starts with an hour-long meeting with the head of construction operations at Mul's Diner in South Boston, a retro hangout known for its crème brûlée French toast, bottomless cups of coffee, and house-made corned beef hash.
Then, Hiscoe goes to the Shawmut headquarters at 560 Harrison Avenue and goes through the company's "New England schedule" —  the 100 or so projects in retail, hospitality, healthcare, academic, historic, and sports venues it's working on at the time.
"The rest of the day is a lot of video conferencing with other offices," Hiscoe said. Shawmut has eight offices throughout the country—including New York, Miami, Las Vegas, and Los Angeles. "Then I spend a lot of the day walking around. We have a big footprint here, about 400 people. I like to walk around and see what people are working on, ask them how I can help."
For Hiscoe, the best part of his role at Shawmut is mentoring younger workers.
"Building great buildings is really rewarding and having a great reputation is rewarding. But that moment when you're helping someone and know they're going off stronger with the advice you gave them — I love that part of it," Hiscoe said.
The job is not without its struggles.
Hiscoe said construction faces workforce challenges of the future — namely, there aren't enough people going into construction management and trades like carpentry, plumbing, and electric. It can make Shawmut's projects take longer.
"Construction is not an industry that's gained in productivity over the past years, although clients' industries have," he said. "How can we change that? I'm anxious for real productivity improvements on our end in future. The challenge is to push through old ways of thinking as we physically build buildings."
To unwind from some of his daily stressors, Hiscoe said he cycles and watches his son play Little League baseball. "I love being a spectator where I don't have to coach," he added.
Hiscoe's even gotten his workers into cycling for charity. They now compete in the Pan-Mass Challenge to raise money for the Dana-Farber Cancer Institute, gathering as a team every Tuesday morning at 5:50 a.m. on the dot to train.
This kind of drive is something Hiscoe tries to convey within the office walls.
"I like to push people to reach their most successful kind of self. I constantly challenge, set a vision and try to be inspiring," Hiscoe said.