Jobs
Why so many college graduates struggle to launch a career, according to an education author
Jeffrey Selingo is the author of the upcoming book, "There Is Life After College: What Parents and Students Should Know About Navigating School to Prepare for the Jobs of Tomorrow."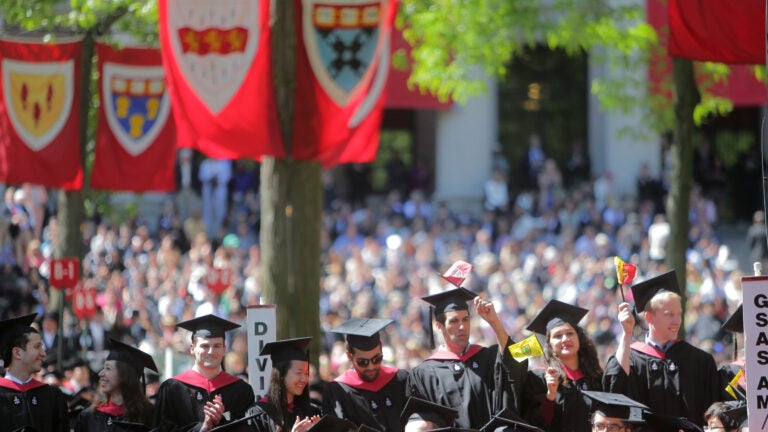 Over the course of his career as a higher education writer and former editor at large for the Chronicle of Higher Education, Jeffrey Selingo realized something disconcerting: Students were leaving college the same way they entered — totally unprepared to launch successful careers.
"As I went around, I met students, parents, and counselors and they all talked about how students were struggling in the job market," Selingo told Boston.com. "Higher education was changing but not in the right ways given how the job market was changing."
So Selingo wrote a book, "There Is Life After College: What Parents and Students Should Know About Navigating School to Prepare for the Jobs of Tomorrow," in which he looked at the disconnect between the U.S. education system and the needs of the economy.
We spoke with Selingo recently to learn more about his book, and gather some tips for college students.
This interview has been edited for brevity and clarity.
You mentioned in a recent Harvard Business Review article that incoming students don't spend much time thinking about what they will do in college. What sorts of things should parents and high schoolers talk about before students leave for freshman year?
Students should think about their major. They don't necessarily have to pick a major as soon as they get to college or pick one that necessarily leads to a job, but they should look for a major where they meet a lot of mentors and their peers push them hard.
Students should talk about the need to focus on outside classroom experiences just as much as inside classroom experiences. The most important thing students can do in college is have experiential learning: internships, service learning, apprenticeships, study abroad. That's much more important than anything they will do in the classroom.
Finally, students want to make sure they don't take on too much debt. Debt really hampers their ability to have flexibility after college in terms of the types of jobs they can take and how much they need to make.
While writing your book, you found that two-thirds of the 752 young adults you surveyed were struggling to launch careers. Why do you think that is?
I think the economy is tougher than it ever has been. The job market has changed drastically in the past 10-15 years. It's hard to find on-ramps to careers compared to 10 or 15 years ago.
Many students go to college not knowing what to do, and they end up drifting. Then they take longer to graduate, spend more money, and after graduating, they still don't know what to do.
More students should take time off before college. Have a gap year, get work experience, take on academic courses but not a full load. Get a chance to explore careers. There should be much more exploration before college rather than at college.
Besides experiential learning, how else can you set yourself up for success after graduating?
You want to make sure you get skills that make you a "T-shaped individual." The vertical bar of the T represents a person's deep understanding of one subject matter — English, for example — as well as one industry, like energy or health care. The horizontal stroke of T-shaped people is the ability to work across a variety of complex subject areas with ease.
You want to have broad experiences, but you also want to have deep knowledge in one area. This is very important. Too many students go to college today and get a broad liberal arts degree and don't get enough experience in one specific discipline. Or they're too narrowly focused and just do sports management or social media — then in four or five years, the job market changes and they don't have the experience to navigate the market. Having both a broad experience of many different subjects but also having a deep experience of one discipline or industry will leave you best prepared.
You want to be occupationally footloose — be able to move from job to job. By the time you're 29, the average person has had five jobs.
You also mentioned that there is not enough emphasis placed on college students learning soft skills like problem solving and critical thinking. Why do you think that is?
A Burning Glass analysis looked at 20 million online job ads for baseline skills that get you a job and found that in four out of five job ads, the same 25 skills kept coming up over and over. Most were soft skills.
Employers were asking for these skills because they were not getting them in candidates. They wanted critical thinking, the ability to manage multiple projects, communication, problem-solving. We used to think these skills were embedded in bachelor's degrees, but we're no longer seeing that, so the best ways for students to get these skills is from internship experience. That's why so many employers are only hiring from their intern pool.
Finally, what are your suggestions for minimizing debt?
I think you need to look at how much a degree is going to cost you over four years. Many freshman don't realize you need to pay for four years to get a degree. Also, you should look at the graduation rates at colleges to make sure you can graduate after four years and it won't take longer.
State institutions, even though they are more expensive than ever, are sometimes cheaper than private institutions, which don't give out much financial aid. Community college is also a good idea for at least starting out, and then a student could transfer to a state or private institution after a couple years.