Jobs
How college buddies skipped the GMAT and launched Boston's Downeast Cider House
Ross Brockman and Tyler Mosher founded the company in 2011. Ross's older brother Matt later joined the pair.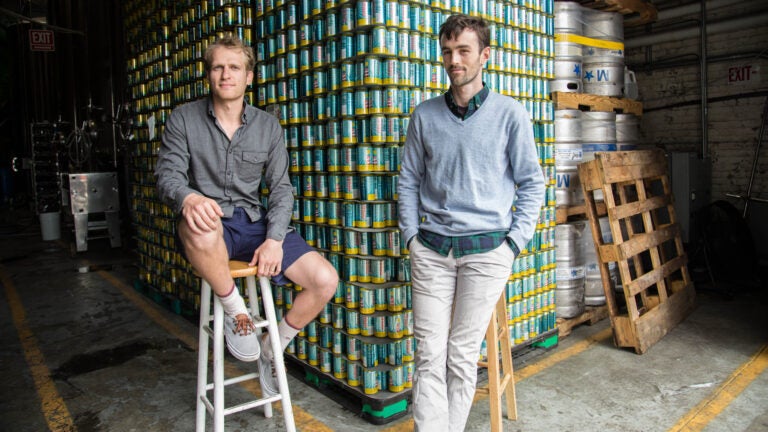 After brainstorming hundreds of potential names for their fledgling hard cider company, college buddies Ross Brockman and Tyler Mosher finally settled on "Three Idiots Cider." The third idiot was Ben Manter, who is no longer with the company.
They submitted the name to their trademark attorney, who called the trio back the next day to inform them "Three Idiots" had been scooped up by a winery in California six days prior.
"Which is so weird, right?" Brockman asked Boston.com recently. "So we didn't get that name, thank God."
A few days later, while golfing in Maine, the they came up with "Downeast" a "somewhat boring" name that's a callback to the company's Maine roots, Brockman said. (The term "downeast" is typically traced to nautical terminology referring to ships sailing downwind toward ports in eastern Maine.)
Downeast Cider was born, but it probably would have been easy to dismiss the three men back in 2011.
When Brockman and Mosher were about to graduate from Bates College with degrees in philosophy and economics, they had no actual plans for real-world jobs. Both were half-heartedly studying for the GMAT and making hard cider as a hobby, thanks to the steady stream of apples Manter got from his centuries-old family orchard.
One day, they looked up and asked whether they were actually going to take the exam. They realized the answer was "no" and decided to focus on cider-making full time.
They moved the operation from their dorm rooms to the Central Maine Power mill in Waterville, Maine, before relocating to a warehouse in Leominster.
"We knew nothing about apples, nothing about hard cider," Brockman said, describing hundreds of different test batches and bleary workdays that started at 4 a.m.
But the trio soldiered on until they'd created a freshly-pressed, unfiltered cider that tasted nothing like "that over-processed, super-filtered, boxed-apple-juice kind of cider," Brockman said.
The Downeast founders later settled in the Boston area, and they currently operate in a 9,000-square-foot Charlestown warehouse directly beneath the Tobin Bridge. A 16,000-square-foot space in East Boston's Boston Harbor Shipyard will open soon.
Five years and thousands of barrels later, you'd be hard-pressed to call the founders of Downeast Cider "idiots."
In 2014, Mosher, Brockman and his older brother, Matt (Downeast's chief operating officer, brought on shortly after Manter left), made Forbes's famous "30 under 30" list, and they now sell their cider in New England, New York, and New Jersey, with eyes on expanding to Philadelphia.
Sometimes, it can be hard for the men to adjust to how quickly they've expanded operations — from three guys to roughly 40 full-time and 150 part-time workers. Brockman described perplexing situations, like realizing he needed to create a holiday schedule for employees, and a policy around taking free cider home.
"Even as recently as two years ago, we did everything," Brockman said. "It was just three people and a queue of things to do and we just took turns." These days,  Ross Brockman and Mosher work most closely on sales and marketing, while Matt oversees operations, production, packaging, and finance.
Despite Downeast's success, Brockman said they're always looking for ways to improve the business and develop new products.
He's currently fixated on creating a "tart and sweet" Granny Smith apple cider, but it's proving quite difficult because the apple's high acidity causes the cider to eat through the packaging.
While Brockman said he's confident they'll find a solution to canning the Granny Smith cider, other flukes Downeast has encountered along the way have been much larger.
"We screw up as much as we succeed," Brockman said. "When we first started we spent 10 percent of our money on graphic design for the logo and packaging, and at the end of the project, we didn't like it."
Not too long after that, they spent about a quarter of their cash on a defunct canning line they bought from China. They thought they could re-engineer it to make it work, but Brockman said it was a "disaster."
Despite these setbacks, Brockman said he thinks Downeast has been very fortuitous.
They came into the craft cidery game just as cider started booming alongside the waves of craft breweries popping up across New England. Brockman gets borderline offended when visitors assume Downeast's founders are wunderkinds.
"New employees sometimes assume there's some sort of 'Steve Jobs' type person thinking about every detail and it's really not like that," Brockman said. "None of us are geniuses. We're competent people."
Brockman's also adamant that he never anticipated what Downeast would become.
"It was just like, hey, some friends are going to make cider, but I never thought it would be some rinky-dink thing, or I wouldn't have gotten involved," Brockman said. "Sometimes you look back and it's like hiking. You stop to look around and suddenly realize you're pretty high up."