Jobs
Has the open office trend gone too far?
Between 80 and 90 percent of office spaces renovated in the past two years have an open floor plan.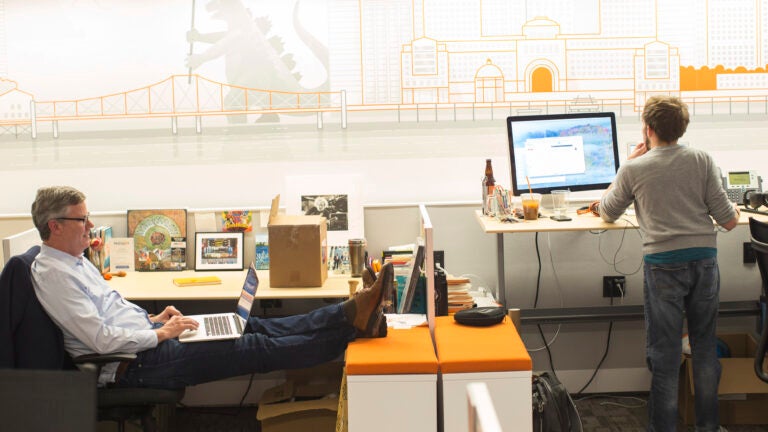 Partitioned offices have fallen by the wayside in recent years, replaced by open floor plans designed to inspire transparency and collaboration, but many workers say they miss having a place to call their own.
The Boston Globe reported this week that between "80 and 90 percent of office spaces renovated in the past two years have some sort of open floor plan," according to the architecture and design firm HOK.
Office tours of Boston companies like LogMeIn, CannonDesign, and Wayfair all revealed open floor plans that allow interns and new employees to sit beside the CEO, should they want to. Though these companies also offer closed rooms for private meetings, collaborative workspaces abound, with Wayfair's featuring foosball and ping pong tables, and LogMeIn housing a stylish coffee bar and basketball court.
The trend represents companies' desire to ditch the "soulless," corporate vibes many office spaces used to exude, and to encourage employees to interact with co-workers they wouldn't normally speak to.
While there are certainly benefits to open floor plans, some workers are pushing back against the trend.
Sam Aquillano, a designer at Bose Corp. in Framingham, told the Globe his office's transition to an open floor plan meant a loss of his private space — and his sense of focus.
"My dream is I can push a button and the cone of the silence just falls on me," Aquillano told the Globe, saying it's nearly impossible to tune out his co-workers' movement and conversations. He described crouching in a corner to take a phone call without disturbing anyone.
To combat this backlash toward open plans, offices could consider offering a mix of collaborative and private space.
At Boston-based construction firm Shawmut Design and Construction, for example, workers have access to a "quiet room" where a no-talking policy is encouraged.
Read the full Globe story here.