Jobs
A day in the life of the man who oversees Stoneham's Stone Zoo
Pete Costello is the longtime assistant curator of Stone Zoo in Stoneham.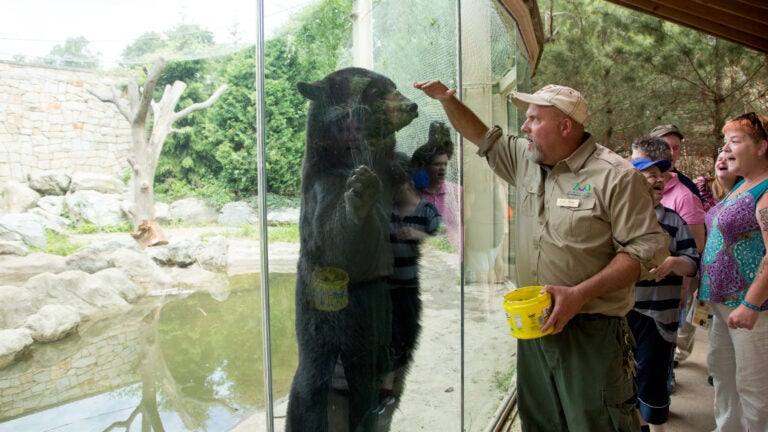 Training black bears, feeding Colobus monkeys, checking in on a couple of two-toed sloths — it's just another day at work for Massachusetts native Pete Costello.
Though the longtime assistant curator of Stoneham's Stone Zoo has worked there for 29 years, as a younger man, Costello took a winding path before ending up at the zoo.
"I've always had an interest in animals, especially birds," Costello said on a recent summer morning. "As a kid, I had ducks, chickens, and turkeys, and I've always been into bird watching since I was 8 years old."
His love of creatures great and small initially drove Costello to enter the pre-vet program at the University of New Hampshire, but once he became aware of how long schooling would take (at least another four years after getting his bachelor's degree), Costello realized being a vet wasn't for him.
So he switched gears and got a degree in animal science with a specialty in poultry, but after a stint working at a chicken farm — an experience that left his ears ringing with the din of clucking hens — Costello decided maybe poultry wasn't for him either.
On a whim, he applied to work at the Stone Zoo. Stoneham was close to home, and had all kinds of birds Costello loved, like flamingos, bald eagles, great horned owls, and barn owls, to name a few.
Costello was hired to work in facilities, helping keep the exhibits and walkways clean for animals and visitors, but his passion for animals helped him quickly move into animal management.
Twenty-nine years later, Costello oversees nearly everything at the Stone Zoo: managing the staff and animals; feeding, cleaning, training, and medicating some 300 species; keeping track of new animals coming in; and planning enrichment activities for local schools and the community.
"It's different every day," Costello said, smiling. "I rarely get bored at my job."
How could he? During a recent visit, Costello was a whirlwind of activity.
First, he stopped by the Colobus monkeys to give them "browse" (young vegetation) to munch on, then he fed the two-toed sloths some sweet potatoes and hard-boiled eggs.
After making a pit stop by the flamingos, Costello spent a few minutes showing off a young alligator named Jack to hoards of schoolchildren before heading over to the two black bears (Bubba and Smokey) to train them to stand on their hind feet for treats — a process that allows veterinarians to evaluate the animals' health without tranquilizing them.
As he walked by exhibits holding reindeer, Arctic foxes, bald eagles, and bobcats, Costello rattled off all the names of the animals and obscure facts about their species.
For example, two-toed sloths rarely leave their trees and only go to the bathroom about once a week, losing up to a third of their body weight each time. And arctic foxes shed their heavy white coats in early summer and are almost unrecognizable with their new two-tone black fur.
"The great thing is, I'm still learning," Costello said. He described the magic of hearing Gibbon monkeys chatter back and forth in morning chorus, and funnier moments, like when the wolves mistake fire engines for fellow wolves and start to howl in unison.
While his job does entail quite a few meetings and some paperwork, Costello loves that his position allows him so much time outdoors. When he's not at work, his favorite activities include hiking, fishing, and of course, bird-watching.
Some of the most meaningful work experiences for Costello involve animal conservation.
At Stone Zoo, he's participated in the group Grassroots Wildlife Conservation, a driving force behind establishing healthy populations of marbled salamanders — a native species that's been decimated in the Middlesex Fells area in recent years. He's also helped raise local Blanding's turtle hatchlings till they've been large enough to fend off prey like birds or other wildlife.
Of course, working in a zoo has its more wild moments — with animals and guests.
Costello described a cacomistle (a small omnivore closely related to raccoons that resembles a weasel) launching itself at his face upon arriving at the zoo. Luckily, he was wearing protective gloves and was able to get the animal under control.
As for guests, Costello said his most common question from children is whether the reindeer can fly. His response? "Just on Christmas Eve."
Costello added that the most shocking thing for people to learn about working at a zoo is how little contact he and other zookeepers actually have with the animals.
"We generally don't go in with the animals," Costello said. "There's quite a bit of interaction but it's all safe for the animals and for us."