Jobs
Boston Consulting Group is relocating to the Seaport
The consulting firm announced this week that it will move its offices to Tishman Speyer's Pier 4 Development by 2018.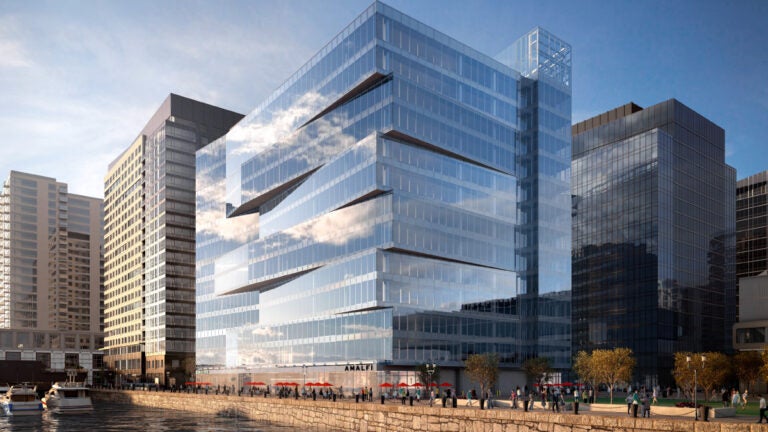 The Boston Consulting Group announced this week that it will be relocating to the Seaport, joining the likes of General Electric, Fidelity Investments, PricewaterhouseCoopers, and Goodwin Procter.
The global consulting firm will combine its two current offices (located at Exchange Place and One Beacon), and move into a new 13-story office building in Tishman Speyer's Pier 4 Development by June 2018, BCG said in a statement.
The new building is located at 200 Pier 4 Boulevard, near Northern Avenue, and totals 370,000 square feet — 202,000 square feet of that will be reserved for 700 BCG employees, which the company plans to move into seven floors over the next two years.
"We see this new development as a great choice to support our dynamic organization and to position us for the future," said Simon Bartletta, a BCG senior partner and the managing director of the office at Exchange Place. "With its sweeping views of the harbor and modern, new workspaces, this is a destination for attracting and developing our firm's most valuable asset: its people. We are thrilled to have the opportunity to design the space from scratch and encourage new ways of teaming to deliver the most value for our clients."
The Pier 4 building will feature on-site retail space, a rooftop garden, a fitness center, bicycle storage, and three levels of parking, in addition to impressive views of the Boston waterfront.
The offices will also be eco-friendly, with Elkus Manfredi Architects of Boston building the structure for LEED Gold certification.
Currently, BCG occupies 146,000 square feet of space at its two downtown office locations. BCG has been a tenant at Exchange Place for 31 years and at One Beacon for 8 years.
The relocation is a nod to how BCG's work processes have changed dramatically in recent years, said Kathryn Bell, a BCG partner and the managing director of the One Beacon office, in a statement.
"Disruptive technologies have brought new opportunities for both virtual and physical collaboration, and an increasingly diverse workforce with new expectations is challenging us to continually innovate in our workplaces," Bell said.
BCG is often recognized as one of the top places to work in the country, recognized for its high-impact client work, collaborative culture, career flexibility and mobility, and progressive benefits.