Jobs
How these brothers-in-law turned their passion for brewing ancient beer into a business
George "Butch" Heilshorn and Alex McDonald opened Earth Eagle Brewings in Portsmouth, New Hampshire in 2012.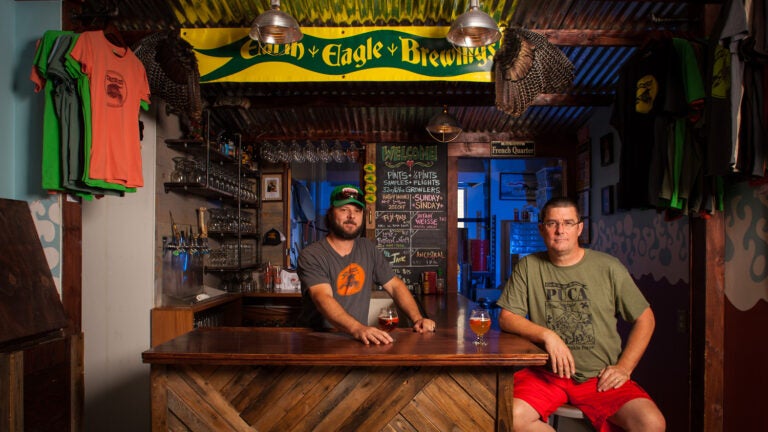 When George "Butch" Heilshorn's sister Gretchen began dating Alex McDonald back in 2000, the two men quickly discovered they had a shared interest: beer.
And not just any beer. Both men were really into "gruit ales," beers flavored and bittered using an old-fashioned herb mixture that was popular before the extensive use of hops.
"We hit it off," Heilshorn said. And the connection stuck.
A decade and a half later, McDonald is married to Gretchen and the two brothers-in-law have turned their unique beer obsession into a full-fledged gastropub in Portsmouth, New Hampshire called Earth Eagle Brewings, which offers live acoustic music,  "Empyreal Ales, Wonder Gruits, & Eclectic Nosh Daily."
But opening the pub and "nanobrewery" was a gradual process that Heilshorn and McDonald, neither of which had any previous business experience, had to figure out as they went.
A longtime high school guidance counselor with a master's degree in transpersonal psychology (which aims to meld modern psychology with a focus on more spiritual aspects of human life), Heilshorn was surprised to find a close friend in McDonald, a former welder for the Navy who had recently taken up massage therapy.
They began homebrewing together, incorporating their fondness for gruits.
Heilshorn's wife is an herbalist who runs an apothecary, so the men used what she foraged — anise seed, sweet gale, heather, juniper berries, mugwort, and yarrow — to recreate historical beers. They often attempted to brew ales found in the book "Sacred and Healing Beers," which features recipes dating back 10,000-30,000 years.
Soon, Heilshorn and McDonald were entering their gruits and other craft beers in local contests and winning awards.
Their popular "William Wallace Gruit" was made using heather tips and juniper berries, while a chocolate raspberry stout called "Obsidian" featured mounds of Ghirardelli chocolate. The positive feedback encouraged them to take their hobby more seriously, so McDonald and Gretchen found a space in Portsmouth, New Hampshire to open a homebrew store, A&G Homebrew Supplies.
"As more of the building became available, Alex and I started brewing there," Heilshorn said.
By 2012, thanks to a relatively new law in New Hampshire that permitted nanobreweries to serve small batches of specialty beers for just $240 per year, Heilshorn and McDonald were able to the open the doors of a tasting room to the public.
Guests delighted in the hard-to-find gruits, but also enjoyed the men's craft IPAs, porters, and ales with interesting names like Amarillo Danger and New England Gangsta'.
Heilshorn and McDonald came up with the name of the pub after they crossed paths with some wild turkeys on a walk in the woods, and McDonald said the birds were called "earth eagles" by Native Americans. Something about it stuck, though Heilshorn admits he's not entirely sure the etymology is rock solid.
The men have also hired a professional forager for the gruits, who goes out in the woods from April to October to retrieve "all sorts of goodies," ranging from mushrooms and dandelions, to burdock roots, pine, pollen, spruce, and balsam tips.
This summer, the pair plan to expand their pub to seat 80 or 90 by taking up real estate in their parking lot with picnic tables, and in the fall, their two-barrel business will grow to house five vessels.
With growth comes more work, but Heilshorn said he couldn't be happier with his "wonderful" career change, which allows him to be creative and experiment on a daily basis.
"We have a very different approach to most breweries who want to nail the same recipe over and over," Heilshorn said. "We do repeat some recipes, but with herbal beers the chances are, you're using different herbs and probably different yeast when the recipe circles around the next year. It keeps things interesting and us on our toes. It's exciting to not know exactly what will be coming out of the taps."