Jobs
How a Harvard-based startup aims to overcome the big data skills gap in Boston
Experfy, which consults companies on big data and tech practices, launched the training program this week.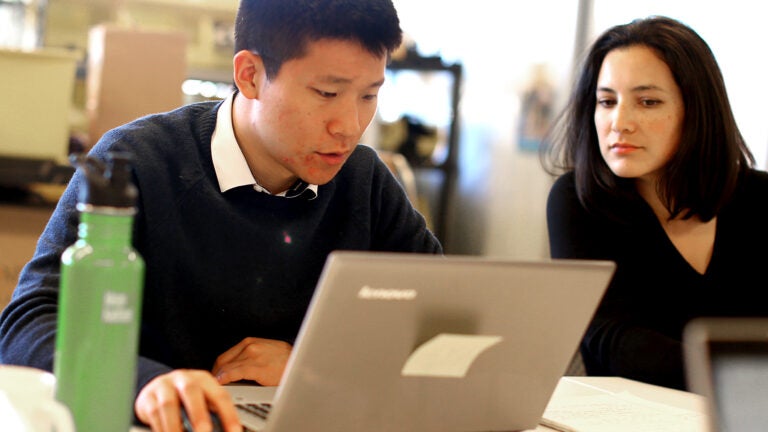 Students enrolled in a new training program based out of Harvard's Innovation Lab will get the chance to work alongside industry experts from Amazon, Apple, Harvard, and MIT on real-world problems involving big data and analytics.
The program, launched by big data consulting startup Experfy, aims to provide students with apprenticeships that will help them land jobs and close a skills gap many companies struggle to overcome.
Sarabjot Kaur, co-CEO of Experfy, told Boston.com that many of Experfy's clients say that job candidates possess adequate foundational skills but lack hands-on experience in big data and analytics projects.
"Big data is a recent phenomenon, so there's a scarcity of talent," Kaur said. That's where Experfy's training platform comes in.
Offering courses in data science, market research, operation analytics, cloud computing and much more, Experfy's instructors come from companies like Cisco, Nokia, Apple, TCS, AT&T and academic institutions like Harvard, MIT, and Columbia University.
Students can pick a specific track, like data analytics, and take five courses that tackle everything from probability and statistics (taught by two Harvard professors), to data wrangling (taught by a former data scientist from Cisco's Analytics Incubation Center).
Pricing for courses range from $50 to $500 depending on how much value the class adds, Kaur said. A big data course in the executive track called, "What Every Manager Needs to Know," for example, costs $400 because Sandra Hendren, the former chief data and analytics strategist at United Healthcare, instructs it.
Experfy will also offer niche courses like "Sports Injury Analytics" and "How to Cross-sell and Upsell Your Products and Services." Currently, 30 classes are offered, but Kaur said over 100 are in the pipeline. While some courses are instructor-led, others are self-paced and are offered online.
"Our pairing of students with data scientists and data engineers working on existing projects in our consulting marketplace to form an apprenticeship ushers a new educational model that is sorely needed by the industry," Kaur said.
Harpreet Singh, founder and co-CEO of Experfy, said he hopes the training platform encourages some students to harness their big data training to find work in Boston.
"We are fortunate to have some of the best schools here," Singh said. "We're producing the largest number of data scientists in the country, but there's definitely a brain drain. Lots of talent leaves Boston to go to Silicon Valley because companies there understand how to utilize big data and are keen on doing it…As the traditional industry becomes more savvy and embraces the movement of big data, the skills gap will only increase because there aren't enough people trained to handle that."