Jobs
This Boston engineer is helping build smarter and safer robots
Navid Aghasadeghi is a robotics software engineer at Rethink Robotics.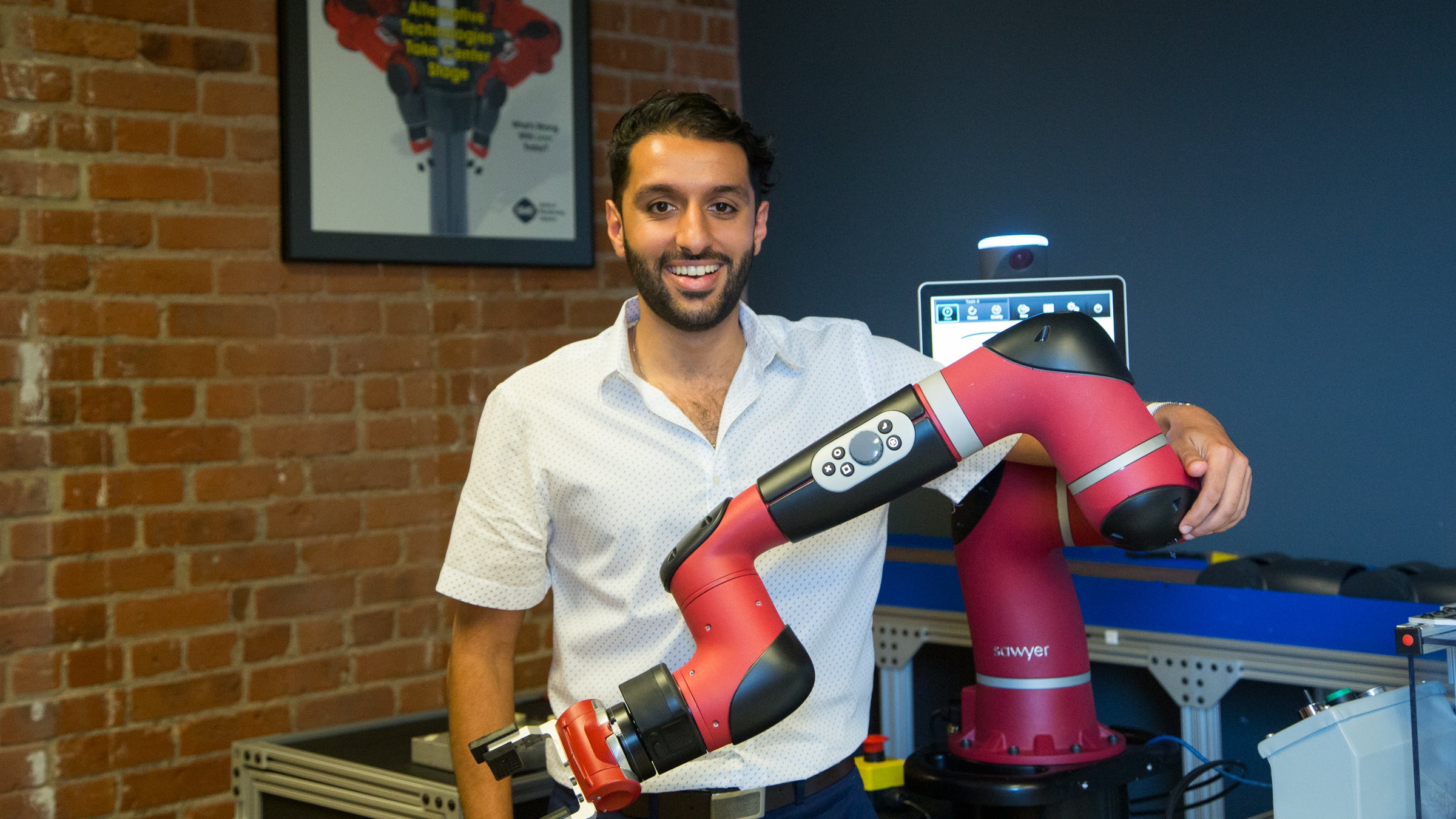 If you're an engineer who can't decide between working in hardware or software, you may want to consider robotics.
Navid Aghasadeghi, a Boston-based robotics software engineer with a PhD in electrical and computer engineering, said the mix of engineering skills he gets to use working with robots is part of what makes his job at Rethink Robotics so rewarding.
"I really enjoy the fact that to make a robot there's a bunch of different expertise that has to come together," Aghasadeghi told Boston.com on a recent summer day. "You have to know a little bit about different fields and think outside the box."
Rethink Robotics is a company pioneering advanced robotic technology, creating the next generation of industrial robots that can be used safely in manufacturing factories and research settings alongside humans.
Baxter is one of Rethink's most famous creations.
Described as "safe and flexible," the bright red robot stands over six feet tall and has been incorporated into many companies' workforces to perform monotonous jobs like line loading, machine tending, packaging and material handling.
Since his world debut in 2012, Baxter has been used by companies like Vanguard Plastics in Southington, Connecticut, all the way to Shanghai Electric in China.
Baxter was deemed such a success that Rethink developed another high performance robot, Sawyer, who excels at a wider range of tasks, like machine tending, circuit board testing, and other precise movements.
Aghasadeghi's job is to make sure any movement by the robots is "smooth and purposeful," he said.
While this may sound simple, Aghasadeghi said it requires a fascinating combination of being able to code control algorithms that tell the robots what to do, while also understanding the physical mechanics of how the robots' hardware might interpret this.
For example, the arm of Sawyer has seven joints, so to move the arm from one place to another, Aghasadeghi has to know how to control seven motors through their hardware and software.
"It's very unique," the 29-year-old said, but he's well-suited for the task, as his job prior to Rethink involved designing prosthetics that move like actual limbs for patients at the Rehabilitation Institute of Chicago. "Controls sit right in the middle of needing to understand the low-level details of its mechanics and the high-level details of the software that's going to control it."
But the challenge of his job makes it worthwhile, Aghasadeghi said, and the soft-spoken University of Illinois at Urbana-Champaign grad couldn't help smiling when he showcased Sawyer's capabilities.
Within minutes, Aghasadeghi taught Sawyer a new task by moving the robot's huge arm through the desired motion and selecting from a number of preprogrammed actions using dial controls.
Aghasadeghi explained how Sawyer's motors compensate in response to your touch, which makes the heavy limb easy to move through the air.
Sawyer and Baxter are also safe.
Moving gently and slowly, the robots have an array of sonar sensors that can detect human movement. If they come into contact with someone (or something), the robots are programmed to stop moving instantly.
"The main idea is we want to make robots easy to train and can fit them into a range of tasks and applications," Aghasadeghi said. "You could have a company that builds any product, like toothpaste, and want to package them into boxes and typically you'd have a person with a very boring job packing toothpaste into boxes. Now you can just train Baxter or Sawyer to do this."
Contrary to many hyped-up theories about robots stealing all low-level jobs, Aghasadeghi said he thinks collaborative robots like Baxter and Sawyer will actually open new opportunities for workers.
"Many manufacturers using these robots are not getting rid of the people working there, they're just giving people a new task like robot operator or letting them take over something that requires more autonomy and technology," he said. "We're helping the general quality of life for people."