Jobs
Maura Healey just OK'd a ballot question to keep gig workers as independent contractors. She's also fighting the idea in court.
"We better be able to walk and chew gum at the same time."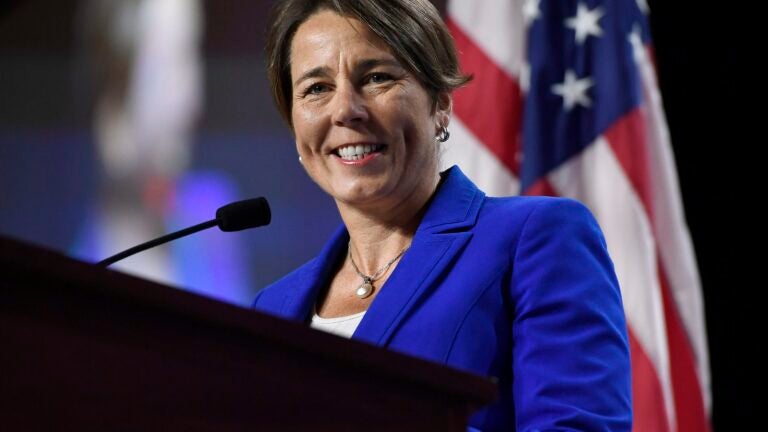 On Sept. 1, Attorney General Maura Healey gave the go-ahead to a ballot question that, if approved by voters, would maintain gig workers, such as Uber and Lyft drivers, as independent contractors.
At the same time, Healey and her office continue to spearhead a lawsuit against Uber and Lyft that accuses the rideshare companies of denying benefits to workers — whom she believes should be classified as employees, not contractors, under Massachusetts law.
On GBH's Boston Public Radio segment "Meet the AG" Tuesday afternoon, host Jim Braude asked Healey to clarify the two simultaneous actions.
"We better be able to walk and chew gum at the same time," Healey said. "Under the state constitution, there's a process that allows regular folks to go ahead and get things on a ballot for a vote, and that happens every year … There may be litigation, there may not be litigation, but that's just the hat that I wear as attorney general."
Healey noted that her job is to review the ballot question's language and to see whether or not it satisfies the legal requirements to make the ballot, regardless of her personal preference.
The ballot question garnered much attention in recent months as supporters — including a coalition of app-based businesses like Uber, Lyft, DoorDash and Instacart — argued that by keeping workers as independent contractors, the workers would be able to have more freedom with their job and set a minimum earnings guarantee.
Opponents of the ballot question — like Healey — have said that it would continue to allow gig economy employers to provide less security for those who work for these companies. Throughout the pandemic, these companies have seen pushback from both gig economy workers and users on the treatment of employees.
"As the economy grows, and work and the type of jobs change, there's something they have to abide by," Healey said. "We need to continue to treat workers fairly in this country, we need to make sure they're not exploited."
Healey's lawsuit, which was first announced in July 2020, asserts that rideshare drivers and similar workers should qualify as employees rather than independent contractors under Massachusetts Wage and Hour Laws.
In the lawsuit, Healey said her fair labor team determined that, under state law, gig workers should have access to minimum wage, earned sick time and other benefits and labor rights an employee would have. In March, the Suffolk Superior Court denied Uber and Lyft's motion to dismiss Healey's lawsuit.
"Yes, gig workers and the gig economy are super convenient for all of us as consumers, right. There's a price for that. And as we move forward with this gig economy, certain principles have got to abide. That's why we have employment laws here in Massachusetts, and that's why I'm in court against Uber and Lyft," she said.
Newsletter Signup
Stay up to date on all the latest news from Boston.com