Jobs
Workers don't have to hush for severance anymore. Here's why it matters.
The NLRB has determined that certain nondisparagement and confidentially agreements violate the National Labor Relations Act.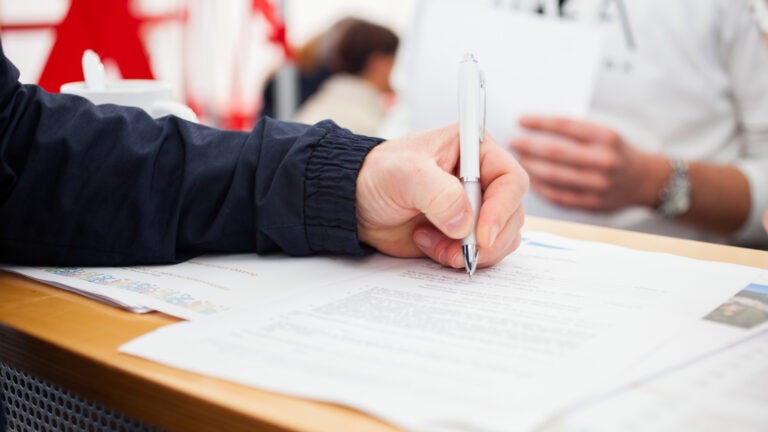 Employers can no longer limit workers' ability to speak about their company in exchange for settlement or severance payments, according to a recent ruling by the National Labor Relations Board.
Such agreements, including broad nondisparagement and confidentiality requirements, are widely used in layoffs or workplace legal disputes as a way for employers to ensure that employees won't bad-mouth the company after the ink dries. But the NLRB has determined that these provisions violate the National Labor Relations Act if they ask workers to waive their rights, such as their ability to discuss the financial terms of their departure or how they were treated by the company.
The ruling arrives at a time when companies across tech, finance, media and professional services are undergoing layoffs, and as workers continue to reevaluate their relationships with employers in the wake of the Great Resignation. Airbnb, Citigroup and General Motors all announced staff reductions in the past week.
Here is what this means for parties on both sides.
What are NDAs and confidentiality clauses?
A nondisparagement agreement, or NDA, is a promise by an employee not to say anything negative about a former employer. Confidentiality provisions bar workers from disclosing any proprietary or sensitive information about their former employer.
The use of NDAs and confidentiality provisions has been "standard practice for a very long time" in settling litigation. But they have gradually become far more common in severance agreements in recent years, said James M. Cooney, a labor and employment law expert at the Rutgers School of Management and Labor Relations.
"Employers often insert such provisions into severance agreements to preclude disclosure of things like trade secrets, customer lists and financial data," Cooney said. "However, some employers also include broad waivers of a former employee's right to disclose anything deemed disparaging or confidential, such as allegations of a discriminatory or unsafe work environment."
What was case behind the ruling?
Eleven employees were furloughed from a Michigan hospital in June 2020. In exchange for severance, they entered into agreements that required them to keep the terms of their exit confidential and barred them from publicly disparaging the hospital.
Such agreements violate the National Labor Relations Act when they are so broad that they prevent workers from engaging in protected activity such as helping other employees navigate workplace issues, talking with their union or publicly discussing employment conditions, the NLRB ruled.
These agreements don't even have to be signed to be deemed problematic, the board noted: If the firm merely presents employees with agreements that contain broad language requiring confidentiality or nondisparagement, it is engaging in an unfair labor practice.
"A lot of employers love these nondisparagement provisions … because of their deterrent effect," said Kenneth Jenero, partner at Holland & Knight in Chicago. "Employees might look at this and say, 'I don't really want to open up a can of worms, because if I do, maybe they'll assert that I'm violating the agreement.'"
Is the decision legally binding?
In principle, yes. The decision is "the law of the land in the eyes of the NLRB," said Steven Bernstein, regional managing partner at Fisher Phillips, a labor and employment law firm.
However, employers are likely to appeal the ruling, which could tie it up in the courts for years. And the NLRB is strongly influenced by the political party in power, meaning another reversal could come under a future Republican administration, Bernstein said.
This most recent ruling is itself a reversal of NLRB standards under President Donald Trump's administration, which had determined that employers could ask employees to keep quiet about the terms of their exit in exchange for severance.
What does this mean for employers?
For companies, this ruling represents a "big departure" because such clauses are "absolutely standard in separation agreements and settlement agreements," according to Steven Suflas, a labor attorney with Holland & Hart.
Employers should think carefully before including such language in separation agreements, Suflas added. One risk-free solution would be to delete these provisions entirely.
Otherwise, employers could also attempt to include "carve-out language" that signals the restrictions do not prevent employees from filing charges with the Equal Employment Opportunity Commission or the Labor Department, Suflas said. But that could still be legally risky, given that the NLRB did not address the issue of "carve-out language" in the opinion and could still interpret it as infringing on employees' rights.
What does this mean for employees and severance negotiations?
A private-sector employer may no longer lawfully ask a former worker to waive their rights to engage in protected activity, such as sharing information about health and safety violations by their employer on social media or with a member of the press, Cooney explained.
However, an employer will still be able to ask an employee to sign a properly drafted severance agreement, such as one with a confidentiality provision prohibiting the disclosure of trade secrets, he noted.
This decision gives employees more freedom to engage in protected activity after they part ways with a company, voluntarily or otherwise. But given that employees can be much more open about the circumstances of their departure, it could also alter the dynamics of severance negotiations.
The decision also leaves the door open for retroactive legal action. If an employee signed a severance agreement with broad NDAs or confidentiality provisions within six months before the ruling, it would fall under the statute of limitations.
Notably, large classes of employees would still fall outside the decision. It does not apply to agreements with managers or other supervisory employees, who are broadly exempted from the National Labor Relations Act. Public-sector employees, airline and railroad workers, and independent contractors are also not covered.
Boston.com Tonight
Sign up to receive the latest headlines in your inbox, every night.