Lifestyle
Drinking Laws in Massachusetts Aren't Puritanical — They're Worse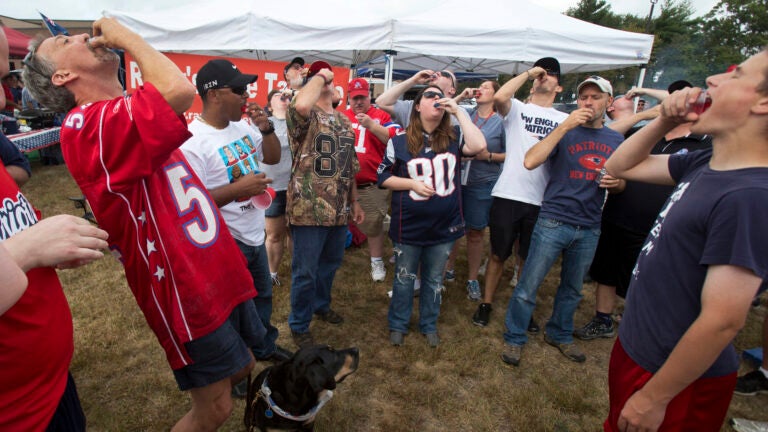 From the very moment the first colonists set foot on the land that would become America, our country has been inundated with thirsty settlers. This nation was founded by people who transported barrels of beer, rather than water, on their voyage across the Atlantic.
Alan Taylor, a visiting professor at the University of Virginia who specializes in colonial North America, said the colonists wasted no time licensing taverns.
"Alcohol was a requirement of life,'' Taylor said. "People believed that if you were doing physical work, you needed alcohol. Employers were expected to give alcohol to the people who worked for them, from teenagers, because there was no drinking age, to adult men.''
Although our founding fathers (and mothers) clearly had an affinity for alcohol, Time magazine ranked modern-day Massachusetts as one of the worst states to drink in. And, last month, a federal judge set a trial date for three people of as many as 1,000 who were detained during concerts at Gillette Stadium in the summer of 2012. Police said they held the three because they were suspected to be dangerously intoxicated.
Being drunk in public, whether at a concert or while outside a pub, isn't a crime in Massachusetts, and hasn't been for more than 40 years. In 1971, the state amended a Colonial-era law prohibiting public drunkenness.
In its place, the state adopted the Protective Custody Law, which allows police to detain people they deem incapacitated.The law describes this as "unconscious, needing medical attention, or likely to cause harm to themselves or property.'' Officers can hold people for up to 12 hours or until they'reno longer drunk, whichever comes first. The plaintiffs are suing because they say the actions of the Foxborough police violate both the Fourth Amendment—which protects against illegal search and seizure—and the Protective Custody Law.
The case is just the latest manifestation of the state's restrictive alcohol laws. From happy hour bans to towns where you can't drink at all, here are some of the ways in which Massachusetts alcohol laws leave residents out to dry:
No happy hours
In 1984, the hours after work stopped being "happy'' and became just "meh'' when Gov. Michael S. Dukakis's happy hour ban went into effect. The regulation prohibits bars from placing any word in front of "drink'' to designate it as special. The naughty list includes, but is not limited to, "free,'' "discount,'' "unlimited,'' or "jumbo.'' And, technically, customers are only allowed to buy two drinks at once, which is the built-in excuse to never buy a round for your coworkers.
As frustrating as it might be that there's nowhere in the state to get a "dollar draft,'' the restrictions exist for a good reason. The ban was enacted after a 20-year-old Weymouth woman died in 1983 at what was once the Ground Round in Braintree in 1983. She was riding on the hood of a car, fell off, and was pinned underneath the vehicle. The driver of the car, a friend of the woman, was said by the Massachusetts Alcoholic Beverage Control Commission (ABCC) to have had at least seven beers in less than three hours as part of a happy hour deal at the restaurant.
Some regulations, like the happy hour restriction, are reactions to a tragedy, said Daniel Okrent, author of Last Call: The Rise and Fall of Prohibition. But the framework of alcohol laws in Massachusetts was laid in place when prohibition was repealed, and the laws have largely remained in place ever since.
Today "happy hour'' deals in Boston, if they exist, discount food rather than alcoholic beverages.
Free drinks will make a sort-of comeback, however, when the Plainridge Park Casino in Plainville opens in June. Massachusetts's first slots parlor will serve free drinks in the "gaming area,'' but not in the attached restaurants or hotels due to the 2011 Gaming Act.
No drinking games
Part of the happy hour ban states that bars are prohibited from encouraging drinking games.
In 2013, the ABCC also banned "water pong,'' the G-rated version of beer pong, because it encouraged participants to drink as a punishment for performing poorly in the game. (To be fair, very few adults want to be in the presence of a game like flip cup at a drinking establishment, anyway.)
Your out-of-state ID won't always work
Your booze venues are limited if you're carrying a driver's license from outside of Massachusetts. At TD Garden, you can only use an out-of-state license as a valid form of ID if you're at least 25 years old. If you're under 25, and want to nurse a small $8 draft as you watch the Bruins lose, you need to bring a passport.
Of course, this is a self-imposed regulation by Sportservice, the company that operates food and beverage concessions at TD Garden and the XFinity Center in Mansfield. But there are other places in Massachusetts where an out-of-state ID means you won't get service. Framingham updated its alcohol policy in 2008 so that out-of-state licenses were no longer a valid proof of age.
There are towns where you can't drink at all.
Prohibition was repealed in 1933, but people in eight Massachusetts towns are still living in a dry spell, according to the ABCC. That number has decreased over the past 15 years, when the commission recorded 20 dry towns in 2000.
Interestingly enough, all of the remaining dry municipalities are classified as "towns,'' rather than "cities,'' and three of the towns—Chilmark, Gosnold, and West Tisbury—are on islands.
Punishments for being publicly intoxicated
Although the plaintiffs in the Foxborough case who were detained and forced to miss their concerts were undeniably upset, their punishment would have been worse if they'd lived here in previous centuries.
In articles dating back to at least 1899, The Boston Globe questioned the best way to punish drunk Bostonians. In an article from March 1899 titled "Are the Present Drunk Laws Ineffective?'' Spencer Baldwin, a member of the mayor's advisory committee on drunkenness (yes, that existed), wrote that the punishment at the time was "most unsatisfactory.''
First and second offenders were given a $15 fine, which is the modern equivalent of $428. The third time, offenders were given a jail sentence of up to a year. Baldwin wrote that from September 30, 1898, to September 30, 1899, there were 35,513 sentences for "drunkenness'' in Massachusetts, but more than 61 percent of those were fines rather than jail time. (The population in 1900 was 2,805,346, according to the U.S. Census Bureau). Still, rather than impose a jail sentence, Baldwin argued, "simple drunkenness'' should be punished with severe labor.
In 1913, The Globe wrote "… drunkards are sent to the State Farm every day, where they work out the liquor in their systems by loeing cornfields.'' The State Hospital, which was located in none other than Foxborough, sent patients who were being treated for alcoholism to the State Farm in Bridgewater.
That same year, The Globe also reported that a man was sentenced to "one hair cut,'' because his "long, unkempt locks were too much for the court when the prisoner was being arraigned for intoxication.''
In 1934, The Globe said a Boston judge, who was not named, defined drunkenness as a man, who, while rolling on the ground, clung to the grass blades to keep from falling overboard. Instead of employing the judge's vivid description, police adopted the charge of "under the influence'' to cover all types of intoxication, from the type that makes you go without a haircut to the type that made men cling to grass.