Lifestyle
The Boston Yeti returns in time for Saturday's blizzard
"I'm not feeling salty about this pending snowstorm…"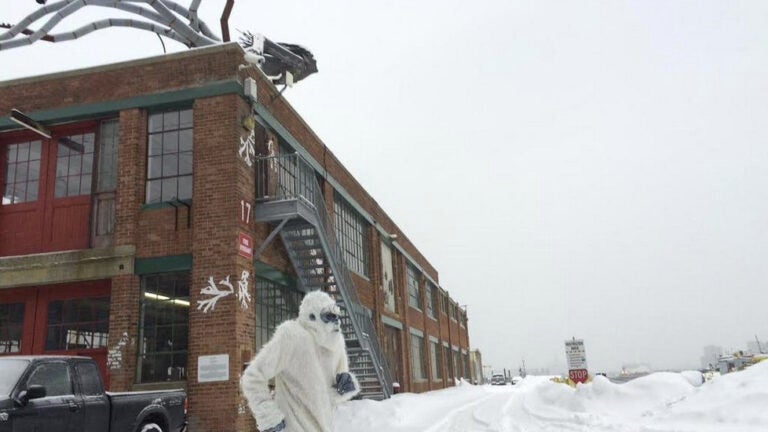 The enormous winter storm that is heading for the region is summoning up a beloved Boston icon.
The Boston Yeti is back.
The Yeti, which is actually 37-year-old Somerville resident John Campopiano dressed in a furry, white yeti costume, first made his appearance in 2015 when he was spotted shoveling out cars and sidewalks after one of that winter's many blizzards.
Campopiano has donned the Yeti costume now and again since 2015, each time garnering public attention due to the sheer weirdness of a yeti shoveling snow on the streets of Boston.
He typically makes his presence known on Twitter, where he has over 7,600 followers.
On Friday night, ahead of this weekend's winter whiteout, he tweeted for the first time since August 2021.
"I'm not feeling salty about this pending snowstorm. In fact, I'm EXCITED! It looks like this storm is gonna be a doozy. Btw, I've missed you all. Thank goodness
@MattNBCBoston has been keeping us all informed. Be safe and stay Yeti ready. See you in the snow xo. #bostonyeti," he tweeted, along with a photo of a Morton Action Melt ice melt jug.
Yeti fans and followers rejoiced Friday night after the local icon announced he was ready for Saturday's storm, which could dump two feet or more in the Boston area.
"If you are [new] to Boston snow, there is someone dressed as a Yeti, or perhaps an actual Yeti, who emerges to shovel where needed. It is magnificent. You can follow said monster mensch at @BostonYeti2015. Hope we see goodness this weekend," tweeted John Gallaugher of Chestnut Hill.
Boston Yeti flaunts a pic of him posing with former Boston Mayor Marty Walsh as his Twitter profile background photo. He's also not shy about retweeting his fans, as well as media coverage.
Campopiano told the Boston Globe in 2018 that he first pulled out the yeti costume and took to the snowy streets as a gag — he's always had a fascination with monsters — but after getting so much recognition, he decided to run with the identity.
"I'm definitely cognizant of the expectation that the Yeti is coming out once the flakes start flying," he told Globe at the time. "I take the job seriously in terms of recognizing that lots of people look forward to hearing from him and seeing him on social media when the weather takes a turn for the worse."
Here's a look at some of the excitement around the Yeti's 2022 return:
Newsletter Signup
Stay up to date on all the latest news from Boston.com