COVID
Live updates: The latest news on the coronavirus outbreak in New England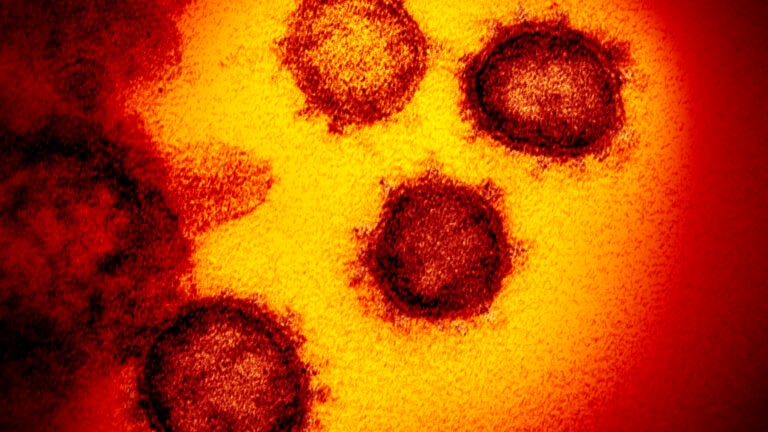 Note: The previous week's coronavirus live updates can be found here. The next week's coronavirus updates can be found here. 
Massachusetts received 100 ventilators from the national stockpile on Saturday night, Gov. Charlie Baker said Sunday. He said anticipates more to come incrementally.
The 100 ventilators is a fraction of the "at least 1,000" ventilators in the state's request, which had been approved, from the National Strategic Stockpile. The ventilators were expected to arrive by the first week of this month.
Baker said the ventilators were unpacked Sunday morning, and he anticipated them being sent off for use throughout the state "over the course of the next 24 hours."
"We believe that the process, as it's been laid out to us, is going to be an incremental one," Baker said during his press briefing Sunday afternoon. "We don't believe this is the last shipment. We fully expect that we'll get additional ventilators over the course of the next two weeks."
The Massachusetts Teachers Association is urging lawmakers to cancel the MCAS tests this year, after the state's House of Representatives voted this week to give Education Commissioner Jeffrey Riley the power to require that school districts administer a "modified" version of the exams. 
"Our number one priority is to tend to the safety and well-being of students, their families and our educators," Merrie Najimy, president of the association, said in a statement. "Any remote learning that is happening should focus on creative efforts to help students stay connected to their educators and each other, as well as to deepen their understanding of material they have already learned — not prepping for a test."
The MTA is calling for the Senate to pass a bill canceling the MCAS for the year and for the House to reverse its earlier vote. Najimy said in a statement she is concerned that Tiley has not said publicly whether he would cancel the tests, if given the power to do so, and she said the association has not been given information about what a modified exam would look like.
She called for transparency from the Legislature in the midst of the COVID-19 pandemic. Currently, Gov. Charlie Baker says schools will be closed through May 4 to help slow the spread of the novel coronavirus.
"Our world has been turned upside down," Najimy said. "Even if we do go back to school before June, it will be impossible to return to business as usual. Threatening to require students to take a test is not only a colossal waste of time – it is inhumane. Our members tell us that their students and their families are under unprecedented stress. Families are worried about their health and the loss of their jobs and are coping with being cooped up at home. They don't need something else to worry about right now, which is why so many states, including New Hampshire and Maine, have already canceled their testing requirements." 
An inmate at the Massachusetts Treatment Center (MTC) in Bridgewater who died after suffering a stroke Thursday has tested positive for COVID-19, the state Department of Correction said Friday.
"The Department of Correction was notified today that an inmate who died in the care of a local hospital yesterday after a stroke has tested positive for COVID-19," officials said in a statement. "The inmate had been transported from the Massachusetts Treatment Center to the hospital on Wednesday after complaining of pain and difficulty walking."
Officials said the inmate was a man in his 70s with underlying health conditions who had been incarcerated with the DOC since 2014 and held at MTC since 2016. He did not show symptoms of COVID-19, according to the department.
The announcement comes a day after the DOC said an inmate at MTC died while hospitalized with the coronavirus.
The man, who was in his 50s and had underlying health conditions, had been incarcerated with the DOC since 1993, according to officials. He had been held at the treatment center since 2018.
According to officials, the inmate was immediately quarantined after he became symptomatic and, when his condition worsened, was brought to the hospital, where he tested positive for the coronavirus and remained for 10 days.
"The DOC continues to utilize enhanced health and safety protocols at the MTC, including strictly limited movement within the facility, alcohol-based hand sanitizer, and in-room meals and medical treatment," officials said Friday. "DOC leadership, staff, and our contracted medical provider, Wellpath, are focused on reducing, to the greatest degree possible, the potential impact of this virus on our approximately 8,000 inmates."
The deaths come as advocates and attorneys have pushed for prosecutors and state court officials to reduce the incarcerated population in Massachusetts prisons and jails to help prevent the spread of COVID-19. On Friday, the state Supreme Judicial Court ordered that pretrail detainees held on bail and who have not been found dangerous or have not been charged with a violent or excluded offense are entitled to a hearing within two business days of filing a motion, "where they will be entitled to a rebuttable presumption of release," the ACLU of Massachusetts said.
As of Friday, there were 25 inmates with confirmed virus cases: 23 at the Bridgewater facility and two at Massachusetts Correctional Institution-Shirley, according to the DOC.
Fifteen department staffers have also been diagnosed with COVID-19, and two members of the prison system medical provider staff have also been confirmed with the virus, one at MTC and another at MCI-Framingham, the DOC said.
The Animal Rescue League of Boston will launch an initiative to allow pet owners struggling to provide for their animals or who have fallen ill to temporarily surrender their pets to the organization, The Boston Guardian reports.
The shelter will take in pets of residents who are hospitalized with COVID-19 or who have been displaced from their homes as a result of the coronavirus pandemic's economic fallout, according to the newspaper. The animals will then be reunited with their owners once a situation resolves or stabilizes.
"Why should we take your pet and rehome it when it already has a home?" Dr. Edward Schettino, the ARL's vice president of animal welfare and veterinary services, told the newspaper. "Now, within a couple of weeks you'll be able to be reunited."
The program comes after the ARL put its adoption services on hold late last month and paired animals up for adoption with permanent homes or foster families, the Guardian reports.
The ARL is also working with Action for Boston Community Development, or ABCD, and Boston Senior Housing to get free pet medical care, supplies, and food for owners in need, according to the newspaper.
Massachusetts Gov. Charlie Baker announced that on Sunday a new drive-thru coronavirus testing site for first responders will be set up in a parking lot at Gillette Stadium in Foxborough.
"The test will be provided to police officers, firefighters, and other public safety personnel, and it is free of charge," Baker said.
Up to 200 tests will be conducted daily at the site, the governor said. 
Massachusetts is among the states the USDA has granted a waiver to, allowing the issuance of emergency allotments, or supplements, to SNAP recipients based on the public health emergency declared for the novel coronavirus. The allotment will bring the SNAP payment to the maximum monthly amount for the household size.  
By federal law, households that currently get the max amount will not get more SNAP.

Info on #COVID19MA & #DTA: https://t.co/bXqjXU1B9Y

Latest updates on #COVID19:
🖥️ Visit https://t.co/zoNZtzVT1Z
📞 Call @Mass_211
📱 Text COVIDMA to 888-777https://t.co/UiTi8R5SlP

— Mass. Department of Transitional Assistance (DTA) (@DTA_Listens) April 1, 2020
Mortuary trucks pulled up to the Wallace Civic Center in Fitchburg this week, preparing to convert the Landry Arena into a temporary morgue for COVID-19 related deaths. 
For decades, the Massachusetts Emergency Management Agency has cited the Civic Center as an area for possible emergency efforts, Fitchburg Mayor Stephen DiNatale said in an update to the community on Wednesday. 
He said the local fire department and Fitchburg State University have been working with the Office of the Chief Medical Examiner to host contingency plans, getting ahead of any possible surge in mortuary services.
"This temporary facility will provide increased short term capacity for cities, towns, and medical facilities, if necessary, in the event of an increase in decedents or a decrease in the mortuary workforce," DiNatale said in his announcement. "Hospital mortuary space varies widely across the commonwealth."
He said the temporary morgue, situated in the university's former ice rink, will not pose any risk to personnel or the public. 
"The staging area will, if necessary, act as a bridge between health care facilities and funeral homes and crematories," DiNatale said. "This will allow mortuary service providers to keep their services operating in a way that's safe for staff and respectful of each decedent."
Governor Baker suggested during his Wednesday briefing that the next field medical station for non-critical coronavirus patients may be at the Boston Convention and Exhibition Center in Seaport.
The first medical station, which members of the National Guard began setting up Wednesday, is in Worcester's DCU Center. The sports arena is currently being converted into a 250-bed field hospital and Baker said state health officials are looking for similar sites throughout the state, furthering similar operations as Mass. prepares for a surge in COVID-19 patients needing care. 
"There are two for sure, one here and one at the BCEC in Boston," he said at the press conference. "We're also looking at other sites around the commonwealth."
While officials haven't reported any finalized plans, Baker said large arenas and convention centers are the most practical due to their sprawling, open layouts. 
"That's a much easier answer than trying to find a way to work within the confines and the framework of either dormitories or hotels," he said. 
Though he suggested hotels and dormitories may still be used to support healthcare workers, or as places for isolation. 
Baker said he and the lieutenant governor are in daily conversations to determine where else they may need to expand hospital capacities. Aside from field medical stations, he said his administration has discussed skilled nursing facilities and strategies to implement in regions across the state like Western Mass., the Cape, the South Coast, and Merrimack Valley. 
<hr>
<hr>
The Registry of Motor Vehicles has extended all passenger plate registrations that expired in March or are set to expire in April by 60 days, according to a news release. 
All driver's licenses, ID cards, and learner's permits that expired, or will expire, between March 1 and April 30 have also been given a 60-day extension.  
Additionally, any annual motor vehicle safety and emissions inspection stickers that expire on March 31 or April 30 have been extended by 60 days. 
All extensions were effective as of Wednesday, April 1, according to the release.
The RMV has implemented a strict no walk-in policy to the limited locations remaining open at Boston/Haymarket, Brockton, Fall River, Lawrence, Pittsfield, Plymouth, Springfield, Worcester, Milford, and Wilmington. 
Officials said all residents who need to make in-person transactions must make a reservation at one of the eight open service centers.
The following number of health care workers have been diagnosed with the novel coronavirus, according to information made available from the hospitals as of noon on Thursday:
Anna Jaques Hospital: 1

Beverly/Addison Gilbert Hospitals: 16

Beth Israel Deaconess Medical Center: 90

BID-Milton: 6

BID-Needham: 6

BID-Plymouth: 2

Lahey Hospital & Medical Center: 54

Mount Auburn Hospital: 15

New England Baptist Hospital: 5

Winchester Hospital: 19

BILH Behavioral Services: 1

BILH Continuing Care: 1

BILH Primary Care: 16

Brigham and Womens

:

125

Tufts Medical Center: 70

Mass. General

:

139 *

The hospital says it believes the "vast majority" of employees did not contract the virus while at work, given the "extent of community spread" in Massachusetts.
Officials say the number of deaths at the Holyoke Soldiers' Home related to the outbreak of the novel coronavirus has risen to 15. Massachusetts Gov. Charlie Baker has ordered an independent investigation into how the outbreak was handled by managers at the facility, after allegations were made that the grim details of the situation were not reported correctly to local and state public health officials. 
The facility's superintendent, Bennet Walsh, who was placed on paid administrative leave on Monday, released a statement denying any wrongdoing and saying he looks forward to participating in the investigation.
"At no time did I, or anyone on my staff, hide, conceal or mislead anyone regarding the tragic impact of the virus and it would be outrageous for anyone to even think of doing such a thing," Walsh said in a statement obtained by Boston 25 News. 
NEW: Holyoke Soldiers' Home Superintendent Bennett Walsh releases a statement denying any wrongdoing as 2 more veterans die, bringing total number of deaths to 15. 6 have tested positive for COVID-19. The test results for 6 others are pending. 2 tested negative & 1 unknown. pic.twitter.com/suDyGx2Zdi

— Mike Saccone (@mikesacconetv) April 2, 2020
Thirteen people at a Brockton homeless shelter have tested positive for the novel coronavirus, the Brockton Enterprise reports. Brockton Neighborhood Health Center conducted swabs of 54 people at the MainSpring House, which resulted in the 13 positive results, and testing will continue throughout the week, according to the newspaper.
City, state, and local partners are setting up heated tents for the city's homeless to help relieve the strain on the city's shelter, which has been packed since the state of emergency was declared in March, according to the Enterprise. 
"The close quarters in the MainSpring facility make it nearly impossible to maintain the social distancing necessary to prevent the spread of COVID-19," Sue Joss, CEO of Brockton Neighborhood Health Center, said in a statement to the newspaper. "The tents will allow guests at MainSpring to spread out and keep their distance from each other. BNHC is supporting this effort by testing MainSpring staff and guests for the virus and providing medical support and guidance to this effort."
FALMOUTH, Mass. (AP) — A hospital on Cape Cod is closing its maternity and inpatient pediatric units and making the space available for a potential surge of coronavirus patients, a hospital official said.
Cape Cod Healthcare, which runs Falmouth Hospital, has been considering the move for some time due to a steep decline in the number of births at the facility in the past decade, but the coronavirus pandemic accelerated the process, Cape Cod Healthcare President and CEO Michael Lauf told the Cape Cod Times.
The Falmouth Hospital units will be shut down as of Monday, and they will be absorbed by Cape Cod Hospital in Hyannis, Lauf said.
Nurses who work at the Falmouth units will have an opportunity to apply for other jobs within the system, he said.
The Massachusetts Nurses Association criticized the closure, calling it a "callous decision."
It is with heartbreaking sadness today that we can confirm the first pediatric fatality in Connecticut linked to #COVID19. A 6-week-old newborn from the Hartford area was brought unresponsive to a hospital late last week and could not be revived. (1/3)

— Governor Ned Lamont (@GovNedLamont) April 1, 2020
This is a virus that attacks our most fragile without mercy. This also stresses the importance of staying home and limiting exposure to other people. Your life and the lives of others could literally depend on it. Our prayers are with the family at this difficult time. (3/3)

— Governor Ned Lamont (@GovNedLamont) April 1, 2020
As of 5 p.m. Tuesday, Massachusetts public health officials reported that 5,176 people in the state were currently subject to monitoring or quarantine for COVID-19 — a 3,029 person increase from last week.
Officials also reported that 3,218 people had completed monitoring and were no longer in quarantine.
The state's data is updated every Wednesday by noon.
The Archdiocese of Boston is monitoring eight priests who have tested positive for COVID-19, according to a statement emailed to Boston.com.
Six senior priests are receiving care both at home and in the hospital, Terrence Donilon, an archdiocese spokesman, said Wednesday. He said two parish priests have recovered and completed their quarantines.
Along with following CDC and Department of Public Health guidelines, Donilon said officials notified state and federal agencies.
"In addition, people who have recently been in the company of these men have been notified," the statement reads. "Regarding retired priests, they have been, are now and will continue to be tested as needed and, in every case, the prescribed quarantines are strictly observed for the protection of all, including their caregivers."
Donilon said a team is proactively monitoring retired priests, and is currently tracking and reporting every suspected case. 
"We pray for these priests that they are returned to health as quickly as possible. And we pray for all of our people who are suffering from this disease," he said. "As is widely understood, COVID-19 does not discriminate in who or how it attacks."
As Springfield police officers are quarantining, leaving the department short-staffed, state police have deployed 16 troopers to help fill the gaps.
MSP deploys 16 Troopers to Springfield to staff shifts around the clock to mitigate city police patrol shortages caused by quarantines. More here: https://t.co/3MMZu9o1xZ pic.twitter.com/1kiPo6FISV

— Mass State Police (@MassStatePolice) March 31, 2020
State police announced the assistance Tuesday, saying troopers will be providing immediate response to emergencies and assisting at critical incidents, among other duties.
 "This addition will help augment and supplement our local police operations as we continue to initiate proactive measures to stay ahead of this ongoing COVID-19 situation," Springfield Mayor Domenic Sarno said in a statement.
State Police Col. Christopher Mason said all the re-assignments to the city will last indefinitely. 
"Our current deployment into the city, amplifying the strong efforts of the Springfield Police to maintain safety in the community during this public health emergency, is the latest challenge that our two departments will confront and overcome together," he said.
The new deployment in Springfield is one of many aiding local police departments facing COVID-19, troopers said.
State police now working in Springfield will wear their own uniforms and drive marked MSP cruisers, but will carry Springfield police portable radios.
The Boston Water and Sewer Commission is reminding people that COVID-19 is not in their drinking water, asking people to drink tap instead of stockpiling bottled water. 
"Your award-winning Boston tap water, which is tested daily, is safe for drinking, cooking, and for all other household uses," officials said in a public service announcement posted to Twitter on Tuesday. 
As we face the Coronavirus crisis together, Boston Water and Sewer Commission has an important public service announcement to share with all Bostonians: Boston's drinking water is safe to drink. COVID-19 is not in the drinking water. Please view the following video: pic.twitter.com/QjP3d3NRLI

— BWSC (@BOSTON_WATER) March 31, 2020
The commission explains how stockpiling bottled water costs more than drinking tap, and puts stress on the city's landfills. 
"In fact, the only question about Boston water is, what's its most appealing quality?" the video asks. "How it tastes? Or its environmental benefits?" 
Anticipating the surge of COVID-19 patients needing medical care, the Baker-Polito Administration announced that a 250-bed field medical station will be set up Wednesday at the DCU Center in Worcester. 
"The DCU facility will be the first of three temporary field medical stations the Commonwealth is working to set up after requesting and receiving approval from the federal Strategic National Stockpile," Secretary Marylou Sudders said. "The Commonwealth is actively identifying other sites and partners for the two other facilities."
The temporary facility, managed by UMass Memorial and staffed by the City of Worcester among others, will be used to treat lower acuity patients who still need monitoring. 
It was authorized through the Massachusetts Emergency Management Agency, and is set to arrive in Worcester on three tractor trailers. 
"It's up to all of us to do our part to help minimize the effects of COVID-19 throughout the Commonwealth. Worcester is uniquely positioned to have a facility in the DCU Center and the expertise of UMass to support a field medical station in the center of the state," Worcester City Manager Edward M. Augustus, Jr. said.
After setting up screening areas on a bus, the MBTA will be taking all Cabot Garage employees' temperatures before the start of their shift, according to an email sent to workers by MBTA General Manager Steve Poftak. 
Any individuals with a temperature less than 100 degrees Fahrenheit will be allowed to report to their shift, while those with temperatures over 100 degrees Fahrenheit will be asked to leave immediately, call their work partners, notify their supervisor/manager by phone or email, and contact their medical provider.
The new initiative started with bus operations on Wednesday, but will soon extend to other operating departments. 
Poftak said Cabot Garage was selected first because it's one of the T's largest facilities. The next screening location will be at the Charlestown Garage, he said.
Maine Gov. Janet Mills has issued a "stay healthy at home" mandate, which will take effect at 12:01 a.m. on Thursday. The order "requires people living in Maine to stay at home at all times unless for an essential job or an essential personal reason, such as obtaining food, medicine, health care, or other necessary purposes."
In his Tuesday update, Gov. Charlie Baker said his administration has worked with the Department of Public Health to create more specific guidelines for hotels, motels, and short-term rentals like Airbnb. 
"They are to be used for limited purposes only, which include direct efforts related to the fight against COVID-19," Baker said. 
This could include housing for front line health care workers, shelter for Mass. residents who have been displaced from their homes because of the virus, or housing for essential workers.
He said the goal is to reserve these spaces specifically for those impacted by the coronavirus. 
Under the new guidelines, hotels and Airbnb's can no longer be booked for vacations for the time being. 
"People should really be using common sense on this one," Baker said, "and should not be going on vacation right now." 
Instead, he said, people should stay at home. 
"We know we've asked a lot of people, but there's more that must be done," Baker said. 
Gov. Charlie Baker announced Tuesday that he is extending his order for all "nonessential businesses" in Massachusetts to close or work remotely until May 4.
Baker said the extension also applied to the state's stay-at-home advisory and ban on public gatherings of more than 10 people.
"We appreciate the huge impact on our economy and on our daily lives that these decisions have, and they have not been made lightly," he said during a press briefing Tuesday.
The nonessential business order, which Baker first announced last Monday, was originally set to last until next Tuesday, April 7. However, the administration is anticipating a surge in local COVID-19 cases that is projected to begin around that same day.
The move Tuesday also comes after President Donald Trump announced Sunday that the federal government was extending its social distancing guidelines through the end of April.
Baker's order requires all nonessential businesses to shutter their physical workplaces. However, businesses designated as essential — from grocery stores and health care facilities to laundromats and liquor stores — are allowed to stay open.
Baker noted that they would release an updated list of essential businesses, which now includes optometrists and chiropractors, as well clarity for those involved in the supply chain of other essential businesses.
Boston police said 19 officers and three civilian employees have tested positive for the novel coronavirus as of 4 p.m., Monday. 
Sergeant Detective John Boyle said the officers who tested positive worked in various parts of the city, but did not specify which for privacy purposes. 
He said the numbers will be changing every day. 
"We are following CDC guidelines, and we remind everybody to stay home to make life easier for everybody to keep people safe," Boyle said. "But at the same time, we are out there … Public safety is our priority." 
Eighteen MBTA employees have also tested positive for COVID-19, according to a letter General Manager Steve Poftak sent to employees Monday. 
Of those who tested positive, 10 are bus operators, along with a heavy rail motor worker, streetcar motor worker, rail yard employee, bus inspector, subway supervisor, fare equipment technician, construction division inspector, and one rail repairer. 
He said officials are contacting anyone who had prolonged contact with these employees and disinfecting the spaces they used. 
An MBTA spokesman, Joe Pesaturo, said officials are working to ensure workers safety.
"While the MBTA has already taken a number of steps to protect the health and safety of the workforce, T management is working with the unions to implement additional actions for the protection of employees," Pesaturo told Boston.com in an email. 
To mitigate the spread, the MBTA is having passengers board and exit through the rear doors, and has been disinfecting all stations every four hours, officials said. 
Despite these unsettling times, we continue to run essential service, listen to all raised concerns, and strive to take all appropriate measures to safeguard our riders and employees. We pledge to communicate consistently with updates like this from General Manager @spoftak. pic.twitter.com/6jn6SDLMcs

— MBTA (@MBTA) March 27, 2020
Poftak said the T has also received a shipment of personal protective equipment for operators, and is working to install in-station hand sanitizers. 
On Monday, the Enterprise reported that a second employee from the Shaw's store on Depot Street in South Easton has tested positive for the coronavirus.
"The associate has not worked at our South Easton store since March 21," Teresa Edington, a spokeswoman for the chain, told the newspaper. "(The store) has been through multiple cycles of our enhanced cleaning, sanitizing and disinfecting process since that day."
The Town of Easton has reported a total of 28 positive COVID-19 cases as of Monday. 
And in Chelsea, two employees of the city's Market Basket store have also tested positive for the coronavirus, according to the Boston Globe. 
"The health and safety of our associates and that of our customers are our highest priority and we are moving swiftly to take all of the appropriate measures and ensure that we can continue to serve our customers in good health," Justine Griffin, a company spokeswoman, told the paper in a statement. "In addition to Market Basket's heightened disinfection program, we brought in a specialized cleaning crew who cleaned and disinfected the store over the weekend."
In his Monday briefing, Gov. Charlie Baker said Massachusetts is expected to see a surge of COVID-19 patients needing hospital care beginning sometime between April 7 and April 17.
"This isn't an exact science, but, generally speaking, most of the calculations that are out there with respect to Massachusetts, both some of the ones we've done and some of the ones other people have done, suggest that the surge here is probably going to start somewhere between the 7th and the 17th," the governor said.
He said hospitals are already working to increase capacity.
"We know many of the measures that we've put in place have been disruptive and difficult," Baker said of the state's restrictions, "but, if everybody follows them, we believe they will have a significant impact on slowing the spread of the virus and make it possible for our health care system and our communities generally to manage the surge and to come out the other side of it in a position to successfully figure out how we move forward from there."
Harvard University updated its human resources policies, guaranteeing that all employees will receive their regular pay and benefits through May 28, 2020, according to an update sent to the community on Friday. 
All Harvard employees who can't perform their job requirements remotely, or no longer have work to do because of population shifts on campus, will still be guaranteed their regular pay. 
"This includes Harvard employees providing dining and custodial services," Harvard's Executive Vice President and Chief Administrative Officer Katie Lapp said. "Additionally, we will expand eligibility for this guarantee of pay and benefits to part-time contingent employees who are less than half time."
The university also pledged to provide financial relief to contract employees who work in dining, custodial, and security positions, offering them pay and benefits. Employees working for any of Harvard's 14 suppliers of these services will be eligible for the same benefits. 
And to help the six non-profit childcare centers on Harvard's campus, the university said it will provide a financial stabilization package until June for their approximately 180 employees. 
"For our workforce, who each day are so critical to the success of this institution, this unprecedented public health emergency has created innumerable challenges," Lapp said. "The steps I share today are aimed at providing greater certainty for them in these uncertain times with regards to their pay and benefits, and greater stability for them and their families."
A Dunkin' employee tested positive with the novel coronavirus Wednesday, closing down the shop at 156 Iyannough Road in Hyannis on Sunday. 
Barnstable Health Agent Thomas McKean told the Cape Cod Times that 11 other employees will be under quarantine for 14 days after the company traced the test confirmation date back two weeks to inform employees who had contact with the infected individual. 
McKean said he's been told that employees are being paid while under self-quarantine and that their names are being withheld for privacy purposes. 
After consulting with public health officials, the town of Lexington cancelled all activities that had been scheduled for the April 20 Patriots' Day state holiday.
Lexington's Select Board voted the action 5-0 in a March 16 meeting. 
Patriots' Day festivities normally include volunteer reenactors from groups like The Lexington Minute Men and His Majesty's Tenth Regiment of Foot in America at the historical sites of the Battles of Lexington and Concord.
In Rhode Island, Gov. Gina Raimondo ordered all out-of-state drivers to pull over at information stations along the state's border with Connecticut. 
"State police will ensure that anyone planning to stay in Rhode Island knows that they're required to quarantine for 14 days," a press release on the measure reads. "National Guard members will ask drivers to provide their contact information to be passed on to the Department of Health."
In New Hampshire, adjustments will be made to toll collections related to the COVID-19 outbreak. Cash lanes will no longer be staffed 24 hours a day and the cash lanes will no longer make change for customers. 
Starting tonight at midnight we are making a change to be exact.
Toll booth attendants will no longer make change and
We are reducing staffing hours at booths to 5am-9pm.
Doing our part to stop the spread.
See https://t.co/YElkHl368P for information and assistance.#exactlysafe pic.twitter.com/UdQpbcn421

— NHDOT (@NewHampshireDOT) March 30, 2020
New Hampshire cases of the novel coronavirus total 258, and that number now includes the daughter of Manchester Mayor Joyce Craig. According to NECN, Craig's daughter, who had been studying abroad in London, was tested a week ago and wasn't experiencing symptoms. Craig was also tested and does not have the virus.
Yesterday, I received news that my daughter tested positive for COVID-19.

This is an important reminder that people all ages can get this virus, which is why it's important that people stay home, and leave only when necessary. https://t.co/B0D9ywNPg3

— Mayor Joyce Craig (@MayorJoyceCraig) March 29, 2020
Maine announced its second and third deaths due to the new coronavirus Sunday, which included a worker for the state's Department of Transportation.
Gov. Janet Mills said the man in his 60s from Cumberland County was a long-time MaineDOT employee who recently went on vacation.
State officials said they were limited in releasing further details due to privacy laws, but that the risk to other MaineDOT employees is extremely low, based on the employee's travel history and the fact that he did not return to work after the vacation.
"Those who serve the people of Maine in State government are not only dedicated public servants, they are family," Mills said in a statement. "Today, I am saddened to say that we have lost a member of that family."
The other reported death was a woman in her 80s. Maine announced Friday that a man in his 80s was the state's first death due to COVID-19. Both were also from Cumberland County.
Following the city's first COVID-19 cases in its homeless population, Boston Mayor Marty Walsh announced plans Sunday to create new temporary housing for those experiencing homelessness, in an effort to promote social distancing and reduce congestion in Boston's existing shelters.
Suffolk University will be repurposing a dormitory to provide at least 172 beds, while another 70 beds will be made available at 1515 Commonwealth Ave. in Brighton in a vacant building that used to be an acute care hospital. The two new spaces will be operated in partnership between city health officials and local homeless shelters.
"These sites will enable us to get some of our most vulnerable guests, especially our elders, out of a crowded situation in our congregate shelters," Lyndia Downie, the president and executive director of the Pine Street Inn, said in a statement.
During a press conference Sunday afternoon, Walsh stressed that individuals should not go directly to the two new spaces; rather, those seeking housing should continue to first go to one of Boston's existing shelters, where they will be screened and triaged to another location as needed.
Officials say they have conducted over 8,000 screenings, tested approximately 100 individuals, and identified five positive COVID-19 cases. The city has provided 55 beds for homeless individuals in need of medical attention at the Southampton street shelter and at the Boston Health Care for the Homeless Program's Barbara McInnis House.
State officials also announced Thursday that a former Boston Medical Center hospital building known as the Newton Pavilion would be temporarily reopened for homeless individuals who have tested positive for the coronavirus. The facility has room for up to 250 beds.