A bald eagle nest was spotted on Cape Cod — the first sighting in over 100 years
"It's so wonderful to see birds more often."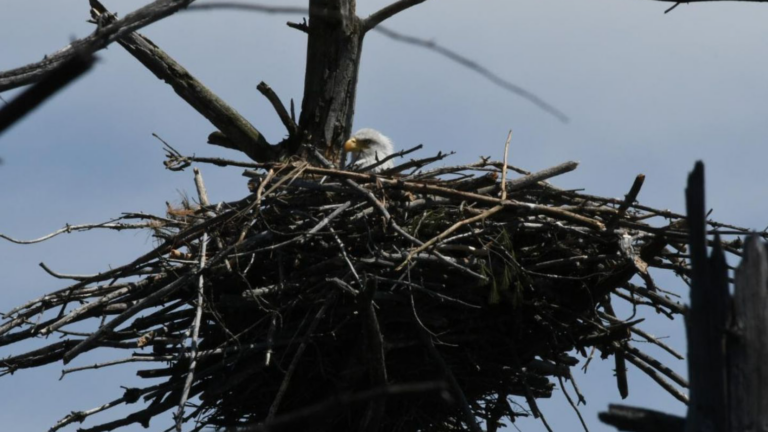 For the first time in 115 years, a bald eagle nest containing eggs was spotted on Cape Cod, according to the Massachusetts Division of Fisheries and Wildlife.
Marion Larson, who serves as the Chief of Information and Education for Mass Wildlife, said that the sighting in Barnstable is an "exciting" moment that is proving that the Division's restoration program is working. In an effort to restore the eagle population, Larson explained over the phone on Friday that in the 1980s, Mass Wildlife obtained bald eagle "chicks" from Canada and Michigan, raised them in cages, and then began releasing them in the Quabbin Reservoir in Ware, Mass.
"The idea is when you get them young enough, they will think they're still at their home and they will imprint on that area," she said. "The hope was they would do that, and when they were big enough to be released and fly and hunt on their own, they would be sticking around the area. When they got old enough, in five years, for an eagle to become sexually mature, the hope was maybe some of these birds will mate with each other or they might mate with a bird migrating through."
That is exactly what they have found is happening.
Bald eagles were originally placed on the federal endangered species list in 1967, and from 1905 to 1982, they could not be found in Massachusetts. Until it was banned in 1972, the pesticide called DDT, typically used for insect control in crop and livestock agriculture production — as well as in homes and gardens — caused caused egg mortality in the bald eagle species. Deforestation and hunting also threatened the bird's population.
While bald eagles were removed from the federal list in 2007,  they are currently still listed on Massachusetts' endangered species list. However, thanks to Mass Wildlife's conservation efforts, their status has changed from "threatened" to "of special concern," and more nests have been spotted around New England. As of now, Larson said they estimate that over 70 territorial pairs of  bald eagles actively building nests can be found across the state, and with the birds "occasionally" laying eggs in a new area, nine new nest have also been found.
These numbers come at a celebratory time, as this year marks the 30th anniversary of the passage of the Massachusetts Endangered Species Act.
"We were all excited and very pleased that this was working out," Larson said.  "This past year, its status was changed and improved from threatened to special concern, [which] has to do with how well they're doing with the numbers of birds. The threats are certainly not as great now as they were to eagles years ago, and it's a testimony to some real great conservation efforts and interests."
Larson believes that now is a good time for anyone to spot an eagle nest, which she described as typically eight feet across, four feet deep, and are built in the winter to prepare for laying eggs in March and April. The first known nest was found recently on Martha's Vineyard, but unfortunately the eggs were destroyed after ospreys attacked the eagles and caused them to claw and break open the eggs.
Earlier in May, a 23-year old bald eagle was spotted in New Hampshire, making it the oldest known-bald eagle to have been found. After the eagle was tracked via a coded band on its leg, it was discovered that the eagle was born in the Quabbin Reservoir and had migrated there.
Eagle nesting territories have been found all around Massachusetts, including in Otis, Pittsfield, Sheffield, the Connecticut River Valley, Quabbin Reservoir, Wachusett Reservoir, Holden, Lunenburg, Northbridge, Quaboag Pond, Royalston, Sturbridge, Webster Lake, Assawompset Pond Complex (Lakeville area), Plymouth, Mashpee, Watuppa Ponds, Westport River area, Merrimack River, Framingham, Lynnfield, Waltham and Milton.
Larson, who lives near the Fitchburg area, said that recently she had been made aware that eagles were trying to build a nest in the area — in a tree that was too small to support one — and were spotted bringing sticks to a much bigger pine tree a quarter of a mile away.
"That kind of activity is what we were looking for," she said. "As someone who is a bird watcher, or bird-er, as we call ourselves, it's so wonderful to see eagles more often. Certainly now, with this many nests and birds, it's more likely for an ordinary person to see a bird in almost every part of the state now."
Larson fully expects to see more nests popping up in the future, including in the Boston area.
"There's plenty of habitats [and] people may be surprised to see that you can see an Eagle nest within 10 miles of Boston," she said. "In the Greater Boston area, on the Charles River, in the Medford area and now we've got Eagle nests up on the North Shore area, on the Merrimack River."