Local
Local business owners react after their shops were vandalized, looted Sunday night
"I'm totally for free speech, and we should be able to voice our opinions, but not to the point of hurting," said Anna Barounis, owner of Giorgiana's.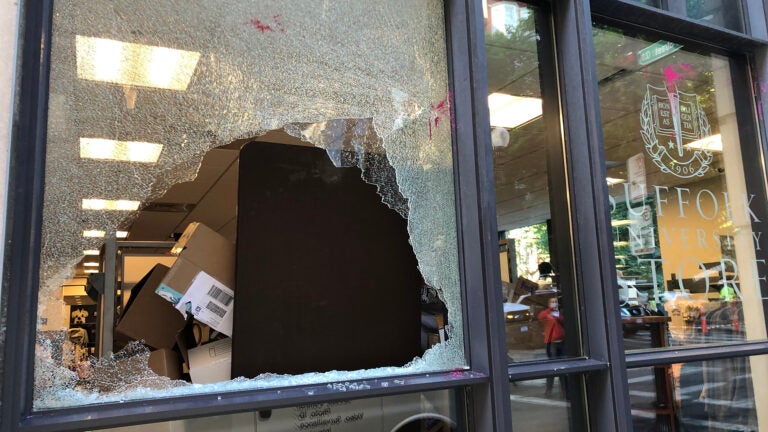 A peaceful protest over the weekend turned violent as protestors broke windows and looted businesses throughout downtown Boston and surrounding neighborhoods.
Thousands gathered Sunday night to protest the killing of George Floyd, the Black man who died in Minneapolis last week after now-fired police officer Derek Chauvin knelt on Floyd's neck for several minutes. (Chauvin has since been charged with murder.) After a peaceful protest ending at the Massachusetts State House, however, some protestors began vandalizing jewelry stores, wine shops, clothing stores, and other businesses in Downtown Crossing, Back Bay, and the South End.
Here's how a handful of local business owners reacted to the damages.
Clarendon Wine
Around 10:30 p.m. Sunday, rioters allegedly broke into Clarendon Wine Co. on Boylston Street, stealing half the liquor store's inventory and destroying its computers.
"They took the majority of the hard liquor and lottery tickets," said Kayla Levine, whose family owns the store. "We had the foresight to take a lot of the money out [before the protest]."
Levine said that the store, which has been in her family for roughly 50 years, had already been financially impacted due to the coronavirus, and now they're unable to keep the store open for the foreseeable future. They are still assessing the damage, which includes the store's front windows being smashed.
"The whole thing started out so peaceful, and I completely agree with the protests," Levine said. "Nobody should be hurt or anything like that. It's sad to see it turn to violence and looting."
Dartmouth Street Vision Center is a family-run optometrist that has offered vision services like eye exams and sold glasses and contacts since 1989. Office manager Jamil Sabree said the vision center was "damaged, destroyed, and looted," with looters taking glasses, sunglasses, tablets, and computers.
"It's disappointing," said Sabree, whose father, Dr. Everett Sabree, owns and operates the vision center. "We've got a bunch of videos, we're watching all the people come in. Watching people break the doors and stuff."
Sabree said that patients have stopped by to check on them and offer their help, but as of 12:30 p.m. Monday, police hadn't been able to stop. Sabree is hopeful insurance will help, but business had already been slow due to the coronavirus.
"We're going to try to reopen and clean up, but I'm not sure when things will be back to regular operations," Sabree said. "It's been kind of slow for a couple of months, so now we're figuring it out."
"I never thought something like this could happen in Boston," said Sandrine Rossi, owner of Frenchie.
The South End bôite sustained damage early Monday morning when a small group shattered Frenchie's windows and damaged its neon sign. Rossi said that her neighbors were able to prevent the group from breaking in, but that the resulting damage will still cost $5,000-$10,000.
Still, she said she believes in the purpose of the protest.
"I think it's great that so many people are willing to take a stand to help achieve equality for all," Rossi said. "It's for equality and for the rights of everybody to deserve a fair relationship with the police."
Frenchie will reopen on Wednesday for takeout and delivery.
Anna Barounis, owner of Giorgiana's in the South End, told Boston.com that her neighborhood market was just starting to get back on its feet after the coronavirus had severely impacted business. In the early hours of Monday morning, Giorgiana's suffered another setback when looters allegedly broke into the store and smashed four windows, tipped over an ATM machine, broke computer monitors, and stole cigarettes, liquor, and lottery tickets. Barounis estimated that there is at least $50,000 worth of damage, and that it will take at least a week before she is able to reopen the corner store.
"I'm totally for free speech and we should be able to voice our opinions, but not to the point of hurting," she said. "It's defeating the purpose — what message are they trying to send now? I support the whole [Black Lives Matter] movement, and I think it was unjust what happened, but this is not helping the situation."
The silver lining, she said, is the response she has received from her neighbors offering to help clean up or donate money.
"It's just been a very touching morning — a morning of devastation and a lot of heartfelt love and support from my community," she said.
South End sneaker boutique Laced was vandalized Sunday night when protestors broke windows at its 426 Massachusetts Ave. location. A post on the store's Instagram page, though, made it clear that the shop owners stood in solidarity with the community involved in the peaceful protest that proceeded the looting.
"Laced is a movement encouraging young people to live their lives to the fullest," the post read. "We value these young people and their lives more than we value material things that can be replaced. While we don't condone the actions and are saddened by the vandalism that went down late last night at the end of what had been a beautiful and highly successful protest, we are more deeply saddened by the loss of life that has lead to this rage. We stand with the young people in their outrage and through our relationships remain committed to exposing them to longer lasting and more effective techniques in their fight for equity and humanity."
The post went on to say that Laced will reaffirm its commitment to young people and that it seeks "equal justice under the law."
Ed Spencer, owner of Skylight Jewelers, was at his store Monday morning surveying the damage.
"All the outside windows, huge windows, are all smashed," he said. "They came in and they smashed everything. All the showcases are smashed. People were coming in, going out, they were stealing stuff."
Spencer said artwork and sculptures inside his store were smashed as well.
"There wasn't much out because we're not open [due to COVID-19]. So I took most of the things out of the cases. The really valuable stuff was put away." Spencer called the looters "opportunists" and said that while he didn't expect the destruction, he's not shocked by it.
"I'm not angry. What's the point? We'll make the best of it and we're going to deal."
An award-winning wine, beer, and liquor store in the South End was allegedly broken into Monday morning after protestors shattered the storefront window with a sledgehammer.
Hadley Douglas, who owns The Urban Grape with her husband, TJ Douglas, shared in an e-mail that the store's registers were stolen along with a handful of bottles. Since the store has been closed for the past two months and has only been accepting credit cards for pickup and delivery, Hadley said that there wasn't any cash in the store.
Despite the break-in, The Urban Grape team is in full support of the protests.
"Our broken windows are nothing compared to 400 years of broken lives," she wrote. "Please don't let what happened after the protest drown out the more important story — our country wants and needs change. Our time is now."
She also shared that the Urban Grape team would like to see Bostonians opening up their wallets to support Black-owned businesses across the city.
"Never have a panel about business in Boston without including people of color," she said. "Never make a list of best businesses without including those owned by people of color. Shop at Black-owned businesses, seek them out, and amplify their work. Not just today, but every day."
Correction: A previous version of this story misspelled Anna Barounis's last name. Boston.com regrets the error.