Marty Walsh
Marty Walsh supports calls to remove — or change — Boston statue of Abraham Lincoln standing over a slave
"It's supposed to represent freedom but instead represents us still beneath someone else."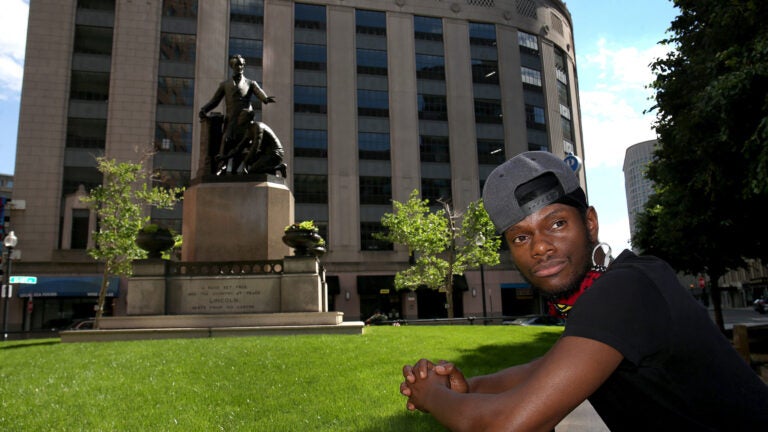 Aides say that Boston Mayor Marty Walsh supports the emergent calls to remove a downtown statue of former President Abraham Lincoln standing over a kneeling slave — but he's also interested in a more creative solution.
As monuments honoring oppressive historic figures — from Christopher Columbus to Confederate generals — face renewed scrutiny amid the racial justice movement in the wake of the police killing of George Floyd, more than 5,000 people have signed an online petition this week calling for the removal of the 141-year-old Emancipation memorial in Park Square, just a few hundred yards from Boston Common.
While Lincoln is perhaps best known for freeing Black slaves, the petition takes issue with the symbolism of Lincoln standing above a crouched, half-clothed Black man on his knees.
"It's supposed to represent freedom but instead represents us still beneath someone else," wrote Tory Bullock, a Dorchester native who launched the petition.
"If he's free why is he still on his knees?" Bullock added. "No kid should have to ask themselves that question anymore."
In a Facebook video posted Thursday, he said the statue — a copy of the Emancipation Memorial in Washington, D.C. — had been bothering him since childhood, but "never understood how messed up it was" until the most recent wave of statue removals.
Bullock, whose videos have developed a popular online following, called on Walsh to follow suit, unless the city could find a way to change the power dynamics represented. He noted that the abolitionist Frederick Douglass even criticized the original statue (which was sculpted by a Boston native) at its dedication in 1876 for putting the Black man on his knees "when a more manly attitude would have been indicative of freedom."
"Take it down, unless we're gonna find some artist that can, I don't know, erect that Black man so he can stand up on his two feet and actually, you know, have his hand out, put some clothes on him, and they can be shaking hands," Bullock said in the video Thursday.
Walsh's office says the mayor is supportive of both solutions.
While he is in favor of removing the statue, Walsh is also interested in recommissioning the statue into one that recognizes equality, aides said. Since the statue falls under the Arts Commission, the mayor's office is currently looking into what those processes would entail.
The movement comes after the city removed a Columbus statue in the North End after it was beheaded earlier this week. Amid scrutiny of the famous Italian explorer's treatment of indigenous people, Walsh said his office will reassess the "historic meaning of the statue."  The mayor is planning to meet Sunday with a local Italian American group, which had previously planned a public protest against its removal.
Walsh is similarly looking to engage in a dialogue with the community about the Lincoln statue's future in Boston, his office said Saturday.
Bullock's video Thursday certainly began that conversation; as of Saturday afternoon, it had been viewed more than 19,000 times.