Black Lives Matter
Young women are helming protests against racism in Boston. Here's what they want you to know about the movement.
"We see the changes that we can make, and it makes it easier for us to act and be bold."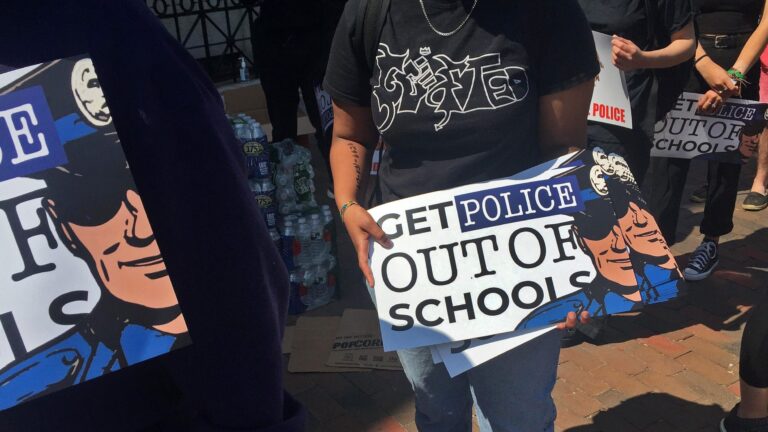 Young people across the country have spearheaded weeks of protests against racism and police brutality, calling for changes in their cities and towns. 
Boston is no different. Here, young activists are responsible for leading demonstrations with thousands of protesters through the city and raising their voices to call for change. Ahead of the events, they joined forces through Twitter and organized for hours over Zoom to discuss the changes they want to see — reforms to policing and measures to address systemic racism and inequities in Massachusetts. 
Below, meet five of the young women who have been involved with the protests in Boston throughout the last month, and learn more about the changes they are demanding.
The interviews have been lightly edited for clarity and length.
Jay'dha Rackard
Hometown: Boston
Age: 11
Rising 7th Grader at BPS
Speaker at the Peaceful Children's March on June 7
How did it feel to participate in the Peaceful Children's march?
It actually felt really good. Especially because it was a children's march. We need children especially to make changes, because sometimes we're the only ones that people listen to. 
Did you feel like you were listened to at the protest?
Kind of. Because we asked the police officers to take a knee. And none of them did. They just stood there like they were statues. I felt like they heard me, but they're not really going to do anything. But I'm going to keep going. 
How was it different from the other protests and marches or events that you've participated in?
I think it was different because it was just children. It was just children that were speaking and it was mostly a children's march. 
What change do you want to see happen?
I want equal rights, that's what I want. Equal rights and [an end to] police brutality. I want the police to be charged with correct charges that they deserve. We've been getting there — but I feel like it's still got to keep going. I want equal rights between everybody. 
What is the biggest challenge you see for getting that change?
Probably people not listening to me because I am a child. But eventually I know [change] will come. 
Jay'dha speaking by police headquarters

Posted by Suzie McGlone on Sunday, June 7, 2020
What do you hope people learn from you and your friends and other young people who are participating?
I hope that other people learn from me and my friends that speaking up is about them using their voice and don't be afraid. If you think something's wrong, to speak up about it. I hope for me and my friends to inspire people to do things that they're scared to do. I hope that our voices will make a change.
What are you hoping to do to continue to participate? 
I was talking to my mom about doing a march. I may be doing a march — I'm still planning it. I just want to continue to go to places and speak up about police brutality and equal rights. That's what I'm planning for now.
What do you want people to know about these protests? 
I hope people take away the fact that the looting and the breaking into stores and everything that's violent — I don't think it's needed. I hope people take away the fact that that's not right. Because it's not really helping at all. The peaceful protests are better.
Vikiana Petit-Homme
Hometown: Hyde Park
Age: 18
Student at UMass Boston
Member of the For the People Boston coalition and organizer of the group's June 10 march in Boston
How did it feel to participate in the June 10th event? Was it different from other protests and marches you've participated in?
Yeah, I think this time we were really intentional — there were a few things we wanted to make sure came out. One, is understanding that it's not that the police aren't doing their job. It's that their job is to be harmful, is to hurt our communities. We wanted that to be clear. But we wanted to make sure people left knowing what the demands were and knowing who the demands were targeted at. We want to help people imagine that future without police. I feel like we achieved all three of those at the march just with how we planned it.
What change do you want to see happen?
Our three demands for Boston are to defund the police by 10 percent, removing the police from Boston Public Schools, and capping overtime pay accrual for Boston police officers and stopping overtime pay for military exercises. 
All of these three lead to the idea of a budget that reflects our priorities. Right now it shows year after year we're defunding our schools, but we're adding to the police budget. That shows our priorities. Year after year we continually underfund communities of color, that shows our priorities. So shifting that — defunding the police and bringing that money and those funds and those resources to our communities to fund violence intervention programs, to fund our schools, to get more therapists, social workers, nurses into our schools instead of people with guns. 
[On June 25, the Boston City Council approved the city's operating budget for the upcoming fiscal year, which included a 20 percent cut put forward by Mayor Marty Walsh to the overtime budget for Boston Police Department.]
What do you see as the biggest challenge in achieving those changes?
The people who are unwilling to listen, unwilling to change that are stuck in the status quo. Whether it's because the police are stuffing the pockets, or they just want to remain ignorant and they do not care about our problems and so they do not want to listen to us. Mayor Walsh is a huge obstacle in that and is a huge example of those people … The police union has a strong hold over the City of Boston. We're continuously negotiating contacts with the police union that are not helping our communities but are actually giving them protections that allow for zero accountability. So it's getting past those people.
Do you think young people have an important role to play in the movement? If so, why?
It always surprises me when people ask what is the role of young people in movements like this, because every other major change that's happened in this country has been led by young people. Civil rights movement — young people. The Vietnam War movement — young people … This is just continuing that cycle and the reason that happens is we're innovative. 
Unfortunately, the longer that you are part of a system, the more complacent you become. Because it's stressful to be in situations like this — it's stressful to always be resisting. And unfortunately, some people get tired and some people get complacent … We see the changes that we can make, and it makes it easier for us to act and be bold. 
How do you plan to continue forward? Do you have any other personal goals for being involved in the future or any upcoming events?
It's a campaign to defund the police and fund our communities, so this goes beyond a march. We had our march, and then a week later we had our town hall where we had over 200 participants listening to city councilors on how they stand on these demands and these issues … This is also exposing how our entire budgeting process is not transparent. It's not for and by the people at all, so we're also really thinking about how do we transform that system, how do we make that into a system that does work for and by the people? 
So what we're really proposing is a people's budget. Boston is home to the nation's only youth participatory budgeting process where the mayor allocates $1 million of the city's capital budget to it every year and young people ages 12 to 25 are able to engage in how to extend and allocate this money based on our needs as young people. We want to expand this process to the entire city … Because the solutions are in our communities. We know what the problems are, we know how to fix them, we just need the resources and the money to do so. 
What else do you think people should know as the protests continue? 
I hope people understand just how horrible this entire situation is. We are still in a pandemic and Black and brown people are most at risk of dying from COVID-19. We are disproportionately affected by this pandemic. And now we have to continue going out to protest, continue to put ourselves at risk, our bodies, our families, our communities at risk, because people cannot stop being racist, because police continue to kill us … We have to continue going out there, we have to continue protesting because no matter what we do, we're dying. 
Amel Viaud
Hometown: South End
Age: 21
Student at St. John's University
Co-founder of Black Boston and organizer of the group's May 31 march in Boston. 
How did it feel to organize, and participate in, the May 31 protest?
I felt like my life had purpose. I've always felt that way, but I felt like that more than ever — that I'm doing this for a reason, I'm doing this for my future bloodline. I'm trying to diminish as much as I can them having to go through these traumatic experiences over and over and over. It felt good to be doing something. But it was also very sad, because every day I wake up and a Black person is gone and a Black person is missing …  But that doesn't mean that you stop fighting — so I just never stop fighting. 
While we stand in Solidarity with our brothers and sisters in MN, the pain we feel is ROOTED in our day to day experiences here in Boston. So we have a list of Demands for our elected officials and we want them to HEAR us pic.twitter.com/fhKJIcn4is

— Black Boston Inc. (@blackboston2020) May 31, 2020
Was it different from other protests or marches you've participated in? If so, how?
My activism and community organizing started when I joined the pan-African student coalition at St. John's … I grew up in the South End, so a big part of our community was Mel King. He advocated and organized for young Black people to have the resources they needed in their community, and I just carry those things with me … At first I was overwhelmed, and then I had a clear head because I found my purpose through the vision. Whether it was 600 people or 6,000 people or 60,000 people, the reason and purpose for why we were there would never change. It's bigger than us.
What change do you want to see happen?
We demand revitalizing the system that oversees discharging officers with maximum complaints and immediate discharge for murder. We demand increased community involvement/engagement for all officers and a person of color citizens review board. And then we demand restorative justice programs in all public schools and increased focus on allocating resources to prison reform. We demand the divestment of funds from police departments and schools/non-compliance with the police … When someone says, 'Black Lives Matter,' it should never be 'but' … There's no 'but' when a white mother is lost, there's no 'but' when a white father is lost, there's no 'but' when a white child is lost. There's always a 'but' for everybody else. 
What do you see as the biggest challenges to achieving those changes?
The biggest challenge right now is getting people on our side to vote … if we don't elect people who are worthy of their positions, then it will just be like talking to a brick wall. But I also feel like the biggest challenge is trying to defund the police … This is not just a situation that you protest about for two, three weeks and then let it go. The Greensboro sit-ins took forever … It's really about your willfulness, it's not about how difficult things are. Slavery was difficult, being a sharecropper was difficult, going through the Civil Rights movement and going through a modern-day genocide is difficult. 
We're raising children and we're working 40 hours a week and if you still find the time to sign a petition, if you still find the time to call your governor or your mayor, you're doing the right thing. There's no thing that Black people can't do when it comes to how difficult something might be …  Don't lose sight of what you're fighting for. You're fighting for Breonna Taylor, you're fighting for George Floyd, you're fighting for Toyin, and you can't stop. 
Do you think young people have a particularly important role to play in the movement? If so, why?
Absolutely. I would say that young people are the carriers for the messages that our ancestors and our mentors are giving us in this moment. And it's very important for young people to do research and to educate themselves … If you don't know your past, you can't really determine how to sculpt your future or what you want your future to look like. You have to learn from the past, take from the people who are current mentors … you share those messages, you share that history, you share the love and pain, because there's beauty in every struggle. And then you make sure that your kids know that, and that your kids' kids know that. Because that, for us, is how we reclaim our people. 
How do you plan to continue to participate? Do you have any other personal goals for being involved in the future?
We plan to bring people together in a sense that is educational and loving, but strong and focused. We want to gather the strongest and wisest Black kids in Boston together and put events together that are informational, put events together that aid mental health — because there's also a lack of mental health care in the Black community — put things into the community that tackle environmental racism …. I have a dream to build a school based on Black culture … This is a far dream, maybe a decade from now. 
What do you want people to know about these protests and this movement?
If you're Black, that it could be you … What happened to George Floyd and Breonna Taylor and Ahmaud Arbery and Toyin could happen to any one of us. I'm an activist myself. Toyin was an activist and she was found dead. That is a thing that I live with every day now … And if you are a white person in America, if you are a white person in Boston, recognize your privilege. Don't think that it doesn't exist. Don't think that you don't have it because you might not be rich or you're not a one-percenter and you have a white collar job or a blue collar job. You all have privilege … Use your privilege to make sure that everyone else that you coexist around, who is not white, is being treated fairly.
Toiell Washington


Hometown: Dorchester
Age: 22
Student at Salem State University
Co-founder of Black Boston and organizer of the group's May 31 march in Boston. 
How did it feel to participate in the May 31 protest you organized?
I'm used to this kind of work because I do it on campus as a representative of Black, Brown and Proud. But I'd never done something so massive and definitely not for a city …  But I loved the outcome, and I love the impact. Because people have been protesting every day since. I feel like it brought a lot of awareness. We all stood in solidarity with one another and came together for a certain cause. There were a lot of white allies out to help and support, which was appreciated. 
Was it different from other protests and marches you've participated in? If so, how?
Being at the front lines and actually sitting on the Zoom calls for 7 hours at a time and figuring out all this different stuff was a lot for me — that was something that was very different. Because it was me getting direct experience for how to organize and do a protest. And then the amount of people that showed up [to the event].
What change do you want to see happen?
I want them to defund the police … There's so many different areas to distribute funds where they need to go, and instead they're being spent on cops' overtime or new cruisers or new toys to be used against innocent people … I think that there is a long way to go, obviously, and there are going to be a lot of things to figure out. But I'm sure that with a system that was originally created to track down slaves — there is no way to change a system that was designed for us to fail. The only way to fix it is to dismantle it and create a new one. 
What do you see as some of the biggest challenges for achieving that?
The simple fact that they don't want to … Then we have other issues like the fact that Boston Public Schools, for example, are predominantly students of color. They don't want to put money into an education system where all the students of color go, because they don't want to give them more resources because they do not want them to succeed …  You have to understand that a lot of people are over-privileged right now. It's not just that they're privileged — they are over-privileged. And in order to get rid of some of that privilege and give everyone an equal and equitable playing field, then some of that privilege needs to be placed in areas where there are larger disadvantages. 
Too many people are fighting for equal — and they already gave us equal. They already gave Black and brown people equal — we need to be equitable. That's the problem. And that's what they need to do to fix it.
Do you think young people have an important role to play in the movement? If so, why?
Absolutely. I think that a lot of young people are scared. We're anxious. There's just so many different things going on right now, and we're at a very overwhelming and confusing time. But I think aside from that, we're also coming into ourselves and realizing that we are the next generation. When we grow up in school, we learn about all these great leaders and we feel like those leaders were so old because we're so young. But we're now understanding that these leaders weren't that old and this is our time.
How do you plan to continue to participate? Do you have any other personal goals for being involved in the future?
I think education is the foundation to everything, and I think the educational system is so corrupt right now, that it has pushed people of color out of it and makes them not want to participate …  So moving forward, I'm doing a lot of planning around educational programming. I'm hoping to one day start an after school program or some sort of program where I can do workshops and teach more students about the school-to-prison pipeline, teach them about their rights as citizens when they come in contact with the police, teach them more about history, because American schools white-wash history.
What do you want people to know about these protests that are ongoing and this movement?
Right now my biggest concern — and the thing I always want to emphasize — is that for a long time in history things have been white-washed or they have been told through the eyes of the oppressor and not the oppressed. I really just want to encourage people who are participating in these protests, who are organizing these protests, or who are just watching and want to get active, to please write down their stories. Write down what happened. Document these things because these are primary sources … Fifty years from now, when children and grandchildren are learning about these things in school, we are going to be the ones who were there. And what we write now is going to determine what they do or do not learn. If we fail to document this stuff and fail to let our truths be told now, the truths won't be told a long time from now when we're not around. 
Queen-Cheyenne Wade
Hometown: Cambridge
Age: 23
Student at Suffolk University
Member of the For the People Boston coalition and organizer of the group's June 10 march in Boston. 
How does it feel to be participating with the group and in this movement? 
As somebody who was raised in a household where I was taught very early my history as a Black American and the beauty of our history, in that sense of how long this struggle has been — these are the same struggles that my grandmother protested against in Boston when she was my age — so to have that be a full circle situation for me is really beautiful… So many organizations have grown and come together in solidarity around these goals and that is really incredible to watch, specifically with organizations run by young people.
Does it feel different from other protests and marches you've participated in?
I wouldn't say that any of these movements necessarily feel different from one another, because I feel that these movements are in and of themselves intrinsically connected … But I do think that there is something that is particularly insightful about having these protests, demonstrations, mutual aid organizing also throughout this pandemic. Our communities have not only been demanding our self determination, our freedom, our safety, but also have been working in our own ways saying we can take care of ourselves … with mutual aid funds, with free breakfast and lunch programs that communities have been putting out, food drives, people getting driven home from protests … All these different ways that the community has come together to uplift itself while our government, local and national, have failed us is something that I think is really beautiful and does have a very important impact.
THE GRADES ARE IN!!!! @BOSCityCouncil pic.twitter.com/nayLydx1c3

— FTP Boston (@FTPboston) June 24, 2020
What change do you want to see happen?
I consider myself an abolitionist. So within that I am always working towards the complete dismantlement of all systems of oppression. Not only just for myself and for my people and my history, but for all people on this earth. Whether that is the people of Palestine to the people of Venezuela. I think that it's really important to see this also as a broader movement and as something that is intrinsically connected to so many other struggles. That is my hope of where this movement goes and where I honestly see it going. 
What do you see as the biggest challenge to getting those changes?
There are definitely a lot of challenges, but I think one of the biggest challenges is separation. I think there's a lot of conversation that goes around when movements are happening to try and split up organizations and try to split up movements. To vilify certain people that are calling for the same changes as other people, but they may be saying it in a different way or might be going about it in a different way … That's definitely what politicians and folks in power want to do … Our biggest strength is our unity, so I see that as the biggest threat — is them dismantling us. 
Do you think that young people have an important role to play in this current moment and movement? If so, why?
Absolutely. I think young people have always been on the front lines of revolutions, of rebellions, of creating unity and conversation not only in this country but around the world. Some of the revolutionaries that so many people look up to started their work at the ages that so many of these young people who are leading this movement started. Fred Hampton was only 18 years old when he joined Black Panthers and was able to help so much his community in Chicago … In Minneapolis, I've been inspired by the youth who have been continuously on the front lines there, truly facing danger every single day. Obviously, there is already that heightened experience of being Black youth in America and having that heightened experience of danger. So to continue on the front lines and to continue that fight for freedom and that fight for their community's self-determination is so powerful.
How do you plan to continue to participate? Or do you have any other personal goals for being involved in the future?
I am very excited to continue to work within FTP Boston. Myself and a couple other organizers created an organization called the Greater Boston Marxists in which we have been creating care packages to give to homeless populations around the Greater Boston area with PPE, canned goods. That has been something that I've really been looking forward to and enjoying as well. Then a Boston mutual aid fund has been something that I've also been organizing, which is part of the free ride program for youth to get home safely from protests, and also passing out PPE and getting those supplies to protesters and organizers during these demonstrations. Through all of that work I'm excited to see how we can continue to build solidarity and connections and unity throughout, not just the Boston community, but the greater Massachusetts community and hopefully the nation and the world.
What do you want people to know about these protests and this movement?
Everything that is being done throughout these demonstrations and protests are out of necessity. People do not want to be out in the streets. People do not want to be asking for their lives to be considered valuable or to be considered even just not in-valuable … These struggles, these demonstrations, these protests, these actions are out of necessity for our lives and our communities. We would not be here and we would not be out on the streets every single day if we did not think that this was a crisis that is continuing to decimate our communities. This is a movement rooted in love and liberation.