Local
Cold case challenges prosecution
Gerhartsreiter trial hampered by lack of physical evidence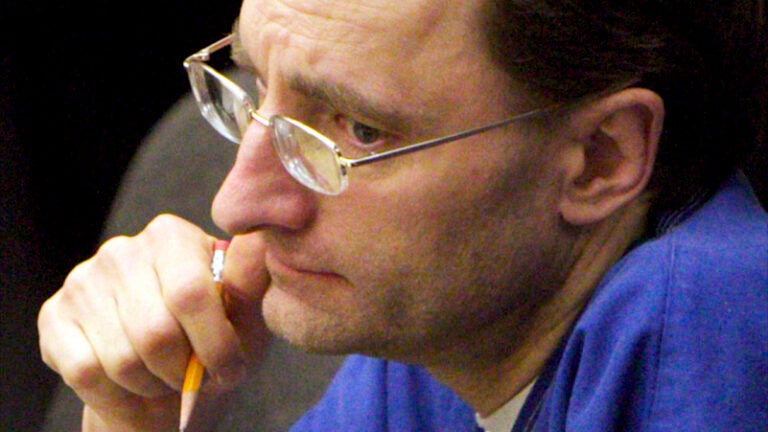 Now that California prosecutors have convinced a judge that Christian Karl Gerhartsreiter should stand trial for murder, they face the daunting task of persuading a jury the German fabulist is guilty.
To do it, legal specialists say, they will have to overcome huge evidentiary hurdles – the foggy memories of aging witnesses, physical evidence that has been compromised or destroyed, and an apparent lack of forensic proof directly linking the suspect to the killing.
"I think there are some real problems with the age of the case and the age of the witnesses,'' said Carol Chase, professor of law at Pepperdine University in Malibu, Calif., and a former prosecutor. Circumstantial evidence is like "the little bricks that tend to build the wall. I'm just wondering if the wall will be strong enough to support a conviction beyond a reasonable doubt.''
Save for the victim's skull, the remains of John Sohus, a 27-year-old San Marino, Calif., computer programmer who vanished in February 1985, were inexplicably cremated or lost by the coroner's office.
Investigators looking into the murder in 1994 found traces of blood in the guesthouse where Gerhartsreiter lived when he was in San Marino, but prosecutor Habib Balian has yet to say whether the blood matched either John or his wife, Linda Sohus, who vanished around the same time and was never found.
Prosecutors have yet to present any DNA evidence connecting Gerhartsreiter to the crime scene. Investigators have theorized that Gerhartsreiter – who has called himself by other names over the years and who was known as Clark Rockefeller when he was prosecuted in Boston for parental kidnapping in 2008 – killed the couple so that he could alter the will of John Sohus's mother and receive the programmer's inheritance. But witnesses who could testify to any tampering of the will are dead.
Balian would only say he looks forward to trial.
"We anticipate we will get a fair and just verdict,'' he said last Tuesday, following the conclusion of a five-day preliminary hearing in Los Angeles County Superior Court.
The Los Angeles County prosecutor's office pointed to several successful prosecutions of cold murder cases including the 2007 conviction of a Los Angeles County Sheriff's Department deputy who killed his wife in 1991. Her body was never found. It could not provide conviction rates on such cases.
"We wouldn't be pushing forward if we didn't think that we could get enough evidence for a conviction,'' said Sergeant Timothy Miley of the Los Angeles County Sheriff's Department, who took over the Sohus case in 2008. "Certainly, it's difficult. It's going to require a real skillful prosecution. Luckily, we have a really skilled prosecutor.''
The hearing, to determine whether the case should go to trial produced some painful moments for the prosecution.
Early in the proceeding, Balian asked Stanford Phelps, a former employer of Gerhartsreiter in the 1980s, if he saw the employee in the courtroom. Phelps said no.
But the 77-year-old immediately nodded when Balian showed him a picture of a young Gerhartsreiter, taken when he was posing as Christopher Crowe.
"Your honor,'' he said. "I can identify enemy tanks and infantry approaching us at a distance. There is no question this is Christopher Crowe.''
All the while the 50-year-old defendant sat about 10 feet away at the defense table, still clinging to the persona of a well-heeled aristocrat. Gerhartsreiter, who at times seemed more like a gracious host than a defendant, laughed at the judge's jokes and always thanked the bailiff who handcuffed him to his seat every day. He wore his blue jail shirt tucked in his pants, which he hitched high on his waist, similar to the way he wore his trousers when he was free.
During cross examination of a criminalist, he watched calmly as his lawyer, Jeffrey Denner, forced the witness to acknowledge she disagreed with the way another colleague had handled evidence, calling her "stupid'' and a "bozo'' in e-mails to a detective.
But in the final days of the hearing, there was strong testimony from witnesses who recalled strange behavior from Gerhartsreiter after the couple's disappearance: A neighbor in San Marino said he burned carpet in his fireplace on a warm day; Gerhartsreiter's ex-fiancee testified that in the late 1980s, he changed his looks and talked of leaving the country; an Episcopal priest said Gerhartsreiter gave him a truck that he later learned belonged to the missing couple.
A jury that hears from several witnesses who provide strong independent accounts could overlook scant physical evidence, said Saul Kassin, a psychology professor at John Jay College of Criminal Justice in New York City.
"Five different witnesses reporting on different things he said and change of appearance . . . becomes more compelling,'' he said. "Juries don't hesitate to use circumstantial evidence as a basis for conviction.''
Juries do not typically demand strong physical evidence, Kassin said, despite hand-wringing by police who worry that television crime procedurals have set unrealistic expectations.
Juries "don't set the standard at DNA or blood evidence,'' Kassin said. "They set it lower and they set it at evidence that is at risk of error like eyewitnesses or confessions. There has been a lot of talk about the CSI affect, but there is no empirical evidence for it.''
Gerhartsreiter's lawyers have said throughout the hearing that the defense has yet to present its rebuttal.
The prosecution "went essentially untested, and that will change dramatically at trial,'' Denner said.
"The only thing that makes [Gerhartsreiter] a killer,'' Denner said, "is 12 of his peers hearing all the evidence and believing that the State of California . . . has proven it beyond a reasonable doubt. That remains to be seen.''