Local
Boston teen parents find support at summit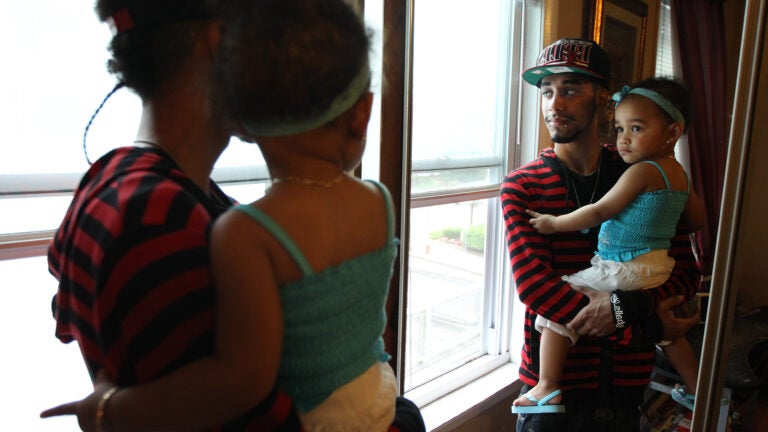 At 17, Cristian Morales of Malden was overwhelmed.
The high school dropout had just won custody of his then-7-month old daughter, Jade, and knew that no matter what, he needed to provide for her.
"My life wasn't that great,'' Morales said. "I had dropped out of school, was on the streets, and in gangs. But I decided to change when I got her.''
Morales applied for part-time jobs, got off of the streets, and enrolled in a GED program — which is where he first stumbled upon the Summit for Teen Empowerment, Progress, and Parenting Success program, which focuses on providing resources for the nearly 500 Boston teens who become parents each year.
On Wednesday, two years after becoming a teenage single father, he will join the program's second annual conference as a young parent ambassador — a teen leader for the program.
The daylong conference, sponsored by Brigham and Women's Hospital Center for Community Health and Health Equity, will take place at Northeastern University. Last year's event drew more than 100 teen parents, and organizers hope for as many as 120 this year.
Often, teenage parents lack the support system of older parents because few in their social circle have children.
"When I first got my daughter, none of my friends could relate,'' Morales said. "When I'm at STEPPS, I'm with young parents who understand the struggles. I can actually talk to them.''
The conference, which runs from 9 a.m. to 4 p.m., will feature 20 interactive workshops and plenary sessions, said Wanda McClain, the hospital center's executive director. Workshops will feature topics such as "How to handle the stress of parenthood,'' "How to take care of your child,'' and "How to manage money with a child.''
"We really want to empower [teen parents] and provide them with information and resources,'' McClain said, adding that many of the workshops are geared specifically for teenage fathers like Morales, who are often left out of parenting programing.
She added that the conference grew out of the hospital's efforts to improve overall health for minority and underserved populations in Boston, which historically have higher infant mortality rates.
"This is one way that we can improve the health of the youngest members of our community — our children,'' McClain said.
The program aims to allow participants to meet other teen parents while also equipping them to complete their education, said Patricia Quinn, executive director of the Massachusetts Alliance on Teen Pregnancy, which also sponsors the conference.
Roughly a quarter of the state's high school dropouts cite teen pregnancy as the leading reason for quitting school, Quinn said, adding that for others, such as Morales, having a child becomes a motivation to complete their studies.
"We're working to end the stigma through support and resources so we can see more of those students being motivated, not deterred, by parenthood,'' she said.
Morales, who has participated in various STEPPS programs since first joining in January, said he is looking forward to adding to his support system at Wednesday's conference.
That support, he said, is what helps keeps him off of the streets as well as
his desire to provide a better life for Jade.
"I grew up without a father because my father got killed. I want her to be able to enjoy me the way I never got to enjoy my father, Morales said.
"I want to prove that not all teen fathers are the same,'' he said. "Not every teen father is not there for his kids.''