Local
'Melissa's bill' signed in nearly private ceremony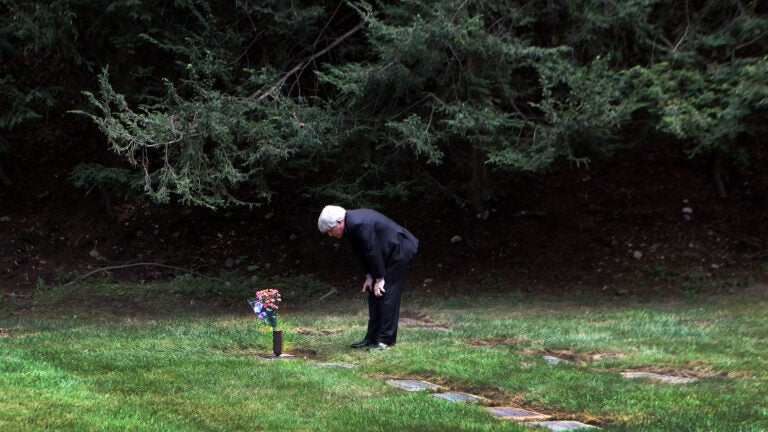 MILTON — Kneeling at the grave of his murdered daughter, Les Gosule held out the pen used by the governor Thursday to sign the crime bill named in her honor and whispered, "This is for you.''
The 1999 slaying of Melissa Gosule provided the impetus for the years-long drive to pass legislation known as "Melissa's bill,'' which removes the possibility of parole for certain repeat criminal offenders. Governor Deval Patrick, who had expressed reservations about the bill, signed it in a quiet, nearly private ceremony at the State House.
The killer of 27-year-old Melissa Gosule, of Randolph, was found to have a record of 27 previous convictions, for which he had served a total of less than two years.
"If someone doesn't get [rehabilitated] the first time, if they don't get rehabbed the second time, why do you think they're going to get rehabbed on the third or fourth time,'' Gosule said during an afternoon press conference Thursday at his workplace in Milton.
Gosule teared up several times as he spoke about his daughter and about his promise to his 12-year-old grandson, standing nearby, to protect him.
"If this prevents any child, any of us, from getting hurt, then I've honored the memory of my daughter in helping others, and that's what this pen is all about,'' he said.
State Senator Bruce Tarr, the Republican minority leader. said the law is not a way to trap someone who makes a mistake, but rather a way to keep off the streets those who have exhibited a chronic pattern of violent crimes.
"Today is an important day in Massachusetts public safety history,'' Tarr said in a telephone interview. "This law has prevailed over confusion, criticism, and obstructionism.''
The bill gained momentum after the murder in December 2010 of Woburn police officer John Maguire by another repeat offender.
Patrick's muted signing ceremony Thursday surprised and befuddled Charles Maguire, who started pushing for the bill after his brother's death.
"I was really caught off guard by it, if you want to know the truth,'' Maguire said in a telephone interview. He said he went to the dry cleaners so he could have proper clothes for a State House signing ceremony he expected to be held Friday.
"He [Patrick] said he was happy with the bill and then he signs it in a cloak-and-dagger deal,'' Maguire said. "I don't know where that came from. If he didn't want to sign it, then don't sign it.''
Maguire, who was a probation office at Woburn District Court for 35 years, said that he got involved in lobbying Beacon Hill after his brother's slaying and that his political activism is partially a form of therapy for him over the violent death of his sibling.
"The absence of a public signing ceremony on Beacon Hill is a disappointment,'' Maguire said. "What about the senators and representatives and myself who worked really hard? We just didn't finish it. It really kind of left a bad taste in my mouth.''
Law enforcement groups lauded the bill's passage, given the circumstances of Maguire's murder.
Maguire was killed in a shootout with suspected jewelry store robber Domenic Cinelli, who was serving three concurrent sentences of 15 years to life before being paroled. The shooting not only sparked an overhaul of the state Parole Board, but also sentences for repeat offenders.
Under the new law, if a criminal amasses three convictions from a list of 46 violent crimes, he or she will be denied the possibility of parole.
Tarr said he will continue to press for additional provisions in the law, such as including contract murders and murder by strangulation.
The nature of Thursday's signing ceremony, however, underscored Patrick's frustration with publicity surrounding the law's enactment.
It also highlighted some of the criticism he has received for saying he would sign the legislation after hinting earlier this week that he might veto the bill if lawmakers did not approve an amendment he sought to give judges some leeway in sentencing some habitual offenders.
Despite widespread public attention on the bill and plans to hold a public signing ceremony in Ashland for legislation "further regulating animal control,'' Patrick signed what has become known as "Melissa's Law'' before Gosule and one other advocate — Barbara Dougan of Families Against Mandatory Minimums — in his State House office.
The first word of the signing leaked from Gosule himself, and over 90 minutes later Patrick's office still had not issued a statement about, or photo of, the signing, as is normally the procedure.
The governor's press secretary, Kim Haberlin, sent an e-mail to reporters to highlight another aspect of the legislation, which created parole eligibility for 580 nonviolent drug offenders. That provision will help reduce what the governor has branded the warehousing of criminals, while saving the state $2.5 million annually. The change takes effect at once.
Patrick's staff said the repeat-offender aspects of the law will affect fewer than eight people a year and will not have substantive effect on people in the correction system for 25 years.
Gubernatorial aides argued that Patrick himself had helped boost the law by negotiating with legislators and using his bully pulpit to gain its final passage in the House and Senate.
"Governor Patrick filed legislation last year that was very similar to the bill he signed this morning,'' Brendan Ryan, the governor's communications director, told the Globe. "He has advocated for that legislation publicly and privately throughout the legislative session, and he took the opportunity today to sign it privately with some of the other people who worked hard to get this passed.''