Local
Conch fishery lucrative, imperiled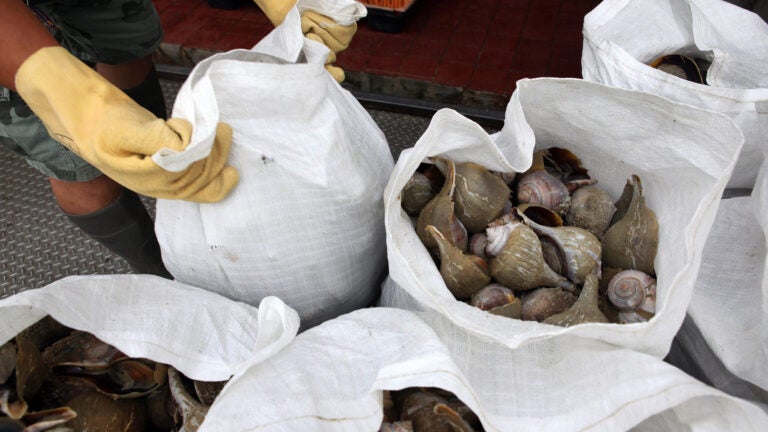 MARTHA'S VINEYARD — While you won't find conch on menus at seafood joints on the Cape and Islands, in recent years it has become one of the southern New England fishing community's most lucrative fisheries, with most of the catch heading to Asia.
Fishermen in southern New England have been so successful that state officials now say that unless significant conservation measures are implemented soon, the little-known industry will be in danger of collapse.
According to the state Division of Marine Fisheries, last year the state's conch fishery brought in more than $6 million. For many fishermen, conch has come to replace lobster as the catch of choice, after stocks of the crustacean dropped in southern New England's warming ocean waters, said state senior marine fisheries biologist Robert Glenn.
"As opportunities to fish for lobster have dramatically declined, the guys who historically didn't conch fish are now putting a substantial amount of effort into it,'' he said.
A jump in price of conch in recent years due to increased demand from Asia created what state fisheries managers called a "gold rush'' mentality for the sea snail among fishermen from the Cape and Islands, and Buzzards Bay.
According to the state, the conch fishing effort in Nantucket Sound has more than doubled in the past five years. That has meant more fishermen pulling in fewer and fewer conch.
Earlier this month, at daybreak, fisherman Donald Benefit pulled his boat, Payback, into Edgartown harbor to refuel.
"Conch is just about over,'' he said. "It's tough. A lot of people pounding them. The boats will be thinned out quickly . . . because there's not much left.''
At the same time the conch population is diminishing, little is known about the the animal's biology — information that could help formulate conservation plans. In 2010 and 2011, Glenn led a survey team to determine the age, sexual maturity, and growth rates in local conch.
"You would have thought this kind of study would have been done years ago,'' he said. "What we found was that virtually zero of the female conchs at minimum legal size [of 2.75 inches] are sexually mature. For a long-term harvest strategy, harvesting off the animals before they have the chance to spawn, even once, is probably not a sustainable strategy.''
Technically, the conchs are not conchs at all, but channeled whelks. True conchs are tropical herbivores while whelks live in more temperate waters and are predators. But the term conch has stuck for the local sea snails.
The constant demand for conch in Asia, where they are popular in soups, has led to localized collapses all over the globe, from the Netherlands to Japan to South Carolina to Costa Rica.
In many of those areas, populations of various kinds of sea snails have failed to recover because of their reproductive behavior.
Where currents can carry lobster larvae from afar to repopulate an area where they have been completely removed, conch anchor their egg casings — familiar to beachcombers as twisting papery necklaces on the wrack line — on the ocean floor. Moving at literally a snail's pace, it takes decades for them to repopulate an area.
At the end of a recent weekday, Danny Chan returned from his daily rounds of Martha's Vineyard's harbors and unloaded 1,300 pounds of conch at his small sorting facility in Vineyard Haven. Chan is the president of the wholesale company Aqua World Seafood Corp., which he founded two decades ago, and one of the Vineyard's main buyers of conch.
From his modest warehouse in Vineyard Haven, he ships the conch to shucking houses in New Bedford and New York City. Some of the catch stays stateside, where it is shipped to Chinatowns and the rare Italian restaurant serving "scungilli,'' but much of it ends up in Asia, especially Hong Kong.
Surveying the bags of whorled, seaweed-crusted shells Chan said that day's haul was a shadow of the catches of former years.
"Every boat used to bring in four times this much when I first started,'' he said.
University of New Hampshire doctoral candidate Shelley Edmundson has been working with Vineyard fishermen to tag more than 2,000 conch as part of a multiyear project to illuminate the poorly understood fishery.
Her work was partly inspired by the concerns of local fishermen whose horseshoe crab-baited pots dot the bottom of Horseshoe Shoal, the future site of Cape Wind. It is unknown how the proposed wind farm would affect the fishery, but local fishermen fear the worst.
"We don't know a lot about the juveniles,'' Edmundson said. "Once they hatch, nobody knows where they go, what they feed on, what their growth rate is, or what is happening, so we're trying to figure that out.''
This spring, Glenn visited fishermen on the Vineyard and in Bourne to discuss possibly increasing the minimum catch size limit from 2.75 inches to 3.5 inches, the point at which his team found that 50 percent of conch are sexually mature. This fall the state will hold public hearings on the proposed regulations.
Benefit is skeptical that a new size restriction will help much and estimates it will put most of the current conch fishermen out of business. He proposes shutting down the fishery in August when the catch drops and scientists and fishermen believe the animals are breeding.
"If you don't have enforcement now, what's a half inch gonna do?'' he said. "It's like every other fishery they have: Wait until it's depleted then put so many restrictions on it that you can't fish it again. The conch will come back quick, maybe five years. But that's a long time when you're paying off a mortgage.''