Local News
Graphic details emerge from BU hockey panel reports
Sex, drinking escapades by hockey players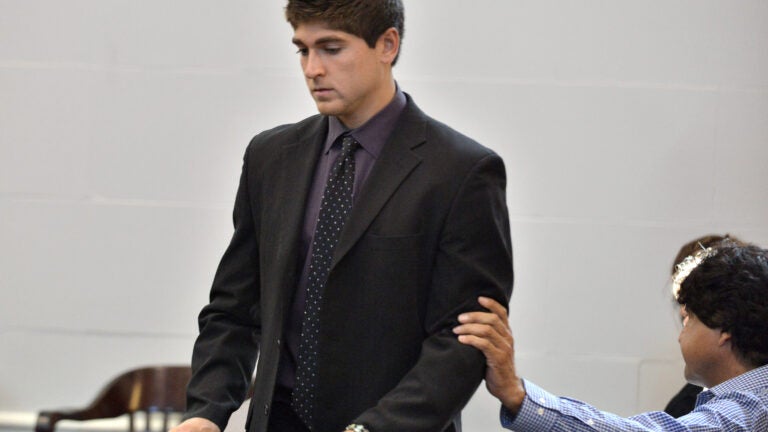 When Boston University released its report Wednesday on hockey players' "culture of sexual entitlement,'' it kept most of the investigation details — including accounts of sexual debauchery and wide-ranging allegations of academic trouble — confined to confidential subcommittee reports.
In the documents, which were obtained by the Globe on Thursday, were tales of a late-night 2009 NCAA championship party at Agganis Arena where dozens of guests drank from kegs in the locker room showers and took to the ice naked to shoot pucks.
"It was insane,'' one former student who attended told the BU task force. "People were having sex in the penalty box.''
Campus police did not find out about the party, nor did BU administrators — until this year, when the task force started asking questions. During interviews with the task force, hockey coach Jack Parker also professed ignorance, at first saying he had never heard about the bash, but later acknowledging he knew of "a few guys drinking in the locker room.''
Yet at least two players and an athletics staffer told the task force that within days of the party, Parker reprimanded the entire team for its behavior.
The task force was launched in February after two BU hockey players were charged with sexual assault. Its public report made 14 sweeping recommendations, which the school intends to implement.
Provost Jean Morrison, who cochaired the task force, said the details in the subcommittee reports were kept confidential to protect the identities of students and staff who testified. She further said the school had been reluctant to publish some allegations the task force could not verify as true.
She defended the public report as "an extremely accurate reflection'' of the subcommittee findings, "a full-throated characterization of the whole breadth of stuff that we saw.''
Yet the salacious details in the subcommittee documents put BU in an awkward position. The university is expected to launch a large fund-raising campaign later this month.
The subcommittee documents make clear that at least some BU hockey players, surrounded by adoring fans, had "the perception that they need not seek consent for sexual contact.''
One player came close to admitting that. "You don't ask [permission for sex] when you are drunk,'' he told the task force, adding that he did not see how the actions of the two players charged last year constituted sexual assault.
Another player used two slurs to describe women who "hook up with multiple guys,'' then wondered, "What other word for them is there?''
A female student told the task force that a player had shoved his hands down her pants at a party and refused to stop even as she was punching him. She did not report the incident to authorities because, she said, "that's just what [BU hockey players] do.''
Another told of a Facebook posting "in which hockey players boast about their sexual exploits,'' referring to conquests as "kills.''
Parker told the task force he had stressed the importance of being respectful to women and advised players to avoid group sex, which the confidential report notes players engage in with surprising regularity. "However,'' Parker is quoted as saying, "my job is not to say, 'You guys gotta be celibate.' ''
Parker did not return phone calls from the Globe on Wednesday or Thursday.
The subcommittee findings also note that some BU hockey players have SAT scores "far below the vast majority of their classmates,'' and that recently an increasing percentage have enrolled in the school's continuing-education program instead of its traditional undergraduate colleges. The university recently banned that practice.
Faculty members gave the task force mixed assessments of hockey players as students. One professor described them as "respectful, prepared, and active.'' But another told of six players who intimidated classmates, answered their cellphones mid-lecture, and "tried to 'hijack' his course,'' the report says. The professor told the leader of the group to shape up; instead, all six players dropped the class.
The report also contains troubling, if poorly supported, allegations about academic special treatment for athletes. One faculty member said a colleague had cautioned her that the grades she submitted for hockey players might differ from those ultimately entered on transcripts — an allegation Morrison called "extremely inflammatory'' and said was unsupported by the evidence.
A student also told the task force that players were allowed to skip classes even when their athletic schedules did not present conflicts. Morrison disputed that as well.
"Stuff that is patently false gets circulated all the time at universities,'' she said. "We're a big place.''
The school faces a dilemma regarding Parker, who has coached the team for almost four decades.
According to both the public and the private report, Parker and his coaching staff were essentially given carte blanche for overseeing the team's behavior. One team member said Parker "cares too much about hurting the important players' feelings. . . . He'll criticize, then apologize.''
Some BU administrators said they were frustrated that Parker had failed to notify them about the 2009 party and other potential disciplinary issues. Acting on the task force's recommendation, the school has stripped Parker of one of his two titles, executive athletic director.
But Parker will continue as coach. He will earn the same salary, and there will be no further consequences for him, BU president Robert A. Brown said Thursday.
That is partly because the task force could not find any specific university rule that Parker broke in failing to relay information up BU's chain of command.
The university also has its hands tied regarding the popular local bar T's Pub, which is cited in the private report as "part of the problem'' and as a place where hockey players until recently could drink for free without showing IDs.
Although BU officials have approached the bar's owners with concerns, Morrison said, ultimately there is little they can do: "T's is an independent business. We can't manage them.''