Local
Real or fake beards? Santas split hairs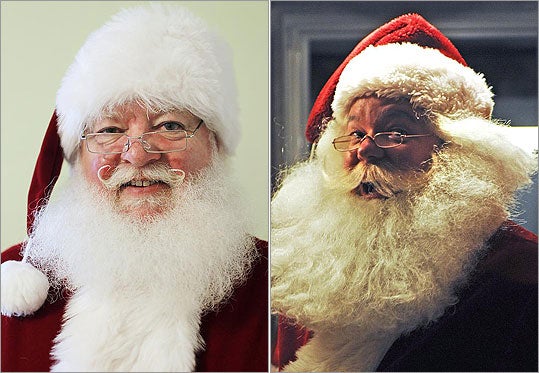 In the community of men who portray Santa Claus, there is a longstanding disagreement over the best way to embody the big man. You might call it the Great Beard Debate.
It is a discussion that happens away from the public, for part of the ethic of portraying Santa is to never pull back the curtain. But at Santa Claus schools and conventions, the topic is said to incite great passion and inflame egos, with each side willing to agree on just one thing: the other side has it wrong.
When it comes to real or fake, there are very real stakes.
In one camp are the real-bearded Santas, who say there is nothing to argue. "A real Santa has a real beard. If it's a fake beard, people think it's a fake Santa,'' said "Santa Bruce,'' who will be host to thousands of screaming and smiling children at the North Shore Mall this holiday season.
"When kids come in and say 'Are you the real Santa?' I'll never say I am,'' he said. "But I'll have them touch my beard. Then they'll turn to their parents and say, 'He is the real Santa.' ''
In the other sleigh are the fake-bearded Santas, who prefer to be known as "designer-bearded'' or "fashion-bearded,'' though lately they are trying to change their name to "traditional-bearded.''
The crux of their argument is that a good quality fake beard – the best are made with the hair from a yak's belly, and can cost upwards of $2,000 – actually looks more Santa-like.
"Not many people can grow a beard that looks storybook, but Santa is always supposed to be larger than life. Unfortunately, many people who try to grow a Santa beard look more like street people,'' said one local "designer-bearded'' Santa who declined to be named, because it's a small community.
"Plus, I have a little bit of a problem with people who wear a beard year-round and walk around in the middle of July looking like Santa. I think it takes the magic out of it. Santa should show up around Thanksgiving, then be gone for the year the day after Christmas.''
The issues with having a Santa beard year-round became news this summer with what is known in the community as "the Disney incident.''
A real-bearded Santa was on vacation with his family at Disney World when children began asking for autographs. He says park officials accused him of portraying a character, which is against park rules. He wasn't wearing a costume.
"There certainly is an obligation that comes with having the beard,'' said Dan Greenleaf of Manchester, N.H., who is known for his natural white whiskers. "I'm a pretty vocal sports fan, and I've had to tone down my reaction to bad calls. I also now drive a car with the license plate IMSANTA, so when someone cuts you off and you want to lay down on the horn, I have to remind myself I can't do that.''
Real-bearded Santas, those in the profession say, are a relatively new phenomenon (hence the move toward calling fake beards "traditional beards''). For most of Santa's time in pop culture, portrayers wore false beards.
But a decade or so ago, as the availability of good yak beards diminished as suppliers disappeared, the real-bearded Santa movement gained steam. Today, there are more than 1,000 members of the International Brotherhood of Real Bearded Santas (the organization provides group insurance, and background checks), and most malls have moved to a real-only requirement.
Hollywood, however, has stuck with theatrical-grade fake beards for most movies and commercials because they are said to photograph better. And last year, Macy's, whose New York Santaland is an icon of the season, ousted its real-bearded Santas to give all of their portrayers a uniform appearance.
The fashion-bearded Santas have long heard grumblings from their counterparts, and there is more than a little elitism on the part of many of those who are able to grow something worthy of St. Nick.
"You hear them on the Internet, 'We need a real-bearded. We need a real-bearded,' '' said Rene Bureau, a designer-bearded Santa from Lowell. "It's propaganda. With the good beards, it's hard to tell. I still have to wash mine and curl it and set it. The only difference is that theirs is human hair and mine is yak.''
Real or fake, the upkeep is an enormous job.
"Generally, all Santas have more hair products than their wives,'' said Jonathan Meath, a real-bearded Santa from Cambridge who is greeting the public in the lobby of the Radio City Christmas Spectacular in New York this season. His secret is a shimmer-like shampoo, a conditioner called Cowboy Magic, and hair gel for his mustache.
The true judges of authenticity are children, and they have their own method: the tug test. A good glue-on beard, Santas say, can stand up to a small child, though most everyone has had the experience of having to "go feed the reindeer'' with a beard hanging off.
Ultimately, embodying the big man, Santas say, is not about the beard or the suit: it's about believing you are him.
"When I put on my designer beard, I am Santa,'' said Jim Manning, a 36-year-old from Somerville who portrays Santa at the annual Boston Common tree lighting, though he is decades from being able to grow his own Santa beard. "It's all about portraying the character. You can have the greatest wig and beard set in the world, but if you don't believe you're Santa Claus, it doesn't work. For those kids, I am Santa Claus.''