Local News
Jim Whalen, 69; tight end for Boston College and Boston Patriots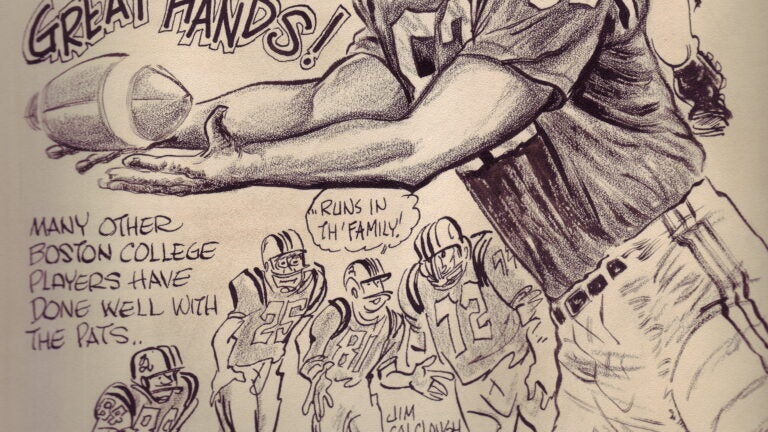 When Jim Whalen was a three-sport athlete at what was then Cambridge High and Latin School, he liked to talk with John "Snooks'' Kelley, a social studies teacher who also was Boston College's hockey coach. He visited the campus with Kelley and was awarded a partial athletic scholarship.
Mr. Whalen never caught a pass while playing high school football, but once he was moved to tight end the first day of practice at BC in 1961, his college career took off.
A two-time All-East selection, Mr. Whalen was chosen for the 1965 Senior Bowl and the East-West Shrine Game, and he went on to play professionally for seven seasons, the first five with the Boston Patriots.
"Jim was strong, durable, and fast,'' recalled Jon Morris, a Patriots Hall of Fame center, "and he wouldn't hesitate to give you the needle with a twinkle in his eye.''
Mr. Whalen, who was inducted into the Cambridge Sports and Boston College Varsity Club halls of fame and was named to the Patriots All-Decade 1960s team, died Tuesday in his Gloucester home of complications of heart and lung illnesses. He was 69.
At Boston College, he was a teammate of Jack Concannon and Art Graham, both of whom had been Mr. Whalen's opponents when they were stars at Matignon High in Cambridge. Graham, a star receiver, also became one of Mr. Whalen's Patriots teammates.
A third-round Patriots draft pick in 1965, Mr. Whalen was also drafted by the National Football League's Minnesota Vikings. Instead, he signed with the American Football League's Patriots for a reported $25,000 salary and bonus.
"He told me that he got half the first season and the other half a year later,'' said Mr. Whalen's son, Chris of Manchester-by-the-Sea.
Mr. Whalen's agent was his father, James
Sr.
The elder Mr. Whalen, who was known as Brud, had been a football and baseball captain at Manhattan College and a football line coach at what is now Cambridge Rindge & Latin School.
"I felt that Jim was the best athlete on the field, no matter who we played, and we didn't win very often back then,'' said Jack Noble,Cambridge Latin's head football coach from 1959 to 1969. "There wasn't much he couldn't do.''
At BC, Mr. Whalen was a game breaker for the Eagles and head coach Jim Miller, whose teams won 20 of 28 games during Mr. Whalen's three varsity seasons.
As a sophomore in 1962, he caught five passes from Concannon for 126 yards and three touchdowns to spark a 41-25 win over Boston University. Two years later, he ran a corner pattern with time running down to score a touchdown in a 10-8 victory over another archrival, Holy Cross.
"He was a natural athlete who ran great routes,'' recalled Ed Foley, a former Woburn High star and BC quarterback who connected with Mr. Whalen on that pass play. "And he was a great teammate and a real prankster.''
Mr. Whalen, who once held the BC record for catches in a season, played hockey and baseball for the Eagles before focusing solely on football.
At BC, he had career totals of 73 receptions for 1,230 yards and 11 touchdowns. In 1968, he led the Patriots with 47 catches for 718 yards and seven touchdowns and was named an AFL All-Pro for the second time.
However, Patriots head coach Clive Rush traded him to the Denver Broncos before the 1970 season.
Mr. Whalen, who was friends with Red Sox star Tony Conigliaro, was about to leave for Fenway Park for the Sox' home opener when Rush called him with the news.
"I could say a lot . . . but I won't,'' Mr. Whalen told the Globe in April 1970. "It would be sour grapes, and I don't want to leave the Patriots that way.''
His departure from the Patriots also meant leaving behind three teammates who were cribbage partners: Graham, former Holy Cross star Tom Hennessey, and the team's great place-kicker and receiver, Gino Cappelletti.
"We were flying to Oakland and I was losing a few shekels in our cribbage game,'' Cappelletti recalled. "So when we landed, I said, 'This isn't over,' and the four of us finished the game at a desk in the hotel lobby.''
Mr. Whalen played for the Denver Broncos until 1971 and finished that final season with the Philadelphia Eagles, but stayed close to the Patriots.
"Jim was a caring individual who was active with our Patriots Alumni Club fund-raisers, even when he had to be driven to Gillette Stadium because of his health,'' said Donna Spigarolo, the team's manager of community relations.
Mr. Whalen's wife, the former Sheila Rossi, had been a BC classmate and was a cofounder of the Patriots Wives' Club. They married in 1967, two years after Mr. Whalen graduated from BC with a bachelor's degree in marketing.
After retiring from football, Mr. Whalen worked in sales for Ruby Wine Co., Somerville Lumber, Sherwin-Williams, and, most recently, at The Home Depot in Danvers. Before moving to Gloucester, he lived in Lynnfield, where he coached Pop Warner football.
"It was the ideal job for him, because the people he dealt with loved his football stories,'' his son said. "He was a believer that you could outwork and outthink an opponent, and he hated to lose.''
In addition to his wife and son, Mr. Whalen leaves a sister, Rosemary Plauski of Hull.
A memorial service will be held at 10:30 a.m. Saturday in Greely Funeral Home in Gloucester. Burial will be private.
Mike LoConte, manager at Home Depot in Danvers, said the break room was never dull when Mr. Whalen held court.
"He always brought in signed memorabilia that we would raffle off for charity or for our store's social events,'' LoConte said. "There are some heavy hearts here.''