Local
Banned yet alive, captive hunting in Vt. still lures amid criticism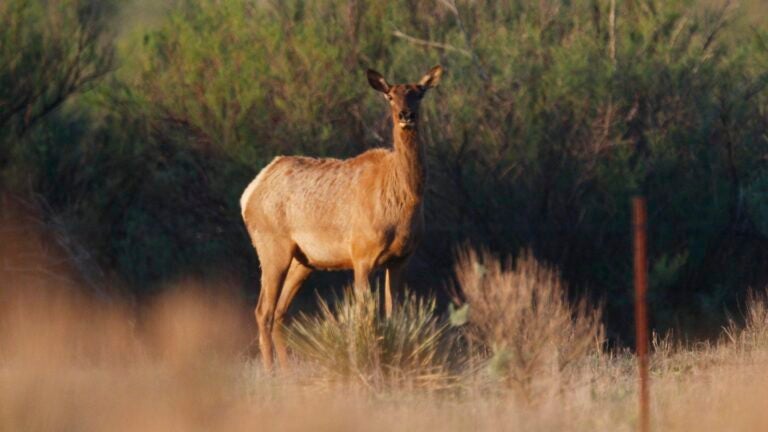 FAIRLEE, Vt. — The fenced-in hunting ground covers 129 rocky acres of hilly forest near the Connecticut River, a rugged place where 200 "exotic'' animals, from American buffalo to wild boar, roamed — with a price on their heads.
Stalked and shot as trophies — often at close range, according to law enforcement officials — the animals allegedly fetched from $750 for a boar to about $6,000 for an elk in a captive-hunting camp that state wildlife officials said operated illegally but advertised openly on the Internet.
The two operators of the camp, called Hunt the Ridge, are scheduled to be arraigned Wednesday in Orange County Superior Court after a sting in which two game wardens, posing as hunters from Pennsylvania, paid to shoot and kill a wild boar and a Spanish goat, authorities said. They face fines up to $7,000 and the loss of their hunting and fishing licenses.
"One of the more important aspects of hunting is the notion of fair chase,'' said Patrick Berry, the state fish and wildlife commissioner. "If you have an animal trapped behind a fence, it loses that sense.''
Captive-hunting camps have been banned in Vermont since 2008, although two preexisting camps were allowed to remain open. Twenty-seven states have a complete or partial ban on captive hunting, but more than 1,000 such facilities — about half of them in Texas — operate legally across the country, according to the Humane Society of the United States.
"We think that there's no resemblance to traditional hunting,'' said Samantha Hagio, policy manager for wildlife protection for the Humane Society. "It is not a fair fight. These animals are literally being bred for trophies.''
The owners of Hunt the Ridge, Steven Hill and Chiaki Ito, could not be reached for comment.
Several miles away, the Wild Hill Preserve, the largest captive-hunting camp in New England, covers 1,000 acres. The preserve, which opened in 1960 and is one of the two legal facilities in the state, is under investigation, according to wildlife authorities who did not elaborate on the inquiry.
Its owners, Bill and Marlene Richter, defend Wild Hill as a humanely run way to experience hunting in a challenging wilderness setting.
"They call them 'canned hunts,' but our preserve is a huge area,'' said Marlene Richter, whose husband is a lifetime hunter who worked as a bush pilot in Alaska and the Amazon.
"Our game has a longer life expectancy than game in the wild. They're fed in the winter; they're treated very well. They have plenty of opportunity to get away,'' she said. "They aren't pets that are just shot in a barrel. That's the impression that people have.''
But many hunters, from foreign countries to the American West, come to Wild Hill year after year because chances are good that an animal on their "harvest'' lists — including Russian boar, sika deer, Corsican sheep, elk, or bison — will be found and killed, the couple said.
"They live exactly as they do in the wild,'' Marlene Richter said of the 600 animals, with an added bonus that the preserve has no natural predators. "They're taken care of, and then in the daytime — boom! They don't know what hit them. I don't think that's such a bad way to live, do you?''
To Bill Richter, the camp helps perpetuate a traditional American pastime that he said is difficult to pursue outside of preserves.
"Yes, it is fenced in, but we have to have it fenced in to contain these animals,'' he said. "These are dreams that people have, and they would not be able to do this without preserves.''
His wife added, "These people would never be able to hunt this game anyplace else.''
Richter said that he and other guides help clients — armed with weapons as varied as rifles, crossbows, and flintlock muskets — find and stalk their quarry.
"You really have to look for them. It's a two-day hunt,'' Richter said.
All-terrain vehicles are used to carry hunters into the preserve. Sometimes those hunters include wounded veterans from Iraq and Afghanistan who use stationary stands where they wait for targets, Richter said. The camp is closed from January through March.
At now-closed Hunt the Ridge, which is much smaller than Wild Hill, clients also get help to stalk their quarry.
"The animals were all very visible, but because of the variety and the differences, guides were assigned to the hunters,'' said Major Dennis Reinhardt, deputy chief of enforcement for the fish and wildlife department. "It's predetermined that they were seeking to harvest one of whatever was on the list. The success rate was very high.''
Many animals are believed to have been shot at close range, Reinhardt said.
"We've heard from hunters that it does not really mimic the natural environment of the animals,'' Reinhardt said.
Opponents of captive hunting caution that camps can spread chronic wasting disease, a fatal illness that infects the brain and nervous system in deer, elk, and moose. Animals are not believed to be able to transmit the disease to people, state officials said, but it can be devastating to wildlife.
"The threat of disease from captive facilities is very real,'' Berry said.
Captive-hunting runs counter to the Vermont outdoors culture, said the commissioner.
"I have absolutely no interest in hunting with animals trapped behind a fence or animals that are imported for the purposes of the opportunity to hunt,'' he said. "I enjoy hunting because the kids love it when I bring home game for dinner, and I love being in the woods.''
In any event, wildlife officials said, the state has decided that captive hunting will not be a growth industry.
"In Vermont, we'll have no more. We know that,'' Reinhardt said.