Local
North Reading's Coppola continues fight from crippling injury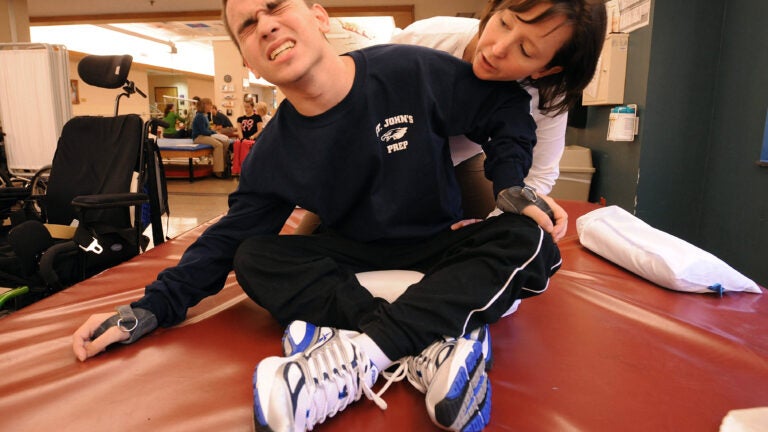 At age 20, Jared Coppola
has endured more than his share of challenges.
Every Thursday, after his classes at the University of New Hampshire, Coppola climbs into his mobility-equipped Ford Focus —hand pedals control the brakes and accelerator — and drives to his family's home in North Reading to prepare for his rehabilitation schedule the following day. He wakes up early, off to Boston at 7 for his three-hour workout at Boston Medical Center. After a quick lunch back at home, he heads to Canton, and from 1:30 to 3:30, he works out at Journey Forward, a nonprofit that strives to better the lives of those with spinal cord injuries.
The former St. John's Prep student-athlete continues to push on, undeterred by his daily routine.
His resiliency is no surprise to those who know Coppola, who suffered a paralyzing neck injury during an on-field collision four years ago while playing football for St. John's,
fracturing his fifth cervical vertebra.
When he arrived at the Beyond Therapy program at Shepherd Center in Atlanta, after suffering the initial injury, he could not take steps on his own or control movement in his legs or arms. Now, not only has Coppola regained movement of his limbs, but he is getting around with the assistance of a walker. Last week, he took four steps by himself.
"All the support I've had from family, friends, and everyone else is my motivation,'' Coppola said. "At times [the progress] can be slow, but I keep reminding myself that I'm going forward.''
And others continue to assist Coppola in reaching his goals.
On Sunday, from 11 a.m. to 2 p.m., his aunt, Robin Coppola Shelgren
, is hosting a fund-raiser at St. John's Prep in Danvers to help fund further rehabilitation for Coppola in Atlanta.
"I knew that Jared wanted to go to Georgia to the rehab facility, but that insurance wouldn't cover it,'' she said.
"The fund-raiser will hopefully raise enough money to get Jared the help he needs. He's an inspiration. Nobody expected this, that he'd be able to do all that he's doing, but he's motivated. He doesn't take a day off to get to where he needs to be.''
At 12:30, in the Milano Dining Room, Coppola will share his experiences; donations are suggested at $100, which will fund one hour of therapy in Atlanta.
His family, including his parents, Skip
and Dawn
, brothers Derek
, Tyler
, and Brandon
and sister Brittni
, continue to provide unwavering support. Derek will graduate from the University of New Hampshire this spring, Brittni attends Maryland, and fellow triplets Tyler (Bentley) and Brandon (New York University) communicate regularly with him through Skype.
Coppola had surgery in January to extend the length of his left calf, which allows him to put his left heel on the ground, something he couldn't do before.
"Walking on a treadmill every time I go, with the help of a harness, has definitely helped me the most,'' he said. "It helped with my strength and endurance, and instead of taking my wheelchair to therapy, I only take my walker.''
Even though it was hard for Coppola to find time to participate in extracurricular activities at school, he did play for the wheelchair rugby team at New Hampshire.
But now, Coppola has his sights on the rehabilitation facility in Atlanta where his journey started. He plans to attend the program for two months this summer.
The program, which is known for its high-tech equipment and ability to help patients and participants achieve the goals they set on day one, prompted Coppola to make his list before he arrives.
"My goal is to be able to walk on my own and be able to stand up unassisted,'' Coppola said. "If I can do that and gain overall strength and endurance, those will be milestones that will help my confidence moving forward.''
Here and there
Reading's Steve Buitkus
, a senior outfielder at Salem State, hit .375 (6 for 16) in a 4-1 week for the Vikings, including his 4 hits and 3 RBIs in a sweep of Bridgewater State to earn Player of the Week honors in the MASCAC. . . . Worcester State senior pitcher Alex Teal
of Malden pocketed Pitcher of the Week honors after tossing a complete-game five-hitter while striking out 10 in 6-0 win over Massachusetts Maritime Academy. . . . Maritime sophomore Bobby Rosano
(North Reading) was a sizzling 11 for 28 last week, with a double, two steals, and eight RBIs. … Bridgewater State juniors Matt Horan (Billerica) and Joshua Danner-Hicks
(Haverhill) enter Saturday's MASCAC Track & Field meet as defending champions in the 110 hurdles and triple jump, respectively. Worcester State junior Meghan Taylor
of Danvers is the reigning champ in the 100- and 400-meter hurdles.