Local
Plymouth's 'Tidepool Poets' celebrate their month with reading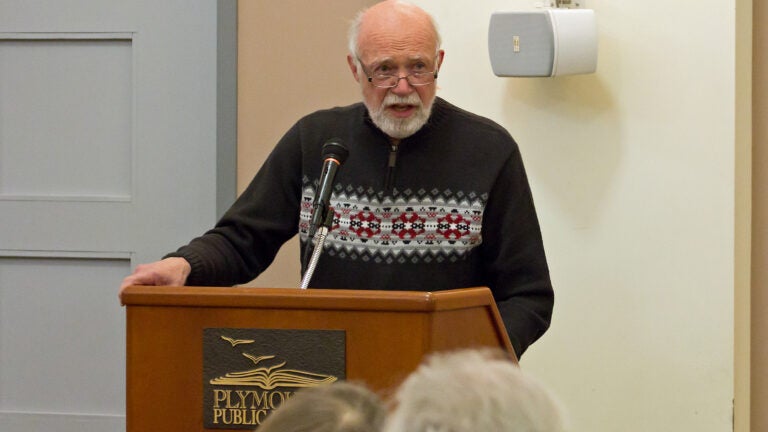 The Tidepool Poets have been meeting regularly to share their work with one another for a dozen years. They will share it with the public to celebrate National Poetry Month at Plymouth Public Library on Monday night.
The Plymouth-based group has 12 members "and only 12,'' said poet Kathryn Dunlap. "No one new comes in unless someone leaves.
"It's so worth it,'' she added, "because you have people who are practicing poets. They do the work. It's better than casual groups. This truly honors the writer.''
The group's focus has always been on writing, said member Charles H. Harper.
"We meet monthly,'' Harper said. "We each bring a poem we're working on to share with the group, and the poem is critiqued. That's our basic format. We give ourselves an assignment. What should we write about next month?
"It's generative,'' Harper said of the group. "A lot of people find it stimulating.''
A retired minister, Harper moved to Plymouth 12 years ago and joined the Tidepool Poets in its early stages. A year or two later its members were invited by the local library to give a group reading in recognition of National Poetry Month, which was inaugurated by the Academy of American Poets in April 1996. Schools, publishers, libraries, booksellers, and poets throughout the United States "band together to celebrate poetry and its vital place in American culture,'' according to the academy.
In addition to Dunlap and Harper, this year's Tidepool readers include founding member Judy Snow, Alison Cappella, Carol DeFelice, Joan Dugas, David Gover, Diane Harrison, Lisa Sullivan, and Gabrielle Turgeon.
The poets publish a yearly anthology of recent work in connection with the reading, consisting of three poems by each member. Described by Harper as about the size of a poetry chapbook, their latest anthology, "The Tidepool Poets: Poems 2013,'' will be available for purchase and signing by
members at the event.
Harper has also published a recent collection of his poems titled "Gratitude: Mealtime Prayers and Meditations for Seekers, Skeptics, Agnostics and Other Believers.'' As the subtitle suggests, there's a spiritual thread in his work.
"What I was trying to say is whether you're involved in an institutional expression of religion, or describe yourself as spiritual but not religious, or you're an agnostic or a skeptic, all of us have religious impulses,'' Harper said. "We all believe in the virtue of gratitude.''
The Plymouth library's celebration of National Poetry Month also included a workshop for readers of poetry led by Harper, who has regularly organized sessions on major poets at the library. The recently concluded workshop on "Oliver-Rumi Encounter'' took off from the statement by widely read Cape Cod poet Mary Oliver that she reads medieval Persian poet and Sufi mystic Rumi every day. A 13th-century poet who wrote in Persian, Rumi is also claimed and loved by Turks, Afghans, Tajiks, and other Central Asian peoples.
"That really caught my attention,'' Harper said.
While he is a steady reader of Oliver and has offered workshops on her poetry in the past, he was surprised to discover the extent of the influence of Rumi, beloved by New Agers, yoga teachers, Sufis, and mainstream Muslims. Rumi was hailed five years ago by a readers' poll as "the most widely read poet in America. It's fascinating,'' Harper said.
The connections between Oliver, a National Book Award winner described by Harper as "a nature mystic,'' and Rumi, "a God mystic,'' are fruitful, he said. For example, in a poem called "Heavy,'' Oliver calls attention to "How I linger to admire, admire/ the things of this world/ that are kind, and maybe/ also troubled—/ roses in the wind,/ the sea geese on steep waves,/ a love/ to which there is no reply.''
In his lyric "Joseph,'' Rumi writes: "Yesterday and the day before are gone./ The beautiful coin of now slaps down in your hand.''
Themes of universal gratitude and openness to the moment inspire the Tidepool Poets as well. In a poem called "the horizon is always,'' Dunlap, another fan of Oliver's works, begins: "Whether I see it or not/ the horizon is always/ a scroll waiting to be unrolled/ a parchment asking to be read.''
The Plymouth library's assistant director, Jennifer Harris, who hosts the evening, said the library has also celebrated poetry with appearances by national figures such as former poet laureate Robert Pinksy. Her current goal is a reading by another popular ex-laureate, Billy Collins.
"He's on my radar,'' she said.