Local
With Red Sox victory, a lesson in hope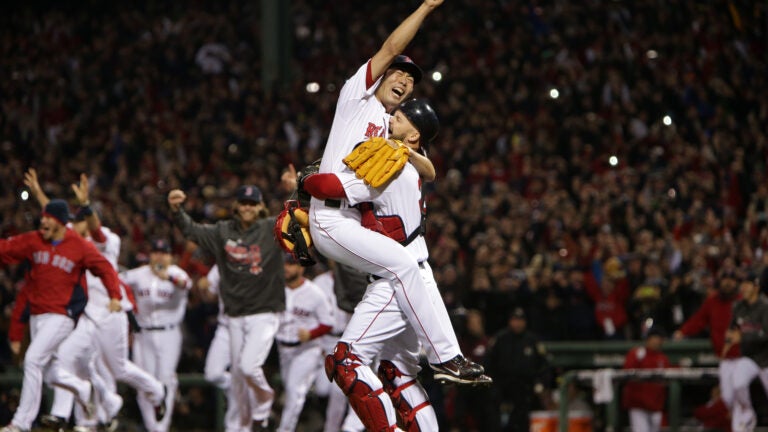 About seven hours after Koji Uehara inevitably dispensed with Matt Carpenter for the final out, Angel Santiago was standing outside Gate D at Fenway Park, blowing into his hands, making sure that whoever stumbled in or out of the ballpark had a pass or a good excuse.
If he was tired, the Red Sox security guard hid it well.
"You know something,'' he said, smiling. "I'm too happy to be tired.''
Angel Santiago spoke for a city, a state, a region, for Red Sox Nation.
At dawn, Fenway Park was hauntingly peaceful, cavernously beautiful. As the first shards of light crept down Yawkey Way, the old ballpark slept in, like a child who had been allowed to stay up late to watch the Red Sox win the World Series at home for the first time in 95 years.
Later, the dull hum of leaf blowers, used to pile up the peanut shells and assorted flotsam from the aisles, echoed in the early light, and the TV people set up cameras, preparing for postmortems on the most improbable of championship seasons.
We flirt with cliché when linking this baseball victory to the Marathon bombings. But we do so because we are looking for deeper meaning. We are seeking confirmation that what we just witnessed was not merely Shane Victorino coming through again with the bases loaded, but a sign of something loaded with redemptive symbolism, an elixir that can cure every family that mourned, every person whose body or psyche was wounded, every cop and firefighter who tried to comfort a child whose leg was missing.
And for those of us not afflicted with the disease of cynicism, it was staring us in the face, as Big Papi stood in the infield waving a flag, just as Jeff Bauman, the man who lost his legs but not his humanity, sat in a wheelchair waving a flag on the Boston Garden ice as the Bruins made a run last spring.
Of all sports, baseball is most closely identified with the concept of redemption. Even the game's best hitters reach base safely only 3 out of 10 times. The biggest challenge is not hitting a round ball with a round bat; it is not giving up on yourself when you fail most of the time.
Several Bruins said that, beyond their personal disappointment in losing in the NHL finals, they regretted not being able to bring the Stanley Cup back to Boston, to salve some wounds.
Several Red Sox players said they took deep pride in being able to deliver a World Series championship to a community still wincing at physical and psychological scars. Red Sox manager John Farrell described it almost as a civic compact, that this was in fact more than just about proving that a team could go from last to first, but that a wounded town and a disparaged baseball team could make each other better.
Farrell spoke of a responsibility inherited, the same thing that led Ron Brassard and his wife and daughter to drive from their home in New Hampshire in May, to watch the graduation from Framingham State University of Rob Wheeler, a stranger who pulled the sweaty shirt from his back to tie off Brassard's gushing leg after it was ripped apart by shrapnel near the Marathon finish line.
They set off fireworks after Wednesday's game, and the smoke from them settled over Fenway Park as baseball commissioner Bud Selig presented the World Series trophy to the Red Sox brain trust.
Red Sox owner John Henry appeared briefly unnerved by the smoke, and I can't be the only one who was reminded of the cloud that lingered over Boylston Street on Patriots Day.
In the end, it was a somber reminder of the fickle nature of life itself, that smoke in one place means shattered lives, and that some place else it means dreams fulfilled, the byproduct of celebration, of joy, of something we all together share, like the streets we walk and the air we breathe.