Local News
Police officer shot in New Bedford drug bust Friday night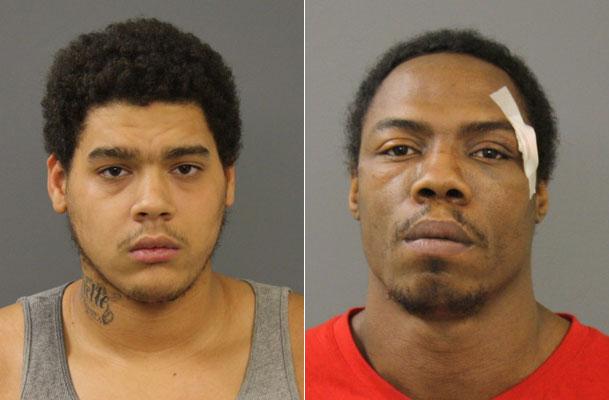 NEW BEDFORD—A narcotics detective who was shot late Friday night while executing a search warrant in for drugs at a New Bedford apartment was discharged from a Rhode Island hospital today and expected to fully recover, city officials said.
The injured officer, Detective Jonathan Lagoa, sustained non-life threatening injuries and was in good spirits, according to New Bedford Mayor Jon Mitchell, who visited him today.
"It was a very close call, but we're pleased that he's going to make a speedy recovery,'' Mitchell said in a phone interview tonight.
Lagoa was taken by ambulance to St. Luke's Hospital in New Bedford, then to Rhode Island Hospital in Providence before being released.
Two men were arrested at the scene following the shooting, and another three people who were in the apartment at the time—two men and a woman—were handed grand jury subpoenas and could face charges.
Four of the five people in the apartment at the time of the shooting live in Boston or have lived there recently.
Police said a group of narcotics officers tried to break open the door of Apartment 2 at 244 Davis St., at about 11:20 p.m. Friday in order to execute a search warrant.
As officers hit the door, which was barricaded with a security bar, Nathan Manuel-Jackson, 20, allegedly started shooting at them from inside the apartment, according to police.
Lagoa was hit, and the officers took cover and called for backup.
Eventually, the occupants of the apartment agreed to remove the security bar and allow officers inside.
"Our police officers showed uncommon restraint in not returning fire,'' Mitchell said. "They went in and arrested the individuals inside the house without firing another shot.''
Police arrested Manuel-Jackson, who Mitchell said is from Boston and moved into the house in December. He faces charges of armed assault with intent to murder as well as several other firearms charges.
Police also arrested Thomas Scott, 34, of Mattapan, and charged him with being an accessory after a crime and several firearms charges.
The Bristol County District Attorney's Office said it was assisting police with the ongoing investigation and that both Manuel-Jackson and Scott are expected to be arraigned Monday.
The three people in the apartment handed grand jury subpoenas are Duvall Davis, 36 of Mattapan; Albert Jackson, 40, from Alabama; and Mailisa Christian, 24, of Hyde Park.
Police said Saturday that it was unclear how the five people in the apartment knew one another.
According to residents of the massive three-decker on Davis Street that appeared to have about five units, the shooting occurred outside a rear apartment on the second floor.
There was no visible police presence at the building this afternoon, as residents walking by asked reporters for information about the shooting. Some said they were shocked to hear that a police officer was shot.
"I'm used to there being a ton of commotion around here,'' said one neighbor, who appeared to be in his mid-20s, as he walked past the building early this afternoon. "But someone shooting a cop? That's really surprising, I don't know what to think.''