Local
Boston police arrest man who allegedly pointed loaded handgun at officers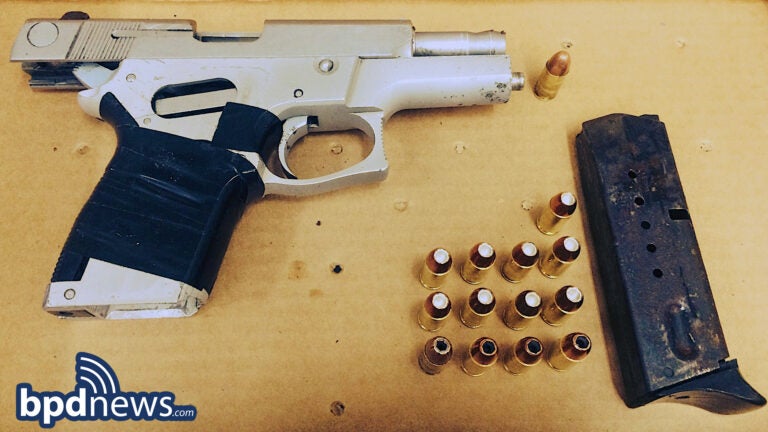 A Boston man pleaded not guilty to multiple charges after he led police on a wild foot chase winding through a Dorchester neighborhood Monday night, allegedly discarding a loaded handgun along the way.
Shavea Ferguson, 19, was arraigned Tuesday in Dorchester Municipal Court on charges that included assault with a dangerous weapon, unlawful possession of a firearm, and possession of a firearm with obliterated serial numbers, according to Officer James Kenneally, a Boston police spokesman.
He is being held on $50,000 bail and is scheduled to return to court on March 24.
According to police, drug control officers were patrolling Talbot Avenue just before 7 p.m. when they allegedly saw Ferguson running down the street with a silver weapon in his hand. The officers exited their cruiser and drew their guns, ordering Ferguson to drop the weapon, the statement said.
Ferguson allegedly pointed his gun at the officers for a moment, but then fled.
A "lengthy foot pursuit'' through several back yards followed, during which officers repeatedly commanded Ferguson to drop his gun, police alleged. At some point, he allegedly discarded the gun. They were able to apprehend him at 525 Talbot Ave.
After taking Ferguson into custody, officers retraced their steps to find the firearm.
Upon catching the suspect, officers allegedly asked Ferguson, "What were you thinking? You almost got shot back there.''
According to police, Ferguson replied with a nervous laugh, "Good looks, man.'' It was not clear what he meant.
It was the 83d gun seized by Boston police this year. Last year, a total of 667 guns were seized, police said.
"Once again, we have reason to be proud of officers and I want to commend the officers involved in this incident,'' Boston Police Commissioner William Evans said in the statement. "Thanks to their dedication and devotion to keeping our city safe and reducing gun violence, an arrest was made and there's one less illegal gun that could be used to harm someone in our neighborhoods.''