Local
Patrick O'Callaghan, 62, of Hingham; crafted custom-made items in his leather shop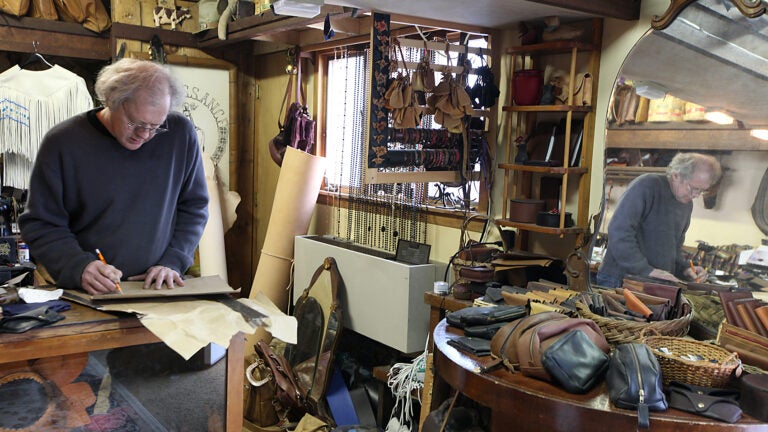 An expert leather craftsman, Patrick O'Callaghan taught himself to shape raw leather into everything from wallets and belts to guitar straps and motorcycle seats.
His talent was so renowned that rock stars, professional athletes, and business executives commissioned custom-made pieces that he created at Renaissance Leather, the tiny shop and studio in downtown Hingham that he and his wife, Barbara Jean, ran for more than four decades.
"But it was just as important for him to make a case for a local painter, or a bag for a gardener to hold tools,'' his wife said. "He never cared about money. What he loved was meeting the people who came into the shop and making what they needed.''
Mr. O'Callaghan died in his home in Hingham Feb. 24, about 13 years after being diagnosed with Parkinson's disease. He was 62 and had lived in Hingham and Weymouth most of his life.
Spending hours in libraries, Mr. O'Callaghan researched the origins of the leather he worked with, as well as interests such as computers and automotive technology.
"He was always on the road to learn something new,'' said his longtime friend Bob Beal of Hingham, who met Mr. O'Callaghan when he first visited "the tiny shop that he and Barbara could barely fit into.''
Beal said his friend would "find a master to talk to'' about any topic that piqued his curiosity, or "he'd go to the library and read everything he could find. He had this desire for knowledge. There was nothing he didn't want to learn more about. He was the most interesting guy I knew, and he was interested in everything.''
In a 2009 interview
with the Hingham Journal that is posted as an online slideshow, Mr. O'Callaghan predicted that leather will never "die as an art or die as a useful product. Leather does its job.''
He added that "mankind still hasn't invented something that's as strong and flexible and good-looking as leather,'' which he noted has "so many senses involved with it. The smell of it, the feel of it. . . . It almost fills up all your senses, just being around it.''
That sensory experience hits visitors to Renaissance Leather, which is still filled with the rich scent of leather and with products crafted by Mr. O'Callaghan. His wife, who is known as Queenie, plans to keep the shop open for the time being.
Renaissance Leather is housed in a North Street barn, just up the street from two different storefronts where the shop operated between 1972 and 2010. The current space is smaller, his wife said, but that suited Mr. O'Callaghan. Parkinson's disease affected his productivity somewhat, but he continued his daily walks of more than 2 miles to the shop from the couple's home, and he continued working until his death.
"He never wanted to give it up,'' she said. "He loved going in there every day and spending time with whoever stopped in.''
She described him as kind, patient, creative, and "very into self-sufficiency.''
"He thought having a skill was really important,'' she said. "He knew you could always survive if you had a skill.''
Though widely admired, Mr. O'Callaghan was unfailingly modest, she said, and he believed that "if you're talking about what you did yesterday, then you haven't done anything today.''
John Patrick O'Callaghan, who went by his middle name, was born in Nova Scotia and spent his early childhood on Cape Breton Island. He moved to South Weymouth at 13 when his father took a job in Boston, and graduated from Weymouth High School.
He met Barbara Jean Byrne in 1971 at a bar in Harvard Square. They married in 1975.
One day, she said, a roadie for rock musician Bob Seger's band wandered into the shop. When the roadie told his boss about Mr. O'Callaghan and his one-of-a-kind work, Seger commissioned a guitar strap.
Word spread among musicians, and soon Mr. O'Callaghan was designing and making leather goods for the likes of Neil Young, Charlie Daniels, Billy Joel, and Jackson Browne.
He crafted travel bags for all four members of the band U2. The finished products are featured in a photo of the musicians in an airport terminal that became the cover of the band's Grammy-winning 2000 album "All That You Can't Leave Behind.'' When the record was released, the band members signed a copy and sent it to the O'Callaghans.
In the shop are two antique suitcases plastered with backstage passes from stars who knew Mr. O'Callaghan and valued his talent. His wife shrugged off the celebrity attention. "It was nice,'' she said. "We got to go to a lot of concerts, which we always enjoyed. But Patrick always attracted unique people. People were just drawn to him.''
In the Hingham Journal interview, Mr. O'Callaghan said "it all comes down to working with leather for me. It doesn't matter who the people are.''
Mr. O'Callaghan also lavished attention on cars. Beal said his friend restored a BMW 1600 with junkyard parts and drove it for years.
"He lived in a very resourceful way, always recycling and reusing,'' Beal said, "and he never charged more than what he needed to earn to meet his needs.''
Mr. O'Callaghan especially cherished a 1971 Volkswagen bus he kept parked in his driveway and worked on frequently.
A self-taught guitarist, Mr. O'Callaghan often invited friends and fellow musicians to his shop for jam sessions, said Beal, who added that "his shop was always a warm and welcoming place to hang out.''
A service has been held for Mr. O'Callaghan, who in addition to his wife leaves his mother, Shirley of Lecanto, Fla.; three brothers, Bruce and Rick, also of Lecanto, and Steve of Marshfield; and a sister, Rhonda, of New Port Richey, Fla.
A bag Mr. O'Callaghan made for Beal's sister 40 years ago is still in top condition, as are the many pocketbooks he crafted to match each pair of shoes belonging to Beal's wife, Brenda.
"Everything he made, he put a little of piece of the person he was making it for into,'' Beal said.
In the Hingham Journal interview, Mr. O'Callaghan said he was "still amazed at the way leather looks and acts and does its job. . . . It lives on a lot longer than the animal that it came from. It will live on after I'm gone.''