Local
#BringBackOurGirls Rally to be Held in Boston for Nigeria's Kidnapped Girls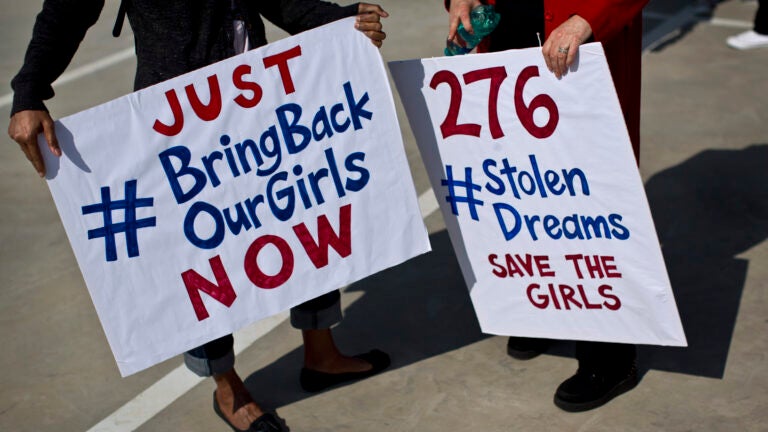 Members of the Nigerian community in the Boston area are holding a rally today for the 276 schoolgirls that were kidnapped in Nigeria.
"This is a terrible situation'' rally organizer Godwin Nnanna told Boston.com. "I'm the father of two daughters and I can't imagine what those parents are going through.''
On April 15, more than 300 girls were kidnapped from their school in Chibok, Nigeria by Islamic extremist group Boko Haram — 276 girls are still missing.
The case has sparked rallies and protests worldwide as international pressure builds for increased action to find the girls. Many have also used social media with the Twitter campaign #BringBackOurGirls as well as other online initiatives to put pressure on the Nigerian government and global community to act.
Today's rally will take place at 4 p.m. on the Boston Common and will feature various speakers to talk about the kidnapping.
"It's important to capture the energy of this moment,'' said Nse Umoh Esema, a Nigerian-American who is helping organize the rally. Esema also said she sees the event as an opportunity to also "issue a critique of the Nigerian government,'' which has sparked outcry over its handling of the case.
"The goal is to keep attention on the girls and the kidnapping, particularly on governments both in Nigeria and the States to push for meaningful action,'' Esema said.
Organizers said they also want to raise awareness about Boko Haram.
"Boko Haram is a threat to Nigeria, West Africa, and the world,'' Nnanna said. "We want these girls to be returned to their families and Boko Haram to be dealt with globally.''
Nnanna, a Nigerian who lives in Danvers, said he feels Boston has shown over the past year with the Marathon bombings that it "has no room for terrorism.'' He said they have reached out to Nigerians, Africans, and Muslims for the event and expect the broader Boston community to join the rally.
Organizers plan to honor the kidnapped girls by reading aloud the names that have been released. According to ABC News and the Los Angeles Times, some of the names of the girls were released by a local organization in Nigeria.
More information about the rally in Boston can be found here.