Local
Khairullozhon Matanov, of Quincy, Indicted in Connection with Boston Marathon Bombings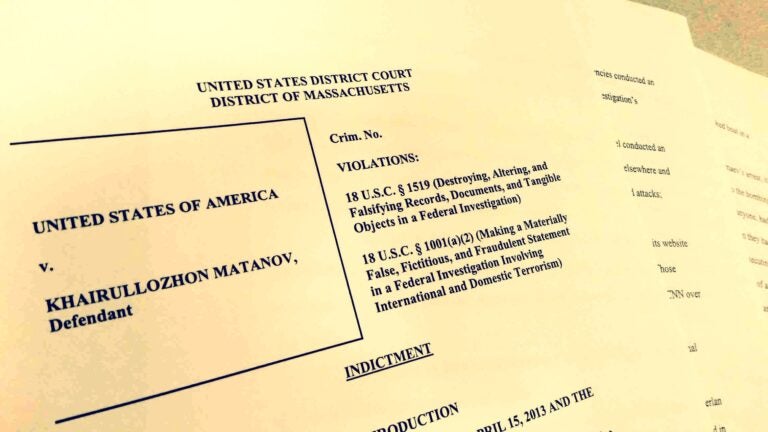 The United States Attorney's Office for the District of Massachusetts is charging a 23-year-old Quincy man with obstructing the Boston Marathon bombings investigation.
Khairullozhon Matanov will be in court at 2 p.m. for an initial appearance. According to the US Attorney's office, Matanov is facing one charge of destroying, altering, and falsifying records, documents, and tangible objects in a federal investigation and three counts of making false, fictitious, or fraudulent statements in a federal terrorism investigation.
Matanov is a citizen of Kyrgyzstan, who came to the US legally in 2010, according to the indictment. Since then, he has lived and worked (including as a taxicab driver) in Massachusetts. WCVB-TV's Julie Loncich tweeted that Matanov used the name Adam Leo on Facebook .
The Boston Globe reported that he "allegedly took a series of steps to impede the FBI's probe into the extent of his friendship, contact, and communication with the suspected bombers.''
Former Boston Police Commissioner Ed Davis told WBZ-TV that Matanov's obstruction of the investigation ultimately cost MIT Police Officer Sean Collier his life. Collier was shot and killed days after the Boston Marathon bombings.
The US Attorney's office said Matanov lied to investigators and deleted evidence from his computer. According to the indictment, investigators said Matanov realized the FBI would want to speak with him because he knew the Tsarnaev brothers and "shared the suspected bombers' philosophical justification for violence.''
Among the allegations in the indictment, Matanov is said to have had extended contact with the Tsarnaev brothers in the hours and days after the attacks, including dinner at a restaurant the day of the bombings. Prosecutors also claim that Matanov told an unidentified witness that he sympathized with the attackers and believed the bombing "could have had a just reason.''
The indictment goes on to allege that Matanov deleted hundreds of files from his computer, cleared his Internet search history, and knowingly lied to federal investigators about several things, including when he learned the Tsarnaev brothers were suspects and whether they were present at the restaurant the night of the attacks.
The US Attorney's Office said the maximum sentence for the charges against Matanov include 20 years for the destruction of evidence and eight years for each count of making a false statement. All four counts can also be punished by a maximum of three years of supervised release and a $250,000 fine.
Prosecutors made clear that Matanov is not accused of participating in the bombings or knowing about them before they took place.
A complete breakdown of the key details laid out in the indictment:
The following statements were put forth by prosecutors. Matanov has not entered a plea in this case.
-Matanov met Tamerlan and Dzhokhar Tsarnaev in the US and became friends with Tamerlan. The two spent time together, hiking in New Hampshire "in order to train like, and praise, the 'mujahideen.'''
-Matanov called to invite Tamerlan to dinner about 40 minutes after the bombings, and that night bought him and his brother, Dzhokhar, dinner at a restaurant.
-After returning home from dinner, Matanov spoke to another individual (Witness 1). When that witness expressed to him a hope that the bombers were not Muslim, Matanov responded that the bombings could have had a "just'' reason. Matanov also said he would support the bombings if the reason was "just'' or if it had been carried out by the Taliban. He also said the victims had "gone to paradise.''
-Matanov also remained in contact with both Tamerlan and Dzhokhar in the days that followed. He saw Tamerlan in person at least twice.
-Matanov attempted to call Dzhokhar Tsarnaev on April 17, 2013 at about 5:04 p.m. and again around 6:57 p.m. He did not connect with Dzhokhar both times. Matanov also called Tamerlan Tsarnaev just after 5 p.m. on April 17, 2013 and they spoke for 1 ½ minutes. Matanov called Tamerlan again around 6:53 p.m. and they spoke for about a minute. Matanov visited Tamerlan at his Cambridge home later that night and made a call to Dzhokhar around 9:35 p.m. but, again, did not connect with him.
-Matanov continued to express support for the bombings in the days afterward, but later that week said that maybe the bombings were "wrong.'' He also expressed sympathy for the victims' families. He explained away the victims' deaths by saying "everyone must die eventually.''
-Matanov accessed photos of the suspected bombers and stories about them on the FBI's website and on CNN's website on April 18, 2013 between 5:42 p.m. and 7:17 p.m. The FBI had released the photos that evening around 5:15 p.m. Matanov also accessed additional images released by the FBI on April 19, 2013.
-Matanov made a final call to Dzhokhar Tsarnaev around 7:17 a.m. on April 19, 2013, a time when Dzhokhar was evading law enforcement.
-On or about April 18, 2013, Matanov knew the Tsarnaevs were being investigated and that federal investigators would want to talk with him about the suspected bombers. Matanov tried to discourage and impede the investigation.
-On April 19, 2013, Matanov told Witness 1 that he knew the bombers. He also falsely told the witness that he didn't know if Tamerlan Tsarnaev had extremist views. Witness 1 told Matanov to contact the authorities.
-On the morning of April 19, 2013, Matanov was driving a taxi client (Witness 2), while news of the suspected bombers' home address was being mentioned on the radio. Matanov told that witness that he recognized the address as that of his friend. The witness asked Matanov when he had last been at the address, and Matanov falsely said "it had been a while.'' It was during that taxi ride that Matanov made his final call to Dzhokhar Tsarnaev.
-Matanov visited another individual (Witness 3) later in the morning on April 19, 2013. He told that witness that Tamerlan Tsarnaev was dead. (Witness 3 had met Tamerlan when Matanov introduced them.) Matanov asked the witness to take "some cellphones,'' saying they "were illegal'' and might be found if the FBI searched his apartment due to his friendship with Tamerlan Tsarnaev. The witness refused to take the phones.
-Matanov picked up Witness 2 again in his cab and the two discussed going to the police. They went to the Braintree Police Department where they told officials that Matanov knew Tamerlan Tsarnaev.
-Matanov told a detective that he had not seen photos of the bombing suspects. He also said he knew the Tsarnaevs through their place of worship and through playing soccer. Matanov told the detective he knew Tamerlan had a wife and child, but said he did not know where they lived. He said he had not "participated with'' Tamerlan Tsarnaev at their place of worship since 2011.
-The detective informed Matanov that they would pass the information to the FBI, who may also want to talk to him.
-Matanov attempted to get Witness 1 to take his cellphone, but that witness refused. He also asked the witness for help reformatting his computer. The witness refused, saying he didn't want to delete any evidence. Matanov responded that the witness was not a good "brother.''
-Matanov deleted a large amount of evidence from his computer, including hundreds of files and folders. He also cleared his Internet search history. Some of the deleted files contained "violent content or calls for violence.'' (The FBI has been able to restore some of the deleted information.)
-Federal investigators began speaking with Matanov on April 20, 2013, and continued to speak with him on several occasions. Matanov misinformed those investigators about his interactions with the Tsarnaevs. He claimed he called Tamerlan to discuss a "soccer game that Tamerlan had not attended.'' Matanov said he was alone at the restaurant the night of the bombing when the Tsarnaevs walked in. Matanov also falsely claimed he had not driven them to the restaurant and said the bombings first came up at the restaurant but he couldn't recall the brothers' response.
-Matanov "misled'' investigators about when he first suspected and learned the Tsarnaevs were suspects, once saying he first learned Tamerlan Tsarnaev was a suspect while waiting in line at an unspecified location. On two other occasions, he said he suspected the brothers after hearing the phrase "Chechnyan brothers'' from an officer at the Quincy Adams T stop.
-Matanov also lied about his Internet use the week of the bombings and about watching videos on his computer. Forensic analysis showed that he did, in fact, open dozens of videos. In a later interview with federal investigators he said he did not share his suspicions about the Tsarnaevs being involved in the bombings with anyone.
The Boston Globe has a timeline of Matanov's alleged activities here.
Read the full indictment here.
We will update this story as more information becomes available.