Local
One Person Killed in Crash on I-95 South in Norwood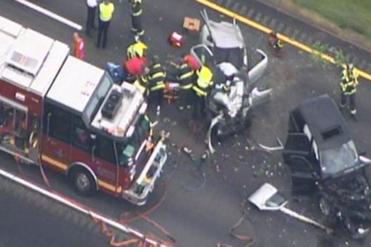 State police said one person was killed and five others injured after a major three-car accident shut down Interstate 95 South at the height of rush hour Friday evening.
The collision occurred just before 4:30 p.m., when a Range Rover crossed over a grass median into the southbound travel lanes, hitting a Toyota Camry head-on and later striking a Ford Edge.
Police said they continue to investigate why Charles Iarrobino, 53, of Foxboro suddenly drifted into oncoming traffic. He was transported to the hospital with minor injuries, along with a 5-year-old boy in the car who was taken to Norwood Hospital for an evaluation.
A 59-year-old Foster, Rhode Island woman in the Toyota Camry was pronounced dead at the scene. Police have not yet released her identity.
Two others in the car, a 28-year-old Providence, Rhode Island man and a 62-year-old Foster, Rhode Island man, were transported to Boston Medical Center by helicopter with serious injuries.
Nina Battista, 25, of Quincy and another unidentified passenger in the Ford Edge were taken by ambulance to Norwood Hospital.
The crash caused major delays on the interstate, with traffic reportedly 27 miles deep.
[fragment number=0]