Local
Obama's Advice to Worcester Graduates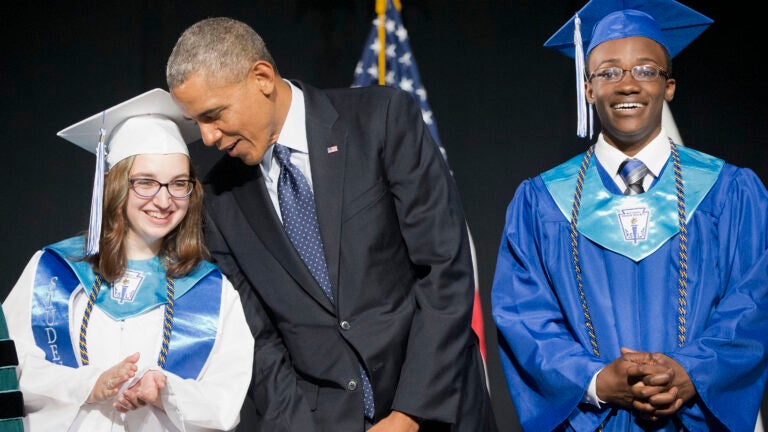 President Obama delivered the commencement address to the graduating class at Worcester Technical High School in Worcester on Wednesday.
Worcester Tech was named at 2013 Blue Ribbon School by the U.S. Department of Education, and principal Sheila Harrity was recognized as a National High School Principal of the Year at the White House earlier this month. The school provides both traditional academic classes and hands-on training in subjects from construction, to robotics, to cosmotology.
Obama used the opportunity both to laud the school's successes, inspire the students, and bring up a few of his reform initiatives, such as his student loan forgiveness plan.
Here are a few gems from his speech:
On being a dad of a high schooler: "Malia's graduating in two years, so I'm trying to get used to not choking up and crying and embarrassing her.''
On being a high schooler: "I do not remember my high school graduation speaker. I have no idea who it was. I'm sure I was thinking about the party after graduation. I don't remember the party either. I'm just telling the truth here.''
On taking action: "Together, you're an example of what's possible when we stop just talking about giving young people opportunity, when we don't just give lip service to helping you in the global economy, and we start doing it.''
On knowing where you came from: "Each of us is here because someone, somewhere invested in our success. Somebody invested in us. I know that's true for me.''
On remembering the help you've received: "A lot of people made an investment in you. I can't imagine a better investment. But as you experience your success, and as you experience setbacks, you need to remember everything that's been put in to make sure you have opportunity.''
On equal opportunity: "I hope you leave here today believing that if you can make it, then there shouldn't be any kid out there who can't make it.''
On our cynical times: Sometimes I worry that your generation has grown up in a cynical time, in the aftermath of a great recession, in the aftermath of two wars. We live in a culture that so often focuses on conflict and controversy, and looks at the glass half empty instead of the glass half full. And you're graduating at a time when you're competing not just with people across the town for good jobs, you're competing with people across the world.''
On how to defeat your opponents: "Don't boo. Just remember to vote.''
On working hard for change: "Progress takes commitment. It takes hard work. We have to fight through the cynicism. It's going to take work from parents, and from teachers, and from members of the community, and from students. But know we can do it, because of you.''