Local
Astronaut Captures Awesome Photo of Boston Lit Up at Night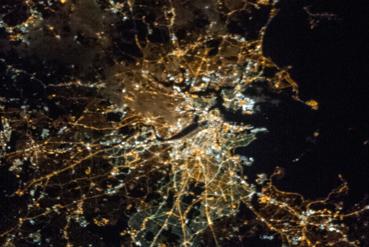 Thanks to an astronaut armed with a camera and an eye for photography, here's an awesome image of Boston and its surrounding area lit up at night.
[fragment number=0]
In the photo above, you can see the dark of the Atlantic Ocean off to the right, with the Charles River snaking into the city lights to separate Cambridge, Somerville, and other outlying areas. Notice the many straight yellow streets lights of the periphery all concentrating into a core of brightness in downtown Boston. Here's a Google map of the city to better help compare.
The photo of Boston comes from Cities At Night, a collection of photos taken by astronaut cameras aboard the International Space Station, rather than by computer imagery. The photo of Boston was taken with a NIKON D3S with a 400 mm lens attached, according to the photo's description.
Cities at Night has compiled hundreds of photos of cities across the world, and you can see other city images here.
(h/t The Atlantic)