Local
What Does it Take to Get Fired from Boston Radio?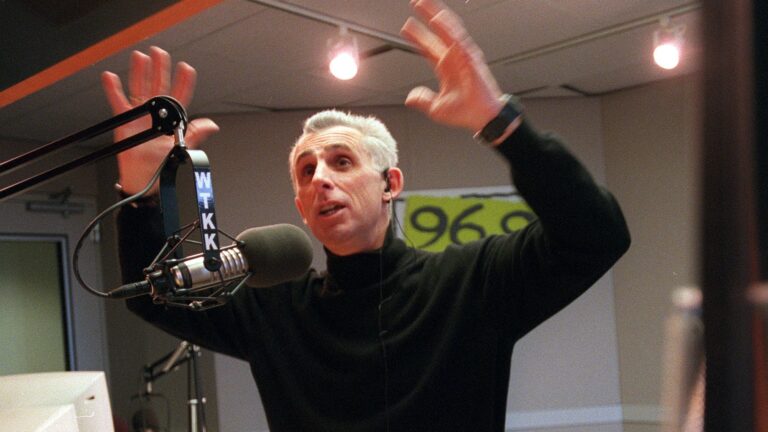 Boston talk radio personality Kirk Minihane seemingly knew he crossed a line even as the words were tumbling out of his mouth.
"I'm going to get in trouble for this,'' he said after finishing his rant about Fox Sports' Erin Andrews, whom he called a "gutless bitch.''
Minihane released an apology Wednesday night, saying he was sorry "for what was said.'' In an interview with Boston.com's Chad Finn, WEEI parent company Entercom's Boston Vice President Phil Zachary said Minihane would not be fired or suspended for the on-air comments.
People can debate whether an apology, heartfelt or not, is enough of a response in this case, or if WEEI should have taken (any) action against its host. But Minihane's comments immediately join the verbal rogues gallery of messed up things people have said over Boston's airwaves.
Some folks were fired for their statements, some were suspended, and some got off scott free. Here's a sampling of the more famous cases of professional gabbers talking their way into trouble.
Opie and Anthony
The most infamous Boston radio firing came in 1998, when Opie and Anthony were well-known local Boston shock jocks. Pretty much every truck driver in the state had a "Whip em' Out Wednesday'' bumper sticker on their rig, imploring women to flash them along the commonwealth's highways and byways.
What did them in? The pair decided it would be a funny April Fool's Day prank to tell everyone Mayor Tom Menino was dead.
[fragment number=0]
It was like an unfunny bro-dude version of "War of the Worlds'' and led to WAAF quickly giving the pair the boot.
Jay Severin
Jay Severin was a million-dollar man in Boston's radio community, but he talked himself out of a job in 2011 when he bragged about sleeping with his interns. Business Insider published some of the ickier quotes:
"Those girls that got to sleep with me got to know their boss better, they got to go on trips, they got to travel in some cases to various parts of the world, to see things and meet people that they never would have seen or done…These were not whores. These were Ivy League graduates, young women or interns from Ivy League institutions who were interested in politics and government.''

In case we didn't get the picture, he made it even more clear that he felt no guilt about this:

"We'd have drinks together at the end of the day and we'd spend the night together. I should feel badly about that?''
Severin had previously been suspended by WTKK for comments about Mexicans and undocumented immigrants, whom he charmingly referred to as "criminaliens,'' "leeches,'' and "primitives.''
Severin, who's real last name is Severino and who never won a Pulitzer Prize, as he once claimed, now broadcasts from his Manchester-By-The-Sea home, tweeting the same vitriol and broadcasting for The Blaze network.
John DePetro
Telling talk radio hosts they aren't allowed to call people names is like telling regular people they aren't allowed to breathe. So there's a lot these guys can get away with, because being rude isn't a fireable offense. On the radio, it's more likely a symptom of success.
But John DePetro wasn't just rude in 2006, when he lambasted Green Party gubernatorial candidate Grace Ross, calling her a "fat lesbian.'' He was being sexist and homophobic, or so his employers at WRKO believed. DePetro was fired for the comments.
Luckily for DePetro, there's a big market for sexism and homophobia on the radio. He landed a new gig in Providence by early 2007. How's that going? Last year he called some female political protesters "whores'' (well, he spelled out w-h-o-r-e-s, if you want to get technical about it), so things are going as you'd expect.
Dennis and Callahan
Minihane's WEEI compatriots John Dennis and Gerry Callahan have made seemingly racist, homophobic, and sexist banter their bread and butter.
The most notorious case came in 2003, when the pair were riffing on news stories about Little Joe, the Gorilla who had escaped from the Franklin Park Zoo. Looking at a photo of the gorilla, Dennis asked if he was waiting for the Metco bus. Callahan was happy to jump in, saying the bus was heading to Lexington.
Metco is a voluntary desegregation program that places minority students from Boston into schools in Lexington and other wealthy, suburban communities.
The pair were suspended for two weeks for the stunt after advertisers pulled thousands of dollars off the table. At the time, Dennis, released a formal apology:
"I've heard people who know nothing about me evaluate my character, analyze my heart, dissect my brain, and pronounce me a lost and despicable soul,'' Dennis wrote. "I understand their anger, and, frankly, I deserve much of what I'm getting.''
Over the years, the sports talk duo have collected headlines for controversial statements like a child collecting baseball cards. The duo were dinged for comments perceived as homophobic when they worried about Queer Eye for the Straight Guy host Carson Kressley "sashaying'' to the mound at Fenway Park, calling him a "fruitcake'' along the way.
Howie Carr
What can you say about Howie Carr that the man himself hasn't said using saltier language? Carr did get suspended for a week in 2010 after talking trash about parent company Entercom. And maybe that's the lesson: you can say pretty much whatever you want on the radio, but not if it's about the boss.
Eddie Andelman
Eddie Andelman proves that talking offensive trash can extend beyond your working years. He may call himself the Godfather of Sports Talk Radio, but Eddie Andelman has spent his retirement years as a sort of Radio Idiot Emeritus, popping off about immigrants watching the World Cup and pretty much whatever other doddering thoughts come to mind.
Correction: An earlier version of this report incorrectly indicated that Erin Andrews works for ESPN. She works for Fox Sports.