Local
Pro Basketball Star-Turned-Attorney General Hopeful Maura Healey Can Still Ball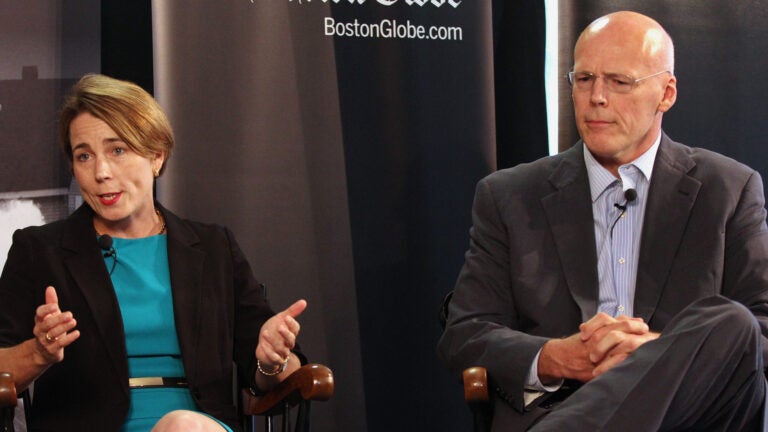 Maura Healey can't speak much German anymore and hasn't had schnitzel in a while, but she remembers her days playing professional basketball in Austria 20 years ago quite fondly. At the time, though, she felt a bit differently.
"It was scary,'' Healey, now a Democratic candidate for Massachusetts Attorney General, told Boston.com. "I was 21 years old, dropped in a country where I didn't speak the language. I didn't know a soul and had to set up shop for myself.''
Healey, now 43 and long since retired from the hardwood, is currently embroiled in a tight race against former state senator Warren Tolman. She has taken to touting her past as a pro baller as the election approaches two weeks away.
"When you're a five-four pro basketball player, you learn to take on the big guys,'' says a narrator in Healey's first television ad that was released Tuesday morning.
[fragment number=0]
That pro basketball shout-out refers to her short-lived career playing in Europe after college. While a student at Harvard, Healey excelled on the court as a scorer, ball-handler, and all-around team leader for the Crimson. After graduating in 1992, she took her talents overseas to play in Austria for UBBC Wustenrot Salzburg.[fragment number=1]
"It was just wonderful. I got to travel all over Europe,'' Healey said. "You get a different perspective of America. You get a different perspective of yourself.''
Of course, Healey had some growing pains early on. In her first game, for example, an opponent sped past her to score a late basket, taking three steps without a dribble. Healey protested, not realizing that European basketball rules allow players to take three steps before a traveling violation is called.
It didn't help that she had a language barrier with her coach, who had fled fighting in Sarajevo to coach her team.
"He only spoke Serbian, and I spoke English, so together we spoke bad German,'' Healey said.
But she got the hang of things over her two years there, managing to learn enough German to get by and enjoying Europe's sights, sounds, and other things that 21-year-olds enjoy.
"The first year I came back, I put on an extra 10 pounds,'' Healey said. "I won't admit whether it was from the schnitzel, the beer, or the sweets.''
Healey says she still stays in touch with some of those teammates, and she last visited Austria about five years ago. Ever the politician, Healey noted that she's taken some of those basketball lessons in her current campaign.
"Look, I come into this race as an underdog. I've been an underdog my whole life. I'm a five-foot-four point guard in a big person's game.''
That five-foot-four line is likely to appear in coming debates and beyond for Healey. However, a look at her Harvard roster lists her at a robust five-foot-six. What's the deal?
"This campaign has just weakened me, shrunken me,'' she joked. Instead, she blames her old Harvard coaches for exaggerating a bit. "Coaches will inflate the height to intimidate the other team, so bumping two inches to five-foot-six was an attempt at that,'' Healey said.