Somerville's Ikea Way To Nowhere
On Somerville's McGrath Highway, between a used car lot's waving purple gorilla mascot and Chester Avenue, you'll find a sign pointing drivers to Assembly Square and Ikea Way.
Half of this sign is true. There is an Assembly Square in Somerville. But the nearest Ikea Way is in Stoughton, some 25 miles away.
Turns out that MassDOT might've been a bit presumptuous when it put that Ikea Way sign up, and has been very slow in taking it down.
There was once a time when an Ikea Way seemed inevitable, perhaps explaining MassDOT's premature signage enthusiasm. The Swedish furniture giant bought land in Assembly Square almost 20 years ago with the intention of building a store, only to pull out in July 2012 after repeated delays. Last year, it sold its 12-acre parcel to Federal Realty Investment Trust, which has also developed the neighboring Assembly Row.
In better times, Ikea planned to name a street in the development after itself (it does this a lot — you'll find several Ikea Ways across the country, as well as Ikea Drives and Ikea Courts), as you can see in The Boston Globe's graphic of the planned site, published back in 2012: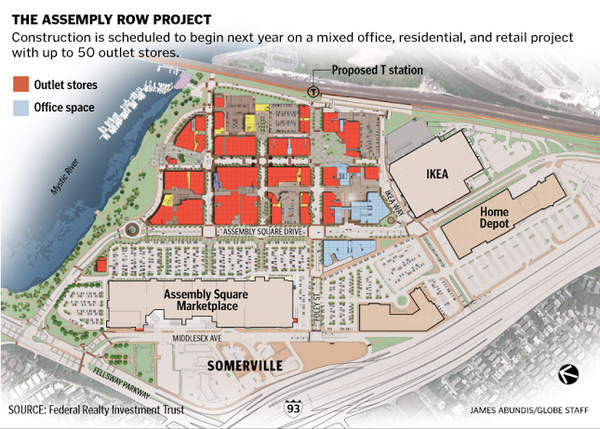 But Somerville's Ikea was never meant to be, so MassDOT had to make a few changes. It just didn't make enough of them.
"There were several similar directional signs that MassDOT had installed and then were revised or corrected after a proposal siting a development in Assembly Square did not come to fruition,'' MassDOT spokesman Mike Verseckes told Boston.com. "We missed this one.''
MassDOT did not respond to Boston.com's request for information on how many Ikea Way signs there were in the first place. Nor did they have an answer as to why signs were put up before the actual store was erected. If only the state's transportation officials knew that the only thing harder than assembling Ikea furniture is putting an Ikea store in Assembly Square.
Ikea did not respond to request for comment.
Over the years, confused Somerville residents have left messages on the city's Facebook pages asking about the misleading sign. In 2012, a woman asked: "When are the Ikea Way signs coming down??'' Somerville's response: "The City is working diligently with MassDOT to have all of the Ikea Way signs either removed or repainted soon.''
Last year, another woman asked the city's 311 Facebook page about the sign, saying that it "doesn't make sense to have a sign giving directions to a road that will never exist.''
The response: "I will pass your feedback to [MassDOT].''
"The City of Somerville has received questions as to the placement of a sign on McGrath Highway, directing traffic to Ikea Way,'' a spokesperson for the city told Boston.com. "A request for removal or repair of the sign has been referred to MassDOT as this sign is located on a state roadway, and the sign is not City property.''
Verseckes said MassDOT will be changing the sign accordingly, removing the last vestiges of a street (and, for cheap furniture lovers, a dream) that never came to be.