Local News
Voting Booth Ballot Selfies Are Actually Illegal in Mass. and N.H.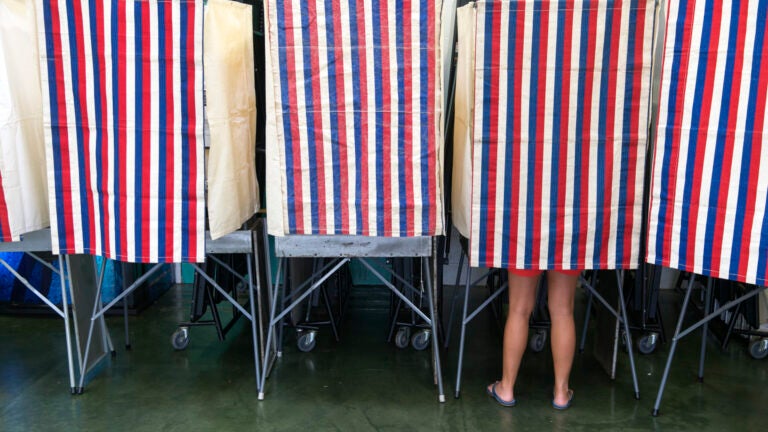 Warning all social media addicts: keep your voting booth ballot selfies out of New Hampshire. The state recently passed a law explicitly banning photos of voter ballots. A look at Massachusetts law shows that the Bay State has a similar rule on its books.
In this case, we're defining a "ballot selfie'' as a photo taken by a voter of him or herself along with a filled-out election ballot.
New Hampshire's restriction on ballot images was originally written in the 1970s. In June, state legislators updated the law to include "taking a digital image or photograph of his or her marked ballot and distributing or sharing the image via social media.'' The penalty is a fine of up to $1000, The Nashua Telegraph writes.
The ballot selfie ban isn't a statement on the dubious quality of those photos, but as a way to stop people from selling their ballot. By not allowing voters a way to prove who they voted for with a picture, the law's reasoning goes, there will be fewer instances of vote-buying.
The new restriction became law September 1. It was quickly put to the test when Leon Rideout, a New Hampshire state representative, took a photo of his own completed ballot during the primary election and posted it to Twitter.
[fragment number=0]
Rideout then got a call from an investigator with the Attorney General's office, who said he would file a report of the photo and submit it to the AG for potential prosecution, The Telegraph explains. Oops.
But this isn't just a New Hampshire-specific issue. Chapter 56, section 25 of Massachusetts General Law also forbids sharing a marked ballot (emphasis ours):
Whoever, at a primary, caucus or election, places any distinguishing mark upon his ballot, or makes a false statement as to his ability to mark his ballot, or allows the marking of his ballot to be seen by any person for any purpose not authorized by law, or gives a false answer to or makes a false oath before a presiding officer shall be punished by imprisonment for not more than six months or by a fine of not more than one hundred dollars.
As worded, the law would forbid taking a photo of a ballot and then posting it to social media where others can see it, according to Brian McNiff, spokesman for Secretary of the Commonwealth William Galvin.
"We tell people not to do it,'' he said of taking ballot selfies in the voting booth. "It is against the law.''
Encouraging someone else to show a photo of their marked ballot is illegal, as well, according to Chapter 56, Section 29 of the General Laws. So you might want to reconsider your tweet calling for people to share their "I voted'' selfies if those have a ballot pictured.
That said, the chances that you'll ever be prosecuted for the offense are pretty slim. Carrie Kimball Monahan, a spokesperson for Jon Blodgett, the President of the Massachusetts District Attorney's Association, said she was not aware of any cases prosecuted on these grounds in her 12 years on the job.
If you want to take ballot selfies without any restrictions, there are a few options in the New England area. Maine made it legal to share your own ballot in 2011, according to a compilation of ballot selfie laws from Digital Media Law Project. That analysis also found that Vermont did not have a ballot image law on its books. Rhode Island, on the other hand, forbids the practice.
Or you may find a more permissive selfie environment a few thousand miles away. In the Netherlands, the voting selfie – called a "stemfie'' in Dutch, a portmanteau of the verb "stemmen'' (to vote) and selfie – was ruled to be legal as long as the pictured ballot is one's own.