Local
Dear America, Our Republicans Are Better Than Yours. Love, Massachusetts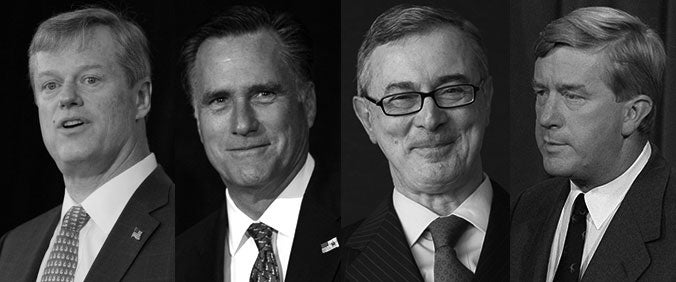 Hey there, America. You just voted in enough Republicans to take control of the Senate. We even voted Republican Charlie Baker as governor here in Massachusetts, though Democrat Martha Coakley did not concede the race on election night.
Those of you who played a role in this development must be overjoyed, as the days of obstructing change with but a single majority are gone in favor of obstructing change with a dual majority. As you spend the next few months celebrating this rejection of everything that you undoubtedly have come to see as liberalism, please remember this: In Massachusetts, our Republicans have always been better than yours.
Mostly because they're not nutcases.
Massachusetts, that bastion of liberalism, has had its fair share of Republican governors. Frank Sargent, who governed from 1969 to 1975, introduced a new corporate tax. He also repeatedly vetoed attempts to water down or strike down the state's Racial Imbalance act, which blocked state aid to racially imbalanced school districts. He also called for adherence to Judge W. Arthur Garrity's 1974 decision to desegregate Boston public schools. It was a far cry from George Wallace's "segregation now, segregation tomorrow, segregation forever'' speech (our Republicans are even better than your Democrats) and COINTELPRO. His influence must have rubbed off on his cousin, Boston.com's deputy editor, who saw fit to pull this poor black child from the muck and mire and offer him a job. Thank God almighty, I'm employed at last!
Bill Weld, who first won the gubernatorial race in 1990, a feat no Republican had pulled off since Sargent in 1972, was a social moderate. Abortion was the hot-button issue of the day, with Louisiana's state congress attempting to enact a law banning abortions even in the case of rape, but in 1991 Weld introduced a bill that aimed to make abortion more accessible. In strictly political terms, he backed the right horse, as 80 percent of journalists favored at least some abortion rights.
Paul Cellucci took the office next, in 1998. He was a fiscal conservative, and spearheaded the initiative to reduce the state income tax from 5.95 percent to 5 percent, a measure approved in November 2000. As conservative as he was with the state's wallet, he was decidedly un-conservative when it came to gun control, calling for one of the toughest anti-gun measures in the country. He couldn't have been less like his party mates in the House, who, in March 1996, voted to repeal the 1994 ban on the manufacture of more than a dozen semiautomatic weapons and high-capacity clips. Or maybe he was just covering himself from the fallout that followed a few of those House GOPers the following November, when Democrats took 15 seats from their opponents, including many supporters of the repeal.
Mitt Romney was up next, succeeding Cellucci and acting Governor Jane Swift. Romney, who ran claiming not to be "a partisan Republican'' and touting his "progressive views,'' gave us Romneycare, the state blueprint for what would become Obamacare. With the goal of providing health insurance to as many Massachusetts residents as possible, Romney's reforms offered insurance to residents earning less than 150% of the federal poverty level while mandating that employers with more than 10 full-time employees provide insurance for their workers. At about the same time, then-President George W. Bush's budget cut veterans' appropriations over five years by $9.8 billion, far below what the Congressional Budget Office estimated was needed to keep up with inflation. It's a shame the 2012 version of "Mom Jeans'' Romney came to rail against the Affordable Care Act he helped to create.
With these four examples of sorely missed Republican sanity, it's a shame more GOP hopefuls don't look to the Bay State for inspiration.
Republican gubernatorial candidates in Massachusetts know exactly what they're up against in what Gallup recently identified as the third most liberal state in the union. Our state Senate and House are overwhelmingly blue, yet these governors have managed to work with officials on the other side of the aisle to deliver results that benefit everyone here.
Could it be that working with Massachusetts's Democratic machine has shown our Republicans that to get anything done, they must be willing to adapt their ideas to suit everyone's sensibilities, even if their wishes are worlds apart? Or has a life spent fraternizing with the enemy shown our Republicans that the enemy makes some good points now and then? Or does being born and raised in and around Boston just make you naturally better than everyone else?
I don't have the answers (except to that last question). But I am glad, deeply glad, that Michelle Bachmann lives in Minnesota.
Click here for election results, updated live.