Local
These Students Are Upset About Moldy Food, So They're Boycotting the Cafeteria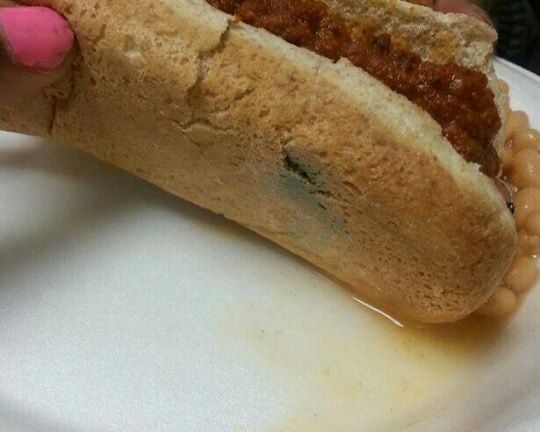 Here's a good rule of thumb: Never start a food fight with high school students.
Students at Farmington High School in Connecticut are boycotting their school lunch program this week, accusing the campus food service provider of serving low-quality meals and embarrassing students who can't afford them.
Over 500 people have joined a student Facebook group calling for a boycott of Chartwells, the food-service company that replaced the district's in-house meal program in 2012. The page is full of photos of moldy food allegedly served in the cafeteria, along with some other fairly gross testimonials.
"Freshman are coming in thinking that the garbage they serve and the way they treat us is the norm, but it shouldn't be,'' students wrote in the group's description. "We can work together and end this now.''
The students drafted a list of demands, including:
• Lower costs per meal for both students and teachers OR larger portions relative to the cost.

• Higher quality food and ingredients.

• The ability to charge food [on their meal accounts] despite debt.

• Labels of ingredients or possible exposures to certain students' food allergies.

• Returning trays to the cafeteria in order to be able to buy sides.

• A student accessible microwave as an alternative option to purchasing food.

• Greater respect toward students, including not throwing away food that can't be paid for.

• Safe and healthy food that is free of mold or hair and is not left out and exposed to cold.

• Limit the reheating and re-serving of leftovers for consecutive days.

• Greater variety to accommodate alternative dietary needs or preferences, such as vegetarian, gluten-free, or others.
Senior Christy Rosario told Boston.com her friends have been frustrated with Chartwells since the company first started working for the district, though the group only recently sprang up to organize the boycott after administrators clamped down on students overcharging their meal accounts.
According to a student handbook available online, students were entitled to charge one meal a day—anywhere from $3 to $3.50—"when lunch money is lost, forgotten or inadvertently overlooked.'' That policy was amended to two meals last month without notice to students, though enforcement was lax. After "specific cases of excessive overcharging,'' Principal Bill Silva said the school decided to start cracking down.
"A lot of the students were really caught off-guard, really frustrated, and going home hungry,'' Rosario said. "The company loses money and the student doesn't get any food, so no one wins.''
Making matters worse? Hungry kids who couldn't afford their meals had to watch their food get thrown in the trash. School policy dictates that students with insufficient funds should be provided with an "alternative meal''—a cheese sandwich with milk and a piece of fruit—though Rosario said she knew many who did not receive one.
Superintendent Kathleen Greider said those charges, if true, were "unacceptable.''
"No child should ever, ever go without a meal,'' she said.
Greider said the food services department is subject to three random inspections a year by Farmington Valley Health District officials, who report that the cafeteria at Farmington High School has "consistently received satisfactory inspection results.''
"The [district] has not received any complaints regarding food safety nor has it received any confirmed reports of food-borne illness,'' an agency spokesperson wrote in a statement to parents, though there were quite a few such reports on the boycott's Facebook page.
Greider added that the school was "very open'' to student feedback and that Silva, business administrator Michael Ryan, and representatives from Chartwells met with students to discuss their concerns. Silva also wrote parents a letter following his meeting with boycott organizers, detailing a list of "steps to be taken'' by the company, including the creation of an advisory committee that would include students as members.
Rosario—and several others—said they remained skeptical, and continued with their boycott Monday.
"The administration has been saying they're supportive but not really proving it,'' senior David Casella said. "It seems as if they'd rather us step down and say something's getting better when nothing really is.''
"They said a lot of things, but they didn't really say anything at the same time,'' Rosario said. "Their statement said they'd 'continue doing this,' 'continue doing that,' no 'we'll improve,' no 'revise' or anything like that.''
The boycott began Monday, and, said Rosario, "Just by looking at lines for school lunch, this seemed pretty successful.''
Students brought home-made sandwiches instead of buying lunch, and a local restaurant donated pizzas to the cause. Principal Silva, however, confiscated the pizzas, citing health regulations.
"We do have discretion, and while we would not require a temporary food license for a small pizza party, on a larger scale we would require a license to ensure that food is maintained at appropriate temperature, handled safely, etc.,'' an e-mailed statement from local health officials read.
"We stand by our food quality and have maintained a strong record with the health department,'' Tom O'Donnell, regional director of Chartwells K12, said in an e-mailed statement. "We are aware of the complaints shared on social media and are working to verify them, and will respond with appropriate action if they are deemed credible.''
It's not the first time the company has felt pressure from the campuses it serves—locally, the Wellesley School Committee voted unanimously in 2012 to drop their contract with the company, with one member citing "a dwindling of community confidence'' in the program after health code violations and other problems.
Correction: An earlier version of the article incorrectly stated that Superintendent Greider attended a meeting with concerned students.