Local
What Happens to All Those Soon-to-Be-Useless Political Campaign Signs?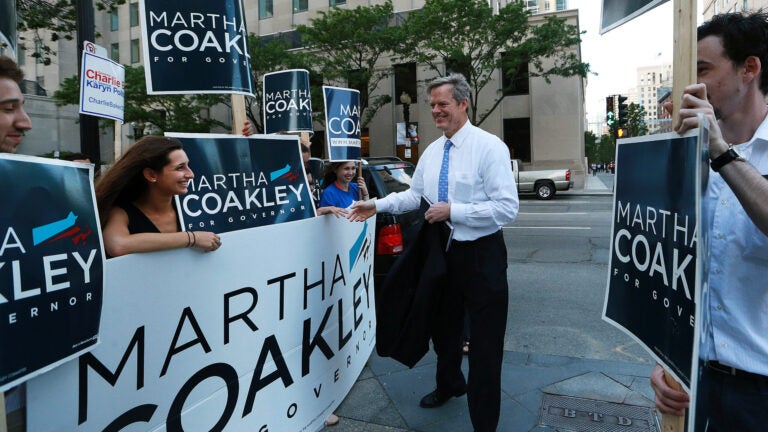 In case you somehow hadn't noticed, campaign signs currently dot lawns, sidewalks, telephone polls, and storefronts from East Boston to the Berkshires (and, presumably, beyond). By Wednesday, however, those signs will be effectively useless. So what happens to them once the results are in?
One way or another, election campaign signs around Massachusetts will get used again. The question is whether that's because of recycling or because of penny-pinching candidates.
Political signs from Connolly Printing in Woburn, a popular spot for ordering campaign material, are all made of recyclable paper, cardboard, or plastic material, owner Kevin Connolly said. Still, those signs don't often end up in the recycling, as thrifty candidates send teams of staff or volunteers to collect them, he said.
"Veteran campaigns scoop them all up and put them in a warehouse,'' he said. "If you're gonna be in office, and you're gonna run again, you'll scoop them up again.''
Charlie Baker's campaign plans to do just that, and will send volunteers out tonight to pick up signs, Baker spokesperson Tim Buckley said. "We ask volunteers to go and collect the signs that they put out.''
And there are a lot of them. Coakley has spent about $133,000 on materials at Connolly Printing this year, according to campaign finance reports. Baker, meanwhile, has spent just $8,500 at Connolly Printing. His printed campaign materials have mostly come from SCM Associates and Gridiron Communications, companies based in New Hampshire and Indiana, respectively.
In addition to the candidates' teams, the City of Boston sends waste disposal crews out to clean up just as it would after any event, said Kate Norton, a spokesperson for Mayor Marty Walsh. That includes sidewalks, telephone polls, street signs, and any other city property.
But none of those cleanups will touch campaign materials on private property, like lawn signs. For that, owners will have to use the trash — or, preferably, the recycling bin — before the next lawnmowing session. The thriftier among us can also paint over them and re-use them as signs for garage sales or lemonade stands, as Pinterest suggests.
Getting rid of old signs is important, though, especially given that old materials that weren't disposed of are causing some confusion this election season. In a 2013 referendum, Springfield residents voted "Yes'' or "No'' to approve a proposal for MGM Resorts International casino, and some signs related to that campaign are still lying around town. But in this year's statewide casino ballot question, voting "Yes'' means getting rid of the state's casino law, and voting "No'' would keep casinos in place — the opposite of last year's referendum.
That inverted wording has, understandably, caused some confusion. The problem has been bad enough that Springfield Election Commissioner Gladys Oyola had to clarify the ballot questions' wording, according to MassLive.
If candidates or campaigns don't pick up and re-use their signs, though, that's okay with Connolly and his business.
"I wish they'd buy all new ones,'' he said.