Local
Bridgewater State, Massasoit Consider Changing Their Hiring Policies in Wake of Sex Offender 'Revelation'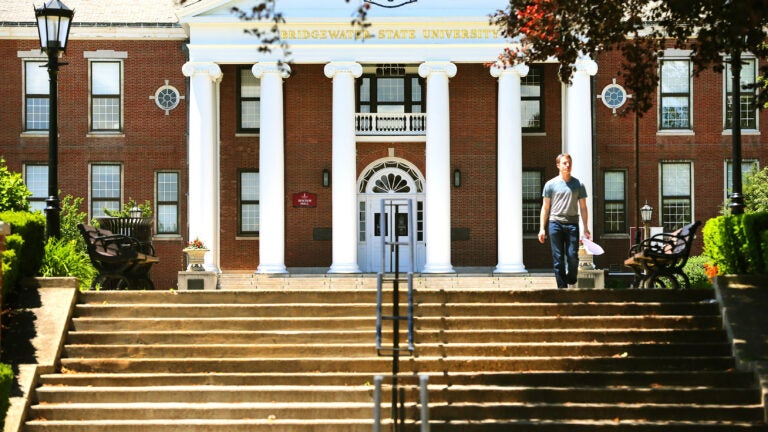 While administrators at Bridgewater State University and Massasoit Community College knew that English teacher Sean M. Janson was a Level 2 sex offender when they hired him, the news was only made widely available to the public on October 21, when The Enterprise first reported it.
That "revelation'' sparked public outcry and now may have an impact on who the schools hire in the future.
In December, the boards of trustees at both institutions will discuss proposals to change their hiring practices, though the origins of those proposals are apparently different.
Janson, who was hired at BSU in 2006 and Massasoit in 2009, was convicted of possesssing child pornography and indecent assault and battery on a child over 14 in 2005. The victim was a 16-year-old girl he met online.
Janson served no jail time but was on probation until 2009. He was also required to register as a sex offender, undergo treatment and mental health counseling, have no unsupervised contact with children under 16, the victim, or her family, and forfeit or destroy his computer, according to court documents obtained by The Enterprise.
As a Level 2 sex offender, Janson is considered to be at "moderate risk'' to re-offend, according to the state Office of Public Safety and Security, leading many experts to question the colleges' decisions to hire him.
Former Middlesex County prosecutor and sex crime expert Wendy Murphy told The Enterprise:
"Who would hire such a person to work around young people? If he did tell them all the details and they did hire him anyway, no one in their right mind would send their child to that university.''
She added that college students can be vulnerable to sex offenders as well, as they "are looking for mentors, just finding their feet in an adult world.''
Curt Lavello, executive director of the School Safety Advocacy Council, said:
"You want to be able as a college to do everything you can to keep kids' exposure to a safety issue[s] at a minimum. Welcoming someone into your college who is a convicted sex offender is not doing due diligence in trying to maximize student safety.''
Legal counsel at BSU began discussing the "Minors on Campus Policy,'' which would ban the hire of Level 2 and 3 sex offenders, last spring, BSU spokeswoman Eva Gaffney told Boston.com.
The University's board of trustees will discuss the proposal in December. If approved, the policy will go into effect immediately, affecting those seeking a new job or a contract renewal at BSU. It would allow offenders to be hired in certain circumstances if the University's president and its board of trustees approved.
Gaffney said that while the policy is not related to the Janson situation, the "revelation'' has drawn attention to the matter, echoing comments BSU President Dana Mohler-Faria made to The Enterprise.
Gaffney said that updates to the University's background check policy are also being discussed.
The policy being drafted at Massasoit, where Janson was placed on administrative leave last week, emerged directly out of an review requested by the college's president following the public revelation. That review is ongoing, college spokeswoman Laurie Maker said.
In the meantime, the college has implemented an interim plan requiring any planned hires to be reviewed and ultimately approved by the president. A draft of a formal policy will be before Massasoit's board of trustees in December, Maker said.
The college never had a policy specifically prohibiting the hire of registered sex offenders. Regarding Janson's hire, in a statement to the media, Maker said, "It was our judgment that Mr. Jenson [sic] was employable at the college.'' Maker did not return request for comment on why Janson's sex offender status was not an issue in 2009, but is a problem now.
Gaffney said she couldn't comment on the decision to hire Janson despite his criminal record, saying it was a "personnel issue.'' In comments to The Enterprise, Mohler-Faria said that at the time of Janson's hire in 2006, "we were satisfied that this is a person who would, could work here.''
Looks like they may have changed their minds.