Local
Charlie Baker Names Secretary of Public Safety; Cabinet Now Full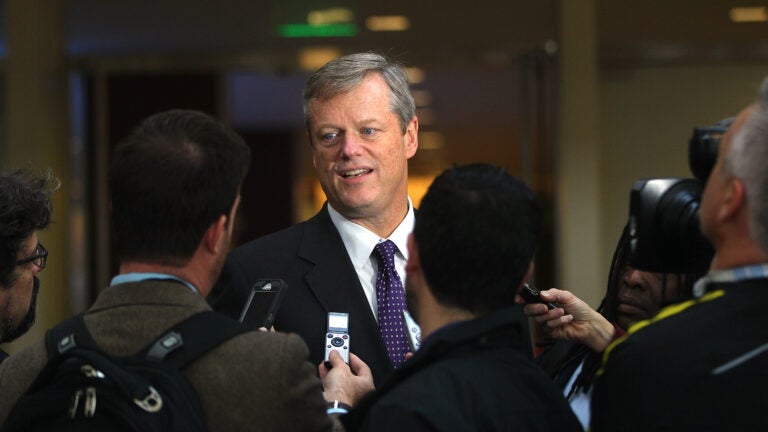 With the election of Charlie Baker, Massachusetts got to watch the political equivalent of a (boring) fantasy football draft. Baker spent the weeks after winning his election naming appointees to various cabinet positions in his administration, and has now filled all of those positions.
Here's a rundown of Baker's appointments.
January 21:
Governor Baker has named Worcester County Senior First Assistant District Attorney Daniel Bennett as Secretary of the Executive Office of Public Safety, filling his final open cabinet position.
Bennett was named a 2013 Prosecutor of the Year by the Massachusetts District Attorneys Association. Before joining the Worcester DA's office, he was senior trial counsel in the Middlesex DA's office, where he began his career as an assistant DA in 1994. In between two stints at the Middlesex DA's office, Bennett worked in the gang unit of the Suffolk DA's office and spent eight years in private practice.
"Massachusetts' law enforcement has made great strides in protecting our communities, and I look forward to joining Daniel to enhance the trust forged between public safety officials and the community,'' said Governor Baker in a statement. "Daniel's integrity and service will be a great asset to our administration and the people of Massachusetts.''
"I am honored and privileged to join the Baker-Polito administration,'' said Bennett in the same statement, "and I look forward to making Massachusetts a safer place to live, work and raise a family for everyone.''
January 13:
Stephanie Pollack, an Associate Director for Research at Northeastern, has been named as Secretary of Transportation for Governor Baker's administration.
"Stephanie's vast experience in infrastructure and policy development will help our administration to be forward-thinking as we look for more innovative ways to meet the transportation needs in every region of the Commonwealth.'' said Baker in a statement.
Pollack has been actively working with transportation policy in the public and private spheres, serving as an advisor for the Boston Transportation Department and Massachusetts Port Authority after a long career at the Conservation Law Foundation. She co-chaired Governor Deval Patrick's 2006 working group on transportation and served on former mayor Tom Menino's Climate Action Leadership Committee. Pollack currently works at Northeastern University, focusing on transportation policy and finance as an Associate Research Director and adjunct professor.
"Massachusetts has a unique opportunity to demonstrate how transportation investments can be used to help create jobs and prosperous communities, improve people's quality of life and connect people throughout Massachusetts to opportunity,'' said Pollack in the same statement. "I look forward to serving in the Administration and finding better ways to meet our transportation needs, serve our customers, spur our economy and reduce our carbon footprint.''
January 5:
More Cabinet selections were announced by Governor-elect Baker's team today, including Veterans' Services Secretary and Children and Families Commissioner. The latter will be Linda Spears of Child Welfare League of America (CWLA) and the former was assigned to Francisco Urena, Boston's Commissioner of Veterans' Services since 2011.
Before becoming Boston's Commissioner of Veterans' Services, Urena held the Director of Veterans' Services title for the City of Lawrence, and was named the state's Veterans Agent of the Year in 2008. He earned a Purple Heart after receiving injuries in Iraq during his eight years as a tank commander for the United States Marines. Urena obtained undergraduate and graduate degrees from UMass Lowell and UMass Boston after returning from serving Operation Iraqi Freedom.
The new Children and Families Commissioner, Spears, has been with the CWLA for the past 22 years, and recently led the league's improvement review of the Department of Children and Families. Before that, she spent nine years with the Mass. Department of Social Services. She's currently finishing a Masters in social work from the University of Southern California, a statement from the Governor-elect team said.
Alice Moore, Chief of Staff to Senate President Therese Murray, will serve as Undersecretary. She previously served as Chief Legal Counsel to the Mass. Senate. Lisa Dixon, who served as Senior Counsel also to Senate President Therese Murray, is now Baker's Legislative Affairs Director. Rhonda Mann, Chief Marketing Officer for Beth Israel Deaconess Medical Center, will serve as Communications Director.
January 2:
The Baker-Polito administration made several appointments to the Governor-elect's cabinet.
Martin Suuberg, the current Undersecretary for the Environment, will be Baker's Environmental Protection Commissioner.
"I am pleased to have Martin Suuberg joining our team,'' said Matthew Beaton, Baker's Energy and Environmental Affairs Secretary-designate, in a statement, "and look forward to the valuable experience he will bring from his current role in state government and long career in ensuring our environment is protected for future generations.''
"I am honored to take on an expanded role in Governor-elect Baker's administration and am excited for the opportunity to continue serving the environmental interests of the people of Massachusetts,'' said Suuberg.
Suuberg has worked for environmental and natural resource agencies at both state and federal levels for nearly three decades, including almost ten years as Regional Director of Massachusetts Department of Environmental Protection's Central Region. He has also worked for the Federal Department of the Interior, the Executive Office of Energy and Environmental Affairs, and the former Department of Environmental Management.
Suuberg was named Undersecretary for the Environment by the Patrick administration back in June.
Two leadership positions within the Executive Office of Housing and Economic Development, headed by Secretary-designate Jay Ash, have also been filled. Nam Pham is in as Assistant Secretary for Business Development, and John Chapman will be Undersecretary for Consumer Affairs and Business Regulations.
"I am thrilled to have such dedicated public servants joining our team,'' said Ash. "As we implement the Governor-elect's ambitious agenda to build stronger communities and make Massachusetts more competitive for job creation, their experience in economic development and consumer protection will be crucial to helping the administration better serve the commonwealth.''
Pham is currently the Executive Director for VietAID, a community development corporation created to assist the Vietnamese American population. He previously served as Commissioner for the Office of Refugees and Immigrants under Governors Weld and Celluci.
Chapman, who most recently challenged incumbent William Keating in the race to represent Massachusetts 9th District, has been an attorney in public, private, and non-profit sectors, including seven years as a lawyer in the SEC's Enforcement Division. He served as Commissioner for the Department of Industrial Accidents and Undersecretary for the Executive Office of Economic Development as part of Governor Romney's reform team.
December 23:
Baker filled three more positions today, naming a Secretary of Education as well as commissioners of the state's public health and agricultural resources departments. Two positions in Baker's cabinet are yet to be filled—those of Secretary of Transportation and Secretary of Public Safety.
James A. Peyser, former chairman of the Massachusetts Board of Education, has been named Secretary of Education. A former education advisor to Governors Weld and Romney, Peyser is currently Executive Director of the Baker-Polito Transition Team. He recently worked at NewSchools Venture Fund, described on its website as "a nonprofit venture philanthropy firm working to transform public education for low-income children.''
"I am proud to have Jim join our bipartisan team of experienced professionals,'' Baker said in a statement. "I saw firsthand Jim's experience and leadership improving public education throughout his career and during our time together on the state Board of Education.''
In the same statement, Peyser said, "I am committed to advancing the Governor-elect's ambitious priorities by producing more great schools throughout the Commonwealth, expanding and strengthening career-technical education programs, developing new partnerships with local school districts and communities, and making higher education more affordable and responsive to the needs of our diverse regions.''
The Boston Globe also reported two more appointments: Dr. Monica Bharel, chief medical officer for the Boston Health Care for the Homeless Program, has been named the state's next commissioner of public health, and that Massachusetts Water Resources Commission member and Princeton town administrator John Lebeaux has been named commissioner of the state's Department of Agricultural Resources.
December 12:
Continuing the bipartisan trend, Baker named Ronald L. Walker II as Secretary of Labor and Workforce Development. Walker, 53, is the third Democrat and first person of color Baker has appointed to a top Cabinet position, The Boston Globe reports.
The co-founder, Managing Partner, and President of Roxbury's Next Street, "a merchant bank for the urban enterprise,'' Walker previously held executive positions at Sovereign Bank, Fleet Financial Group, Bank of New England, and other organizations.
Walker serves as Chair of the Board of The BASE, a local organization featured during the Baker campaign that provides athletic and educational opportunities to black and Latino youth.
He is an overseer for the Boston YMCA, and, according to his bio on The BASE's website, a director of Emerson College. For his volunteer and charity work in the city, Walker received the CEO Social Leadership Award from the Boston Business Journal in 2013.
MassLive reports that Walker has donated to Democrats, including Deval Patrick, Martin Walsh, Tom Menino, and others in the past. Even so, he said in a statement that he is honored to join Baker's "bipartisan administration'' and is "humbled by the opportunity to serve the people of Massachusetts.''
In a statement, Baker said Walker "will be invaluable to our efforts in bridging the gap between work and education to make Massachusetts great everywhere.''
The Department of Labor and Workforce Development handles labor-related issues such as unemployment, workers' rights, job safety, and job training programs. Rachel Kaprelian currently serves as its secretary.
December 2:
Baker is crossing the partisan aisle once again with his choice of state representative Carlo Basile, an East Boston Democrat, to a top Cabinet post.
Basile will be named chief secretary, The Boston Globe reports, a recently-retired position that would put him in charge of appointing people to various boards and commissions. Harvard Kennedy School lecturer Marty Linsky, who served as chief secretary in Gov. Bill Weld's administration, described the position as "politics and personnel—aka 'patronage''' to the National Conference of State Legislatures.
Basile began serving in the House in 2007 and was easily reelected this November. He is also the Chairman of the Joint Committee on Veterans and Federal Affairs.
Working for a Republican shouldn't be a huge shift for Basile, as he previously campaigned for Republican candidate Kerry Healey in her 2006 run for governor, and received funding and support from Republicans during his initial run for the state representative spot.
November 24:
Kristen Lepore takes over as budget chief for the coming Baker administration.Twitter
Kristen Lepore, an executive at a Massachusetts business advocacy group, was named budget chief for Baker's new administration, The Boston Globe reported.
Officially, Lepore will be the secretary of Administration and Finance for Baker, a position Baker once held for Governors Bill Weld and Paul Cellucci in the 1990s. Lepore is a vice president of government affairs at Associated Industries of Massachusetts, and has previous stops as deputy chief of staff for Cellucci from 1999-2001 and assistant executive director of the Massachusetts Port Authority.
"Crafting the next fiscally responsible budget while investing in the people and services instrumental to making Massachusetts great is the administration's top priority and a duty I am humbled to take on,'' Lepore said in a statement.
Lepore often advised Baker during his failed 2010 run for governor, The Globe reported at the time.
She faces a tall task in her new role, as the state deals with a $329 million budget shortfall. Governor Deval Patrick has pledged to close that deficit before his term ends, but the underlying causes — including below-expectation tax revenues and a gradually lowering state income tax — will carry over to Baker's administration.
November 21:
Marylou Sudders, the former commissioner of the state's Department of Mental Health, was named Secretary of Health and Human Services in Governor-elect Charlie Baker's administration.
Sudders has a long history in mental health work, including a stint as director of the New Hampshire Division of Mental Health and Developmental Services. She was president of the Massachusetts Society for the Prevention of Cruelty to Children from 2003 to 2012, and worked as an associate professor at Boston College Graduate School of Social Work since.
In February, Baker and Sudders met during a forum discussing health care reform at the graduate school.
"When I think of social workers, I think of problem-solvers,'' Baker said then. "They deal with the complexity of problems that don't fit neatly into categories.''
Sudders is the fourth high-profile appointee of Baker's coming administration and the first woman selected to the team. The selection received praise from several state government leaders.
"I have the utmost respect for Marylou Sudders, particularly her work to protect children and improve mental health care for all,'' Attorney General Martha Coakley said in a statement. "I commend Governor-elect Baker'' for the appointment.
Philip Johnston, the Health and Human Services chief from 1984-91, called Sudders an "excellent choice.''
"Marylou has all the skills and qualifications needed to continue to strengthen our state's historic commitment to the poor, abused and neglected children, the elderly and the disabled,'' he said. "In addition, Marylou brings a wealth of knowledge and experience in the area of health policy, which will be so important in the years to come.''
Baker himself led the state's Health and Human Services department from 1992-94 during Bill Weld's administration.
November 17 afternoon:
Steven Kadish, Northeastern University's senior vice president and chief operating officer, has been selected to join Baker's Cabinet as chief of staff.
Baker and Kadish have a similar resume, as Kadish previously worked at Harvard Pilgrim Health Care and in Massachusetts's Health and Human Services division.
Before joining Northeastern, Kadish worked as the chief financial officer at Dartmouth College. He also worked in a similar role at Brigham and Women's Hospital. Kadish has a bachelor's degree from Tufts University and has a master's degree in city planning from MIT.
His wife, Linda Snyder, is a vice president for operations at Tufts University.
November 17 morning:
Matthew Beaton, a Republican state representative from Shrewsbury, was appointed to lead the Energy and Environmental Affairs department in Baker's new administration.
The appointment is a fit for Beaton, who has a bachelor's degree in biotechnology from Worcester Polytechnic Institute and a master's in energy and environmental analysis from Boston University, according to Baker's transition office. He runs a small business, Beaton Kane Construction, that specializes in energy-efficient and sustainable construction. The Republican also describes himself as an "avid outdoorsman and conservationist'' on his website.
"Despite the challenges, great opportunity exists to improve the quality of our environment, combat the threats of a changing climate and promote local, sustainable agriculture throughout the Commonwealth,'' Beaton said in a prepared statement.
November 11:
Jay Ash, come on down! You're the first cabinet appointee named by governor-elect Charlie Baker.
Ash, the long-time Chelsea city manager, was tapped by Baker to lead the state's housing and economic development agency. He's a Democrat, which The Boston Globe noted may be a signal that Baker is interested in working with the opposing party.
Ash has served as Chelsea city manager since 2001, bringing 14 years of stability to a city infamous for its corruption. How bad were the Chelsea's problems? At one point, four former mayors had been indicted and the city was placed into receivership.
Along the way, Ash has received plaudits for getting Chelsea back on its feet, and he has achieved rockstar status in the city. In 2011, when Ash was being courted to run MassDevelopment by Governor Deval Patrick, The Chelsea Record ran an editorial headlined "Jay Ash Cannot Be Allowed to Leave.''