Local
How an Online Parenting Forum Scandal Made Me Boston's Most Hated Mom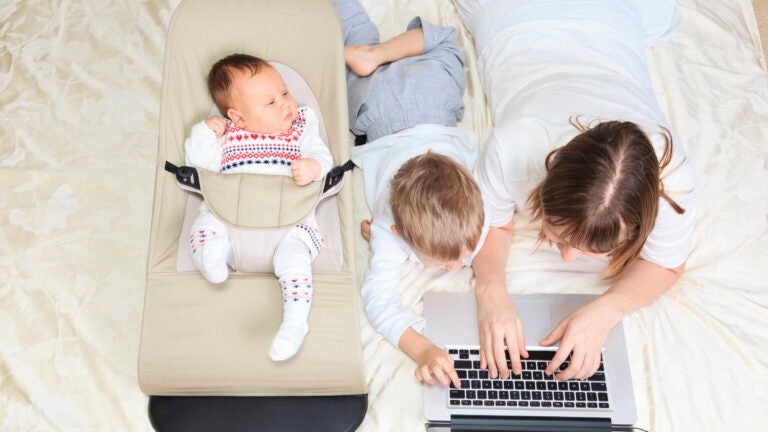 This weekend, I experienced first-hand what it means to be the most hated mom on the playground. The most hated mom in the neighborhood. Hell, the most hated mom in Boston.
There were angry emails and tweets, and a neverending stream of voicemails, just female voices berating me, one after another. There was chatter about what should happen to me as the result of this 'betrayal.' And what (not good things) should happen to my toddler son as punishment for, I don't know, being born? One JPMoms member – a local attorney – said:"I sincerely hope your child's privacy is violated repeatedly.''
For a group that prides itself on providing support to its members – often new mothers – during what any mom knows is the time when you need support the most, the reaction by a significant portion of the site's members was, if not surprising, then at least depressing.
Below is the original article, published on Friday, November 21:
JPMoms, the 11-year-old online forum for moms with questions about nannies, summer camp, schools, vaccines, yeast infections, repairmen, orthodontists, post partum depression, nursing bras, and everything in between, announced a decision to trim its 3,229 members to a significantly smaller group.
The site's moderators posted a statement that indicated plans to limit membership to Jamaica Plain and a small set of surrounding neighborhoods:
"JP Moms has grown to over 3000 members … Due to members who have moved away and out-of-area parents joining JP Moms, we have found that the community connection is being lost. Therefore, the moderators will be ensuring that JPMoms members are residents of these areas, and are active posters (posting topics or responses several times yearly)to maintain a smaller, active, community group. Out of area memberships will no longer be available as of December. Starting in January, on a rolling basis over several months, all other memberships will come up for renewal. We will ask that all members update their current addresses so that we can ensure that parents in our membership zone are renewed. New guidelines with all pertinent information will be circulated before then. … If you ever move back to the JP area, please do reapply for membership!''
JPMoms was founded in 2003 as "a grass-roots list'' organized by "JP mothers who wanted to stay in touch.'' While the site said it was "open to parents (mothers, fathers, and guardians) and expectant parents living in Jamaica Plain, Roslindale, West Roxbury, Roxbury, and Mission Hill'' – over time its membership came to encompass moms (and dads) from not just the aforementioned list of 'approved' Boston neighborhoods but other neighborhoods and the larger metropolitan Boston area.
To apply for membership, applicants have to submit their address, birthday, full name, spouse's name, phone numbers (work and mobile), children's names and birth years, whether they rent or own, and on and on. Applicants are also asked to list any "special connection'' they might have to the Jamaica Plain neighborhood.
Moms (and dads, but mostly moms) who joined the site while living in Jamaica Plain but then moved outside of the neighborhood or to a far-off suburb, often did not leave the online community.
Even if you've never been to Jamaica Plain, you know it. It's the once-gritty, now organic Mecca of attachment parenting and creatively named children. (I know. I grew up there.)
JPMoms largely reflected the "new Jamaica Plain.'' Posts ranged from "Not vaccinating/selectively vaccinating… why?'' to "How did you decide whether to have a 2nd baby or not?'' to how-tos on navigating the Boston Public School system, advice on where to buy kid-sized sneakers, recommendations for summer camps, and rants on everything wrong with Sarah Palin.
As of Friday afternoon, JPMoms had 3,229 members, a number that will go down as hangers-on and foreigners are culled from the ranks.
Many members were disturbed by the decision:
"How 4 volunteers … could make this kind of decision for an entire community – unilaterally – is stunning.''
"Geography does not equal connectedness. We lived in JP for many years before moving to Newton when #2 was born last year – we still have many connections to the JP community and are there all the time.''
"This is about as anti-community and anti-organic and anti-JP and anti-democratic as it could be.''
A conspiracy – against Brookline – was suspected.
"I find the exclusion of Brookline somewhat odd, and obviously not accidental … When you draw the lines at "JP'' and places that are viewed by whomever is making the decision to be sufficiently "JP-like'' (without polling or otherwise soliciting feedback from the membership base at large), I'm not sure the justification of geographical proximity holds water, and instead, the spectre of a different type of qualitative screen is (or at least feels) present.''
People were really not happy.
"What you are proposing is to tear this community apart. There are people who have participated in this forum for years, who have "virtual'' relationships with folks they've never actually met; and "real life'' relationships with folks they HAVE met, because of this forum. I can't tell you the number of times I've been in JP, at the tot lot or at a restaurant or somewhere and I'd turn and say "oh, you are on JP Moms, aren't you?''
Those who anticipate being kicked off the site in the coming weeks discussed just how much the JPMoms community has meant to them.
"JPMoms has offered me a wonderful connection to other parents for sage advice when I haven't known where to turn. Just feeling sad.''
One JP resident who found the decision concerning agreed to speak to Boston.com, but insisted her name not be used. "I can't lose my babysitting job.''
She said that the cost of living in Jamaica Plain has skyrocketed in recent years, and that families who could once afford to live in the neighborhood cannot.
"Nobody ever wants to leave, but sometimes you have to,'' she said, adding that she herself may need to move soon. "JP's became an exclusive community, and that's not my JP,'' she said, adding that the decision to remove members that no longer live in in the neighborhood or the adjacent approved neighborhoods from the list is a further "belittling'' of those members who were forced to move out for economic reasons but still feel ties to the community.
Enna Grazier was one of the site's early moderators. Grazier, who has since moved to New Hampshire and is no longer a JPMoms member, began moderating the group in 2004 when there were only 30 members. She remained a moderator until a few years – and a few hundred members – later.
"JPMoms started as a group of mothers who met at a La Leche League breastfeeding support group at a Unitarian church in JP,'' Grazier told Boston.com. About 15 or 20 new mothers started a Yahoo! group, and JPMoms was born.
"It was super grassroots and super local,'' Grazier said. "It was a totally different thing than it's become.''
This week's JPMoms scandal isn't the first to rock the site. Back in 2008, The Boston Globe reported about the horrifying news that a baby stroller had been struck by a police vehicle at a Jamaica Plain intersection. The accident was being discussed – at length – on JPMoms.
With little information as to what happened, "some [JPMoms] posters could not contain their frustration and began to wonder whether, in fact, the mother who got hit was to blame.''
Turns out, Tara Giard, the mother whose child had been struck by the police vehicle, was on the JPMoms forum, reading what felt like "unfair, gossipy and exploitative'' posts about the incident.
Giard told the Globe what she thought about the rampant speculation by JPMoms members: "It was so offensive… It was infuriating. Absolutely maddening.''
And then Giard packed up her family and moved to Newton, which incidentally isn't on the list of approved communities for JPMoms members.
Boston.com reached out to several individuals who are listed as leaders and moderators of the site to find out how JPMoms intends to police the forum to verify member addresses. All declined to comment.
The author of this post was a member of JPMoms until approximately 6 pm on Friday, November 21, when she was kicked out for asking too many questions.